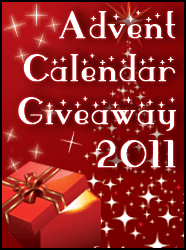 Welcome to the 11th day of Book Lovers Inc Advent Calendar. Each day we will offer you one great read in a giveaway on all 24 days till Christmas.
Today you will have the chance to win a copy of Breathe by Sloan Parker.  Once in a while you find yourself reading a book that make you cry and laugh and cry again, and it's so good you'd even ask for more. Breathe is one of these books for me. Even now, months after reading it, I'm still haunted by the ghost of this book. It's a wonderful love story that will leave you happy and grinning like a fool. 😉  
Length: 254 pages
Genre:Contemporary suspence M/M romance
Release Date: November 16th 2010
Publisher: Loose ID
Formats Available: Ebook
Purchasing Info:  Author's Website, Loose ID, Amazon, GoodReads
Book Blurb:
Lincoln McCaw lost everything — his home, his job, his partner — after he caused a fatal accident. A year later, he's drowning the guilt and despair in whiskey, but he needs to move on. His sister and her kids are counting on him. Then he meets a man who ignites a passion Lincoln thought he'd never find. Too bad one night is all they can have together. Now he needs to figure out how to turn away from the only person who makes him feel alive . . . before whoever is sending him threats decides Lincoln needs to suffer more than he already has.

Jay Miller is surrounded by grief and misery until he finally gives in to all those years of sexual fantasies about being with another guy. Realizing he's ended up in the arms of the man who caused his wife's accident, he tries to pull away. But how can he give up a friendship he needs more than anything — a friendship and a love that could save him? He may not have time to make the choice before someone else destroys it all.

Publisher's Note: This book contains explicit sexual content, graphic language, and situations that some readers may find objectionable: Male/male sexual practices.
The Review:
Breathe is the first book I've read from this author, and it won't be the last (I do end up saying that a lot these days!). What a roller-coaster of emotions I had in this book. Let's be honest, I cried like a freaking baby at least 3 times in less than 300 pages! I usually just get tears in my eyes, but not this time, I was crying like when I first got dumped (rings a bell? lol). Breathe is such a wonderful book, I fell in love with the 2 heroes. They both need to learn how to go on with their life, and the first step…is to breathe. Read the rest of the review.
~~~~~~~~~~~~~~~~~~~~~~~~~~~~~~~~~~~~~~~~
~*~*Giveaway*~*~

Sloan generously offered one digital copy of Breathe for one lucky commenter!
All you have to do is to either tell us your best Christmas memory or if you've ever made snow angels!  
(You can read our full giveaway policy here)
Please leave a valid email when placing your comment so we can inform you if you win.

This giveaway is open to everyone!
Giveaway ends on Saturday, December 17, 2011; we will announce the winner on Sunday.
Good luck!