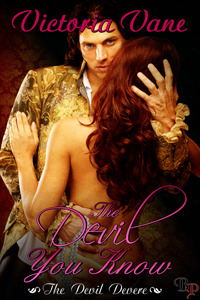 Format Read: ebook provided by the author
Number of Pages: 127 pages
Release Date: July 27, 2012
Publisher: Breathless Press
Series: The Devil DeVere #3
Genre: Historical romance
Formats Available: ebook
Purchasing Info:  Goodreads | Author's Website | Publisher's Website | Amazon | B&N | Kobo | Book Depository US | Book Depository (UK)
Book Blurb:
When dealing with the devil it's easy to be burned… especially when passion ignites the flames.
Who can find a virtuous woman… Beautiful, respectable, and dutiful, Lady Diana Palmerston-Wriothesley has long resigned herself to her decade-long loveless and childless marriage to a feckless husband…until his gambling pushes them to the brink of financial ruin.
Sometimes the devil is in disguise…as a gentleman… Viscount Ludovic, "The Devil DeVere", is a man accustomed to taking what he wants according to his whim and heedless of the cost…until he encounters a woman who won't be had at any price.
When dealing with the devil, it's easy to be burned… When Diana discovers a secret that shatters the carefully built façade concealing her private pain, she seeks aid and comfort from the most unlikely place…the devil's arms. But will a single night of heavenly passion damn them both forever?
My Thoughts:
By this point in TheDevil DeVere series, we really do know this particular devil, Ludovic DeVere. Or at least we think we do. In the first two books of the series, A Wild Night's Bride and The Virgin Huntress, we've seen DeVere as he is now. (Check out the BLI reviews of Bride and Huntress for more details on DeVere's exploits.) The Devil You Know is the story of what came before all that.
In the first two books of the series, it's obvious there is a ton of history between Ludo and Lady Diana, and that it didn't end well. Or rather that it didn't end at all. They have unfinished business, and one heck of a lot of unresolved sexual tension. Just about enough of it to invent the internal combustion engine a century or so early.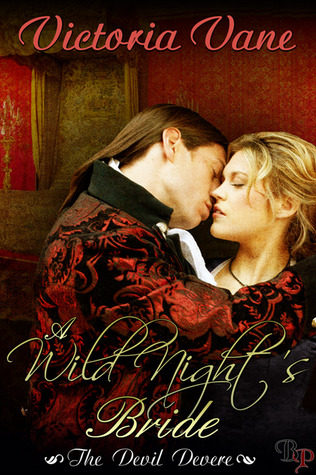 It is a tad disconcerting when this story opens, and one of the characters in the first scene is someone we know is dead in A Wild Night's Bride. It doesn't matter, because this isn't Ned Chambers' story.
This is finally, at last, the one story that has been looming over everything. What the hell happened between Ludo and Diana that sent him haring out of England and sinking into unprecedented depths of debauchery and caused Diana to rusticate in the country as if she would never return to Society?
Once upon a time, Caroline Capheaton decided it was better to marry an old duke than a young viscount-to-be. She assumed that by the time the old duke died, the viscount-to-be would actually BE the viscount, and that he would still be hers. And in the meantime, she could play with him all she wanted. Ludo DeVere was tired of her by the time she was available, and besides, he'd already tasted everything she had to offer. He just hadn't found anyone to take her place when Diana entered his life.
And that was his biggest mistake.
Once upon a time, Diana had married Reginald Wriothesly, a man of her father's choosing. After a few years, she was more than aware that it had been the worst thing she could have done. Reggie gambled to excess. He drank to excess. And he seemed to have no use whatsoever for a wife except for the dowry she had brought him. A dowry which Reggie had entirely gambled away–along with everything else. They were ruined.
The first man to look at Diana with appreciation (and what appreciation it was!) was Ludovic DeVere. A man Diana knew to be a complete and utter rake of the worst kind.
Diana wants DeVere's backing to race her horse. Her one piece of property that somehow her husband does not own. Winning this particular race will give her enough money to establish herself separately from her husband. She hopes.
DeVere just wants Diana. She intrigues him. But, it's a more than good enough horse to make the bet worthwhile too. And their little conspiracy means they have to keep meeting together — giving DeVere more opportunities for seduction.
But Diana is not the only one seduced. There turns out to be more involved in this game than just sex, even for so infamous a rake as the Devil DeVere.
Unfortunately for DeVere, just as he sees a chance at happiness, he's forgotten that hell hath no fury like a woman scorned.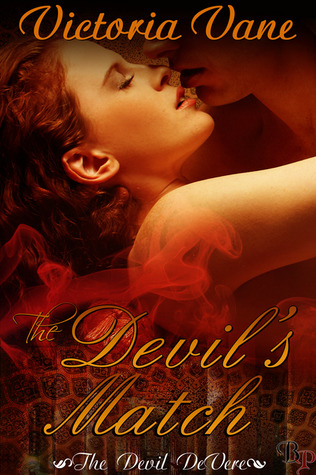 Verdict: If you've been following this series as I have, get this book, and then immediately get Devil's Match and settle in for a nice long reading binge. Trust me, you won't want to stop reading at the end of The Devil You Know. The cliff the story hangs off of at that point is nail-biting for DeVere and Diana, even though it is the point where the other two books come in.
The Devil You Know is one of the cases where the misunderstanding between the hero and heroine is intentional and it works. DeVere is not trustworthy, particularly not at this point in his life. He is pretty much every bad thing that Diana thinks he is except financially insolvent (DeVere is the epitome of that old cliché about lucky at cards and unlucky in love).
The tragedy in The Devil You Know is that DeVere is starting to redeem himself, and he has to bring it all tumbling down in order to save Diana. Because he feels something he can't even identify beyond possessiveness.

I gladly give The Devil You Know 4 1/2 quite delicious Stars.
***FTC Disclaimer: Most books reviewed on this site have been provided free of charge by the publisher, author or publicist. Some books we have purchased with our own money and will be noted as such. Any links to places to purchase books are provided as a convenience, and do not serve as an endorsement by this blog. All reviews are the true and honest opinion of the blogger reviewing the book. The method of acquiring the book does not have a bearing on the content of the review.