We are so pleased to welcome back Katie Porter a.k.a. writing duo Lorelie Brown & Carrie Lofty to BLI today to celebrate the release of HOLD 'EM the third book in their Vegas Top Guns series, which releases from Samhain today! I read INSIDE BET and can honestly say was absolutely WOW'ed and these ladies keep batting home runs because HOLD'EM is as good (my full review will be featured at BLI later today). This one features a tough independent female fighter pilot who is an adrenaline junky, an enticing hero & lots of  kinky sex…femdom style! 
About Katie Porter:
Katie Porter is the co-writing team of Lorelie Brown and Carrie Lofty, friends and critique partners of six years.
Both are multi-published in several romance genres. Carrie has an MA in history, while Lorelie is a US Army veteran. Generally a high-strung masochist, Carrie loves weight training but she has no fear of gross things like dissecting formaldehyde sharks. Her two girls are not appreciative. Lorelie, a laid-back sadist, would rather grin maniacally when Carrie works out. Her three boys love how she screams like a little girl around spiders.
Be sure to enter the Giveaway at the end of the post!
Take it away Katie!
Femdom 101
By Katie Porter
Leah from Hold 'Em is a femdom.
Wait! No! Don't run away, I promise she's not scary! And I also promise Captain Michael Templeton, her hero, isn't a snivelly whining dude either.
They're a normal hero and heroine, I swear it. Michael is pretty much as alpha as they come. He's a fighter pilot (Leah is too) and rides a badass motorcycle. He just…happens to like getting ordered around in the bedroom. And he really likes taking pain, in the form of spankings, paddlings and floggings.
The thing is, saying "femdom" to most people evokes a certain set of images. Women in black leather corsets with blood red lipstick and a riding crop between their teeth, towering over a man wearing panties. That isn't Leah at all. Not that there's anything wrong with that sort of femdom, either–it's just not Mike or Leah!
Leah is an average chick. She's just a little wound tight. In the previous Vegas Top Guns books, she's let out her excess energy by partying hard and flirting with inappropriate men. When Hold Em starts off, she's trying to be good, but it's starting to wear on her. She need somewhere to vent. Where better than on the backside of a fit, sexy, tempting guy?
Purchasing Info: Publisher, Author's Website, Goodreads, Kindle, Nook
Book Blurb:
Daughter of a world-famous motocross champion, and head-on competitor with three brothers, Captain Leah "Princess" Girardi was born with a need for speed. No one tells her what to do, especially not men with chauvinistic "girls can't be fighter pilots" attitudes.

That's what ended her brief relationship with Captain Mike "Strap Happy" Templeton. Now, six years later, he's been assigned to her squadron, and whoa damn, he's filled out nicely. Plus he's cultivated a Zen-like chill factor that pulls at her hormones.

Even after four tours, Mike's the new kid in the 64th Aggressor Squadron. That's not the only thing new. Since he last saw Leah, he's learned a few things about himself. A female who outranks him still makes his teeth grind, but in the bedroom he craves the rush of pain inflicted by an adoring, powerful woman.

Their reunion is an explosive revelation. Leah is the beautiful mistress he's been searching for, and she takes to her new role like a natural. But Leah's aware one thing hasn't changed. Loving him is still an all-or-nothing proposition. She's not sure her reckless streak is wide enough to risk her career—and her heart.

Warning: This book contains a hot stud on his knees, a woman wielding a paddle, and filthy-gorgeous femdom sex. Also: dangerous rock climbing, two amazing motorcycles and some bad tequila.
Excerpt:

"What would it take?"

"To put me in a good mood?"

"Yes, ma'am." His voice curled around them, keeping them apart from the crowds.
She shivered on the chilly burst of need that turned her veins to live wires. Two words were all she needed to become wrapped up in him. She shook off the high-strung buzz then reached for Michael. His hair was so soft, the strands barely long enough to wrap around her fingertips. She pinched and tugged. "This, pet? You'd offer yourself over a silly game?"

His eyes drifted half-shut. The corners of his mouth quirked. "That's always an option."
She leaned up on her toes, took his mouth. The shape of his lips was just right to fit hers. They slipped together, each taking a little at a time. She could get lost in him if she let herself—forget where she was, forget how everything would be different on Monday when they went back to work.

She nibbled his bottom lip once for good measure. "You taste like crappy coffee."
"Gonna offer me something tastier to lick?"

"Is that what you want?" Unable to resist any longer, she snuck her fingers under the hem of his snug T-shirt. He was all thin skin over strong muscle. Lovely. "You want me to ride your face like the toy you are?"

Now he grinned with infectious humor, no matter the sex blazing between them. "If it would help your cranky-ass mood."

With a grin she said, "So noble and sacrificing."

Looping a finger through his belt, she tugged him back into the main stream of foot traffic. The touch of leather against her skin was changing her in irrevocable ways.

"You're going to buy me cotton candy instead."

"One does what one must," he said with a put-upon air.

However, he didn't let her drag him along. He needed only two strides with his long legs to eat up the distance between them. He walked at her side then took the lead.

That was hot. He really did mean "only in the bedroom". Thank God. She wouldn't have enjoyed their play at all had he been some sniveling sub who begged mommy to give him a spanking. Mike was one hundred percent man. He was strong, sexy and marvelously self-assured. Those qualities meant that when he gave over to her whims, he satisfied them both with explosive results.

A few minutes later, with his corndog already gobbled down, he presented her with a pink-and-blue cloud of cotton candy.
Because really, all femdom means is a woman who's willing to take exactly what she wants from a man. And who hasn't had that impulse now and then?
***
Question: Have you ever read a femdom book before?
Thanks again to Booklovers Inc for featuring Katie Porter and Hold 'Em!
Up next for Katie Porter, the co-writing team of Carrie Lofty and Lorelie Brown:
Now that the first three of the RT BookReviews 4½ Star Top Pick "Vegas Top Guns" series have been released, readers can anticipate the final two installments, HARD WAY and BARE KNUCKLE, in 2013.
November brings the m/m Christmas-themed CAME UPON A MIDNIGHT CLEAR, and in January, LEAD AND FOLLOW will launch the five-part "Club Devant" series of erotic multi-partner romances set in a hot New York City burlesque club.
Where to Katie Porter:
Website | Twitter | Facebook
Or individually: Carrie Lofty @carrielofty and Lorelie Brown
~~~~~~~~~~~~~~~~~~~~~~~~~~~~~~~~~~~~~~~~
~*~*Giveaway*~*~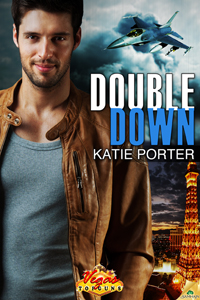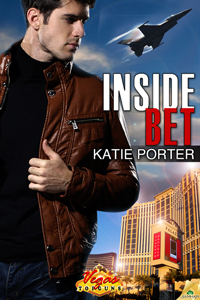 Katie has generously offered a digital copy of DOUBLE DOWN, INSIDE BET or HOLD 'EM to one lucky commenter (Winner's choice)!
All you have to do is answer the question noted above!
(You can read our full giveaway policy here)
Please leave us a way to contact you.
(Email in blogger profile or twitter name – no way to contact you – no entry).
This giveaway is open to International entries!
Giveaway ends on Saturday, October 6, 2012; and we will announce the winner on Sunday.
Good luck!