Welcome to this week's news post! We have a bunch of updates about Amazon's upcoming new Kindles, Dorchester authors find a new home as well as our book news and covers to look out for!
The big news this week is some developments with  Amazon who have just finalized  their deal in buying the rights of Dorchester's authors. Around 1000 contracts were acquired and the authors have been offered backdated royalties as well as new homes in Amazon's own publishing imprints such as Montlake Romance and Science Fiction and Fantasy to 47 North. However some authors such as Brian Keene has reported that whilst his own rights have reverted back to him, he's seeing that that a couple of his books along with others who found new homes being listed under the old Dorchester imprint, Leisure. Whether this is a mistake or not remains to be seen but hopefully this saga will be an end and that the authors who have been cheated out of their royalties and stuck in limbo will gain back what they lost.
Amazon has also announced that they have struck a deal with Ingram which will help to distribute their publishing imprints like Montlake and others to other online stores. No details whether Barnes and Noble, Apple or Kobo may agree to this especially with the former store's spat with Amazon over the past year over exclusive deals on digital comics and print books. But if Barnes and Nobel relents and accepts offering Amazon's imprints, then hopefully they will offer the print books too.
And there is more Amazon news!!!  Today there was a few leaks about the upcoming new Kindle devices  which a Amazon has scheduled a press conference next week to launch their new devices. I did like the new Kindle Touch although the real details are a bit sketchy according to The Verge, it looks like the new Kindle is going to have a better contrast as well being frontlit like the Nook Glow and is powered by something called Paperwhite (whether this is the new name – it is unclear for now).  The new Kindle Fire also features in a few articles which had some leaked info  such as mapping and a front facing camera – although this is still in rumour territory. However it does look like Amazon is preparing for an international launch for the Kindle Fire tablets because on the front page of the UK site, there is an app which people can download onto their tablets and phones to buy apps via the Amazon platform.
Last week a story in the NY Times, featured a story about a reviewer who started a business where authors could purchase paid reviews for their books. This is not a new thing but the article really delves into great detail and on how much paid reviewers can get and how much authors pay for them which was  an eye-opener. Reviews which were very positive tend to get a higher price (obviously) but it does lead to the fact that online reviews are becoming less trustworthy especially on sites like Amazon. The interesting outcome to this was the bestseller author, John Locke (who became famous on how to write and sell  1 million copies ebooks) actually bought this service but never admitted to this in his own book.
News in Brief:
The individual States in the US over the settlement on Agency pricing have announced that consumers will be getting around 25 cents to $1.32 a book and will come up to $69 million overall.  However in the EU territories, Apple and four major publishers have announced that they are open to discounts and offers on agency pricing books to avoid another investigation in the EU.
This week marked the release of the final  book in the Grimspace series – Endgame  by Ann Aguirre. She has written a wonderful open letter commenting on the series and I highly recommend it to anyone who loves a high octane adventure and real emotions.
Melissa de la Cruz new series – The Witches of the East End is being turned into a TV series by the Lifetime channel. Casting is underway which Julia Ormond has already slated to star in.
And now for the covers and books to watch out for!!!
Thea Harrison has unveiled the blurb to her upcoming Elder's Races novella, Hunter's Season!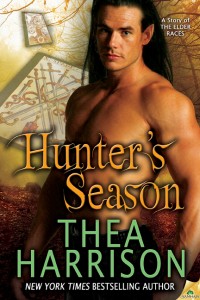 A Novella of the Elder Races
As a palace guard and assassin for the Dark Fae, Xanthe always wore a mask, hiding her emotions to do her duty. But when her identity is compromised, she trades undercover work for guarding Queen Niniane—a position that often brings her in contact with Chancellor Aubrey Riordan.
Aubrey's trust is shattered. A year ago his wife tried to assassinate their new queen in his name, a betrayal of everything he believes in. And now an attack on his life is proof the dark conspiracy is not yet over. Although injured and weak, Aubrey can't help but be drawn to this shy assassin and loyal protector. Xanthe is everything Naida wasn't, and the passion she stirs in him is something he thought had long passed him by.
Warning: Take a man recovering from an assassination attempt, the assassin sworn to protect him, add in a magical Tarot card deck and an isolated cabin, and watch the sparks fly!
I've been hearing great things about Elle Kennedy – and she has a new book coming up soon. Getting Hotter.
A good bad boy is hard to find.

An Out of Uniform story.

Seth Masterson has been lusting over Miranda Breslin since the moment he saw her on a Vegas stage. Now that he's been asked to watch out for her as she opens a dance studio in San Diego, he's all over it, figuring it's his chance to get her in his bed. Except the stubborn single mom seems determined to deny their crazy-sizzling sexual chemistry. In typical SEAL fashion, Seth makes it his personal mission to prove her wrong.

Miranda got over her attraction to bad boys about the time one of them knocked her up at the age of eighteen. Seth's mocking gray eyes and military-buff bod, though, are pure and utter temptation. And when a flooded apartment forces her and her twins to move in with him, she can no longer resist the urge to set off some serious fireworks between the sheets.

But give him her heart? No, thank you. Any involvement with Seth will be strictly physical—and temporary. So when Seth decides permanent is what he wants, Miranda must steel her defenses before she does something incredibly foolish…like fall in love.

Product Warnings

This book contains a bad boy SEAL who knows what he wants and will go to any lengths to get it. Expect some graphic language, hot sex, seduction, hot sex, dirty talk, hot sex, a little man-on-man action, hot sex. Oh, and hot sex.
And finally we have the cover for Marie Lu's follow up to Legend – Prodigy.
Jan. 4. 1932 Hours.

Ocean Standard Time

Thirty-Five Days After Metias's Death

June and Day arrive in Vegas just as the unthinkable happens: the Elector Primo dies, and his son Anden takes his place. With the Republic edging closer to chaos, the two join a group of Patriot rebels eager to help Day rescue his brother and offer passage to the Colonies. They have only one request—June and Day must assassinate the new Elector.

It's their chance to change the nation, to give voice to a people silenced for too long.

But as June realizes this Elector is nothing like his father, she's haunted by the choice ahead. What if Anden is a new beginning? What if revolution must be more than loss and vengence, anger and blood—what if the Patriots are wrong?
So what do you think of the developments of Amazon? Do the hints of the new Kindles excite you? And what do you think about the paid reviews? Is it fair?