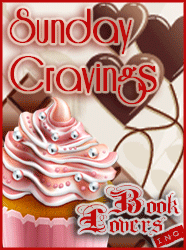 Hello Book Lovers and Happy Month! Summer is officially behind, and so does the insufferable heat (at least it seems so 🙂 ). For the first week of September there aren't that many scheduled releases but there are still enough to make us want to spend our monthly budgets from the first days of September 😛
So, here are our Sunday Cravings for this week:

Marlene: The Lost Night by Jayne Castle
The New York Times bestselling author delivers an all-new novel set on the mysterious Rainshadow Island.

With the ability to detect the auras of dangerous psychic criminals, Rachel Bonner has found peace and quiet on Rainshadow Island with her dust bunny companion. Then Harry Sebastian, the descendant of a notorious pirate, arrives to investigate strange developments in the privately owned woods known as the Preserve. Rachel can sense the heart of darkness within him— and the stirrings of desire within her own soul…
I want my very own dustbunny. No not the ones under the bed (I have LOTS!) but the intelligent and occasionally predatory type that are native to Castle's fascinating scifi romance world of Harmony. I've gobbled up every book in the Harmony series the second it came out, and I can't wait for this one. It's awesome that she tied the Harmony series to her Arcane Society paranormal romance series. She writes the historicals under Amanda Quick and the contemporaries under Jayne Ann Krentz and they're all delicious.
Lea: Playing to Win by Jaci Burton
Someone's going to have to let down their guard…

Football star Cole Riley is notorious for doing as he pleases—on the field and off. He parties hard and fights harder, but if he doesn't clean up his act, his career is over—so Cole reluctantly agrees to work with image makeover consultant Savannah Brooks. He's not used to being told what to do, especially by some (admittedly hot) Southern belle. As for Savannah, she's not convinced she can transform this cocky (and aggressively sexy) force of nature. But she's determined to give it her best shot.

When the sparks start to fly, Savannah lays down the ground rules: no personal complications. If she can turn off the tingle she feels every time Cole gives her a hot stare with his gorgeous baby blues, he can turn off his desire as well. But for two people determined to have it all, a hands-off policy can only last so long before one of them yields
I'm loving Playing To Win by Jaci Burton, her sports series rocks and just look at those covers.. *g*
Lea: Because You Torment Me by Beth Kery
Francesca takes the reins, blossoming under Ian's tutelage and leading to a bold act of rebellion and sexual empowerment—one that sends Ian closer to the edge.

As far as Ian's concerned, Francesca's gone too far. It's not just her flirtation with disaster, but her flagrant defiance and an agenda to torment him until he's seeing red with need and desire. He will see the willful young woman submit, but when she does, Ian finds himself losing all of his carefully guarded control and leaping into the consuming flames with the woman he can't live without.
Because You Are Mine is also a hit with me, I'm loving the serialized format and the story is uber hot and emotional, and gotta love the fantasy setting and storyline. 🙂
Jackie: The Tombs by Clive Cussler, Thomas Perry
Husband-and-wife team Sam and Remi Fargo are intrigued when an archaeologist friend requests their help excavating a top secret historical site. What they find will set them on a hunt for a prize greater than they could ever imagine. The clues point to the hidden tomb of Attila the Hun, the High King who was reportedly buried with a vast fortune of gold and jewels and plunder . . . a bounty that has never been found. As they follow the trail through Hungary, Italy, France, Russia, and Kazakhstan—a trail that they discover leads them not to one tomb, but five—the Fargos will find themselves pitted against a thieving group of amateur treasure hunters, a cunning Russian businessman, and a ruthless Hungarian who claims direct descent from Attila himself . . . and will stop at nothing to claim the tombs' riches as his own.
I'm going to go out in left field and say The Tombs by Clive Cussler would be my pick. I assumed that his adventures tales would be more geared to a male audience but after reading one of his previous stories, I wouldn't hesitate to check out this one. He draws you in and holds your interest with his sheer story telling abilities.
Lea: Primal Possession by Katie Reus
To protect her, he will unleash the beast within…

As his pack's second-in-command, lupine shifter Liam Armstrong gives orders and takes what he wants—until he meets red-headed, blue-eyed December McIntyre. Liam knows the human beauty is his intended mate the moment he sees her, but December is far too strong-willed to accept his protection.

December, whose brother is the town sheriff, has every reason to mistrust shifters after one killed her youngest sibling. But the forceful and handsome Liam has gotten under her skin in a way she hadn't thought possible, and the desire she feels for him is almost too much to bear.

When a radical hate group targets all humans known to sympathize with paranormal beings, December is attacked in her bookstore. Reluctantly, she turns to the only one who can help her: Liam. And he is going to take her to places within herself she never knew existed.
I so enjoyed the first of her Moon Shifter stories and this one looks equally as good. Shifters but with a female alpha feel. Different.
What about your Sunday Cravings? Which book are you dying to get your hands on this week?