Today we are happy to welcome Zoë Archer on Book Lovers Inc! Zoë will tell us about her book Lady X's Cowboy and why she loves Cowboys. Join the fun and you may win a copy of the book. Let's give a warm welcome to Zoë!
What is it about the cowboy hero that's so damned appealing? Why do so many of us love to see them in movies, on television, and read about them?
For starters, the outfit's pretty sexy. Rugged clothes? Check! Leather chaps that accentuate the butt? Check! Cool hat that casts mysterious shadows over a man's eyes? Check! And a man on horseback is definitely alluring, especially if the territory he's riding over is rough and dangerous—but he can handle himself and his mount (heh). Cowboys have to be physically strong to do their work, so you already know he'd going to be fit, too.
But that's just the superficial stuff. Cowboys represent freedom and possibility, the tough can-do spirit that's part of the myth of the American West. Cowboys can be raunchy and rowdy, but most also hold to a code of honor. They call ladies "ma'am," and value personal integrity. When faced with difficult obstacles, cowboys don't back down until the job is done.
Oh, and did I mention they look sexy in their cowboy clothes? 😉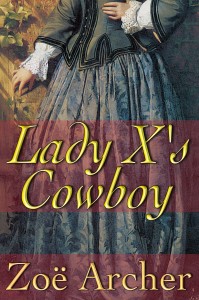 The hero of LADY X'S COWBOY, Will Coffin, is a Colorado cowboy who grew up in the rugged Rocky Mountains. He's honorable, forthright, and has a keen sense of humor. But Will's not completely satisfied with his roving ways on the trail. Something's missing from his life, so he travels all the way to England to find the family he never knew.
Lady Olivia Xavier is a Society widow in London. Her only experience with cowboys comes from between the pages of the penny dreadful novels she loves to read in secret. Olivia isn't your typical highborn lady—when her husband died, he left her a brewery, with the intention that she'd simply collect her share of the business's profits. Yet, much to Society's shock, Olivia actually takes over running the brewery, and, in fact, makes it extremely profitable. A greedy nobleman wants Olivia's brewery, but she isn't about to give it up without a fight.
When a genuine cowboy steps out of the London mists to help her battle some hired thugs, Olivia is shocked—and delighted. Will Coffin is everything she dreamed of in a cowboy, but better, because he's real, not just a character in one of her paperback novels. She proposes an unusual suggestion to Will: she'll help him find his family in exchange for him helping protect her brewery. While it may be scandalous to Society (especially when she has Will staying at her home), can anyone blame Olivia for wanting her very own cowboy?
So, my question to you is this: what do you find appealing about cowboys? Is there a cowboy from television, films or books that you particularly like? Leave a comment, and you could win a digital copy of LADY X'S COWBOY (open internationally).
 ******************************************************************
LADY X'S COWBOY

Constrained by her life as a Society widow, Lady Olivia Xavier finds escape in two unusual ways: as the owner of a successful brewery, and as a secret reader of penny dreadful Western novels. But Olivia's beloved brewery is being threatened, and she has no ally in her fight. Until a mysterious cowboy steps out from the London fog, saving her from a terrifying brawl. Suddenly, Olivia isn't just reading about the Wild West, she's living it.

Colorado cowboy Will Coffin has made the long journey from his Rocky Mountain home to discover his birthright. While searching for his family, he encounters the beguiling Olivia. Will's never met a real English lady before—certainly not one as lovely and courageous as Olivia—and he can't resist coming to her rescue.

Olivia is powerfully drawn to the rough but honorable cowboy. She proposes a most scandalous arrangement: in exchange for helping protect her brewery, she'll help Will find his family. Even more scandalous is that he'll be sleeping under her roof. The entire arrangement sets Society's tongues wagging. Meanwhile, the danger to the brewery, and Olivia herself, keeps escalating. But nothing's as dangerous, or seductive, as the growing desire between the lady and the cowboy…

Lady X's Cowboy was originally published by Dorchester in 2006 and is newly revised by the author.

To buy: Amazon, Barnes & Noble, Apple, Kobo, All Romance Ebooks
About the Author:
Zoë Archer is an award-winning romance author who thinks there's nothing sexier than a man in tall boots and a waistcoat. As a child, she never dreamed about being the rescued princess, but wanted to kick butt right beside the hero. She now applies her master's degrees in Literature and Fiction to creating butt-kicking heroines and heroes in tall boots. She is the author of the acclaimed BLADES OF THE ROSE series and the paranormal historical romance series, THE HELLRAISERS. She and her husband, fellow romance author Nico Rosso, created the steampunk world of THE ETHER CHRONICLES together. Her steampunk romance, SKIES OF FIRE, is now available from Avon Impulse, and Nico's steampunk Western, NIGHT OF FIRE, is also available now. Zoë and Nico live in Los Angeles.
~~~~~~~~~~~~~~~~~~~~~~~~~~~~~~~~~~~~~~~~~~~~~~~~~~

Giveaway
Zoë is generously offering a digital copy of Lady X's Cowboy to 1 lucky winner
All you have to do is answer one of Zoë's questions: What do you find appealing about cowboys? Is there a cowboy from television, films or books that you particularly like?
(You can read our full giveaway policy here)
Please be sure to include a valid email address in the comment form (need not be in the actual body of the comment)
This giveaway is open to everyone!
Giveaway ends on Saturday, October 6th, 2012 and we will announce the winner on Sunday.
Good Luck!