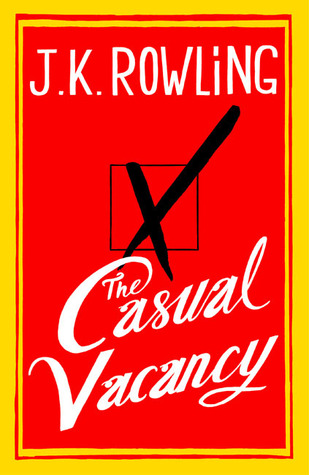 The Casual Vacancy
by J.K. Rowling
Genre: mystery
Release date: September 27, 2012 by Little, Brown and Company
Description:
When Barry Fairbrother dies in his early forties, the town of Pagford is left in shock.
Pagford is, seemingly, an English idyll, with a cobbled market square and an ancient abbey, but what lies behind the pretty façade is a town at war.
Rich at war with poor, teenagers at war with their parents, wives at war with their husbands, teachers at war with their pupils…Pagford is not what it first seems.
And the empty seat left by Barry on the parish council soon becomes the catalyst for the biggest war the town has yet seen. Who will triumph in an election fraught with passion, duplicity and unexpected revelations?
A big novel about a small town, The Casual Vacancy is J.K. Rowling's first novel for adults. It is the work of a storyteller like no other.
. . .
A Fool's Gold Christmas (Fool's Gold, #10) by Susan Mallery
A Very Accidental Love Story by Claudia Carroll
Alchemy (Mercian Trilogy, #2) by K.J. Wignall (YA)
Alchemystic (The Spellmason Chronicles, #1) by Anton Strout
Alice in Zombieland (White Rabbit Chronicles, #1) by Gena Showalter (YA)
Blaze (Phoenix Rising #2) by Joan Swan
Boyfriend from Hell (Saturn's Daughter, #1) by Jamie Quaid
Confessions of a Murder Suspect by James Patterson (YA)
Covet (The Clann, #2) by Melissa Darnell (YA)
Dark Light of Day by Jill Archer
Dearly, Beloved (Gone With the Respiration, #2) by Lia Habel
Ecko Rising by Danie Ware
Falling to Ash (Moth, #1) by Karen Mahoney (YA)
Fault Lines by Rebecca Rogers Maher
How to Marry a Warlock in 10 Days (10 Days #2) by Saranna DeWylde
Immortal Surrender (The Curse of the Templars, #2) by Claire Ashgrove
Lord of Temptation (The Lost Lords of Pembrook, #2) by Lorraine Heath
My Scandalous Viscount (The Inferno Club, #5) by Gaelen Foley
Never Seduce a Scot (The Montgomerys and Armstrongs, #1) by Maya Banks
Personal Demon (Laws of the Blood, #6) by Susan Sizemore
Rapture (The Fallen Angels, #4) by J.R. Ward
Rules to Catch a Devilish Duke (Scandalous Brides, #3) by Suzanne Enoch
Sacrifice the Wicked by Karina Cooper
Scorch (Croak, #2) by Gina Damico (YA)
Secrets of a Wedding Night (Secret Brides, #1) by Valerie Bowman
Seduction's Shift by A.C. Arthur
Seven Nights in a Rogue's Bed (Sons of Sin, #1) by Anna Campbell
Shadows (Ashes Trilogy, #2) by Ilsa J. Bick (YA)
Something Witchy This Way Comes (Jolie Wilkins, #5) by H.P. Mallory
The Angel (The Original Sinners, #2) by Tiffany Reisz
The Forbidden Lady by Kerrelyn Sparks
The Girl You Left Behind by Jojo Moyes
The Hallowed Ones by Laura Bickle
The Lady Risks All by Stephanie Laurens
The Martian War by Kevin J. Anderson
The Mephisto Kiss (The Mephisto Covenant, #2) by Trinity Faegen (YA)
The Moonstone and Miss Jones (Paranormal Investigator, #2) by Jillian Stone
The Undead In My Bed by Various Authors (anthology)
Wolf Pact (Wolf Pact, #1) by Melissa de la Cruz (YA)
. . .
Judging purely on book covers, this week looks to be ab-alicious and historical romanc-erific. Really, it was the covers that drew me to many selections these week. Like, for instance, for The Hallowed Ones. I didn't need to see the book description to know I had to have this book; a obvious paranormal tale featuring an Amish person? Intrigued 100%. But once I did read the blurb, it solidified it: (A vampire apocalypse serving as the backdrop of a young Amish woman's Rumspringa? Yes, please.)
There's not too much sense in dissecting the featured title here, which is authored by J.K. Rowling. There are very few details about the content of the book, but cover speaks for itself: classic, classy, and primarily aimed to the adult. I think that this week, I'll be doing more proverbial window shopping than actual shopping.
. . .
In danger of buying up a storm this week? Have you ever picked up and read a book purely, solely because of the cover?