This is Part Two of Victoria Vane's gracious and very extensive interview with us (for part one click HERE). In this section of her interview, Victoria gives our readers an introduction to the players in each of the four parts of The Devil DeVere series, as well as letting us in on some of her favorite scenes. And as an added treat, her characters DeVere and Diana have deigned to answer a few of what they obviously considered rather impertinent questions from this reader. 😉 Also, don't forget that there is a giveaway waiting for you at the end!
The Author's introduction to the heroes and heroines of the Devil DeVere series:

The Players by book and appearance:
A Wild Night's Bride (Book #1)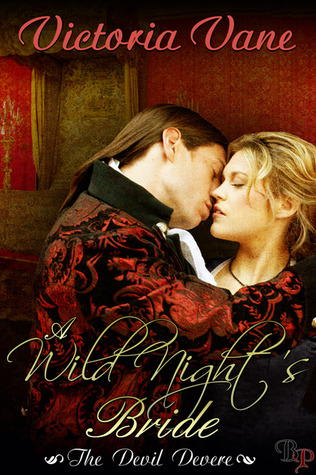 Sir Edward "Ned" Chambers: Respectable and celibate widower with a powerful right hook
Phoebe Scott "alias" Kitty Willis: Struggling actress with a past, in need of a protector
Viscount Ludovic "the Devil" DeVere: Devious and machinating rakehell, best friend to Ned
A favorite scene between Ned and Phoebe (and DeVere):
"Get out, DeVere. You can't have her." Ned retrieved Phoebe's shift and gown from the end of the bed and tossed them to her. "Get dressed," he commanded.

"What if you are too late?" DeVere taunted.

"Am I?" His rage-filled gaze flew to the bed where Phoebe had yanked the covers to her chin. He'd apparently noted DeVere's state of partial dress.

"You had your chance, my friend," DeVere said with a twitch of his lips. "After all, I had a wager to win, and she agreed to it."

"Because she's lost her livelihood, you ass! Not because she wants you!"

"How do you know what the girl wants?"

"Damn you for a rutting sod!" Ned exploded. "And double damn you for taking unfair advantage of her." Ned's fist crashed into DeVere's jaw, dropping him instantly to the floor. He spun to Phoebe, raking a hand through disheveled hair. "Tell him! Tell him you don't want him."

Phoebe stared back in wide-eyed astonishment. "It's true. I don't want him…I never did. I want you."
The Virgin Huntress (Book #2)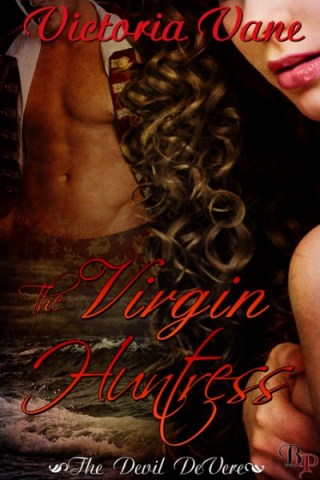 Lady Vesta Chambers: 18-year-old daughter of Sir Edward Chambers, spoiled, passionate, willful
Captain Hewett DeVere:  War hero, younger brother of Viscount DeVere and his opposite in every way
Baroness Diana Palmerston-Wriothesley:  Godmother to Vesta, beautiful but embittered widow
A Favorite scene between Hew and Vesta:
"May I touch it?" she asked.

"Bloody hell!" he cried. "No! You may not touch it!"

"But I know how. I saw you only yesterday. Is that what you do to make it go away?"

"It is one of several methods," he replied. "Another is just to ignore it."

"But it is so large and swollen. Is it painful?

"No, just uncomfortable. Now, may we stop discussing my…" The appropriate word for feminine ears failed him.

"Phallus?" she offered. "That is what the grooms call it."

"Why are you eavesdropping on grooms?"

"I used to watch the stallions mounting the mares."

"You what!" Hew almost choked.

"Well, how else is a girl with no mother supposed to get any education? Although I doubt Mama would have told me very much. So there's really no reason to be timid, Hew. I already know all about the mating process. And to the best of my knowledge, the stallions never ignored it until it went away. Please feel free to relieve yourself of it. I would even help you if you would like. I'm not the least afraid for I have seen much larger ones."
   The Devil you Know (Book #3) and The Devil's Match (Book #4) both feature Ludovic and Diana:
DeVere rose and came to her, perching himself on the arm of the settle. "My honorable and straitlaced brother could never satisfy a woman like you, Diana. He could never plumb the depths of your passion…unlock your secret desires."

His voice was low and seductive, and the flickering blue fire in his eyes heated her insides. Diana tamped down the smoldering sensation that threatened to reignite feelings she'd struggled to suppress. "And what would you know of my wants and desires after four years?"

"A great deal." He gave her a slow, confident smile. "Given that I was the one to unleash them."

Diana averted her face with a bitter laugh. "Thus you presume to have an exclusive claim to me?"

"Has any other exerted one?" he asked softly. He reached out a hand and traced a long, manicured finger along her jaw.

"You are still unwed, Diana. Have you taken another lover in my absence?"

"It is none of your business whether I have or not, and you are grossly impertinent to ask."

He laughed long and low. "I think I have my answer."

She glared at him, and thus they remained, silently challenging one another for an interminable beat. Then suddenly his mouth was on hers, taking, possessing, as if it was indeed, his singular privilege.

Diana leaned into him, teasing his lower lip with her tongue, and sucking it eagerly into her mouth before sinking her teeth into it. Hard. Savoring the coppery taste of his blood.

"What the hell!" DeVere jerked back with a cry. He touched his lip and examined the crimson stain on his fingertip, his expression a mix of outrage and bemusement.

"You took without invitation," Diana said. "It was a warning not to do so again."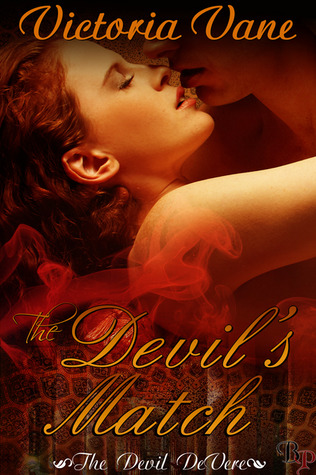 Question for DeVere: Considering the hash you had already made of your own life (The Devil You Know) what made you think that you knew what was best for either your friend Ned (A Wild Night's Bride) or your brother Hew (The Virgin Huntress)? Or by that time, did you even care?
Ludovic DeVere: "Hash?" He lifts a brow. "I'll overlook that disparaging observation, my dear, while I reply to your question.  Although I had never intended to promote another leg-shackling, Ned was a mess after Annalee's passing and in dire need of my intervention. I perceived Hew to be in similar straits upon returning from the war, but both of them are of a decidedly different temperament and character from myself. One man's potion is another man's poison, after all."
Question for Diana: What thoughts ran through your mind as you witnessed the scene in DeVere's house after Vesta ran off with Hew? (at the beginning of Devil's Match)
Diana: "Quite frankly I was shocked, but did my utmost not to show it for that's precisely the reaction that would have most pleased that scoundrel; for DeVere lives to shock and affront! He has no sensibility or sense of decency. Arriving in the midst of his private orgy only made me realize how fortunate I was not to have become further involved with him."
Question for DeVere: When Caroline presented you with her ultimatum in The Devil You Know, did you ever think of telling Diana the truth and working out a solution together? Why not?
Ludovic DeVere: "No." He frowns and rakes a hand through his hair." Look, the entire affair was unfamiliar and most unsettling territory for me. When matters took such an expected turn, I reacted with the most sensible course of action. I then moved on. I am not," he paused, "perhaps I should say I was not, a man who suffers regrets or remorse."
Question for Diana: Do you think you would have found a way to go back to DeVere if you had won the race in The Devil's Match?
Diana: "I had every intention of winning that damnable race," she says. "You speak as if I used the race as a ploy to win him back. I assure you nothing could be further than the truth. The wager was intended to put him in his place, once and for all; for there is no man who ever deserved his comeuppance, especially by a woman, as much as that arrogant and conceited rogue."
She purses her lips. "But fate had other plans."
And speaking of terrific news, Victoria is giving away a ebook copy of her novel A Breach of Promise to one lucky commenter. All you have to do to get one entry in this giveaway is answer her question: What is your favorite historical romance? (You can get an additional entry in this giveaway by answering Victoria's question in yesterday's interview!)
~~~~~~~~~~~~~~~~~~~~~~~~~~~~~~~~~~~~~~~~
~*~*Giveaway*~*~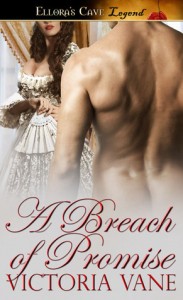 Victoria is giving away one digital copy of A Breach of Promise to one lucky commenter!
All you have to do is answer Victoria's question:
What is your favorite historical romance?

(You can read our full giveaway policy here)
Please be sure to include a valid email address in the comment form (need not be in the actual body of the comment)
This giveaway is open to everyone!
Giveaway ends on Saturday, October 20, 2012 and we will announce the winner on Sunday.
Good Luck!
To get an extra entry in the giveaway leave a comment on Part One of the interview HERE.