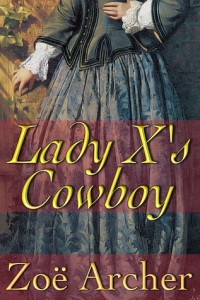 Format Read: ebook provided by the author
Number of Pages: 322 pages
Release Date: September 7, 2012
Publisher: Zoe Archer
Genre: Historical Romance
Formats Available: ebook
Purchasing Info: Amazon | B&N | Kobo | Book Depository US | Book Depository (UK) | Author's Website | Goodreads
Book Blurb:
The Lady Olivia Xavier, the cowboy who came to her rescue out of the foggy London dusk could have stepped straight from one of her favorite dime novels. But when she was thrown into his arms, his solid chest and strong embrace assured her he was very real indeed. She needed a helping hand to save her late husband's brewery from an ambitions rival, and even though she couldn't understand half of the American's curious expressions, something in his gentle touch told Olivia she could trust this stranger from the untamed west.
My Thoughts: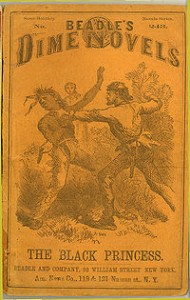 Lady X's Cowboy begins with the lady in question reading a dime novel about the wild American west. Those novels are Olivia Xavier's means of escape, not so much from the running of her late husband's brewery, but from the supposedly high-minded, and certainly high-handed, opinions of the so-called right-thinking people who are just certain that they know what's best for her.
After all, women aren't intended to be managing businesses in 19th century London. Her late husband may have left her the business, but she's supposed to have found someone else to run it for her, or sold it. Olivia should not be running it herself. Ladies don't run businesses. Not even ladies whose husband's titles are only a couple of generations old.
But Olivia not only runs Greywell's, she's damned good at it. And she enjoys the responsibility. She can't go back to being just an ornament at society parties, or just a do-gooder at charities. She knows those things are empty.
So when George Pryce starts threatening her business, she tries to get the law to help her. But George's family is old money, and no one will help her.
Until one night she steps out of Greywell's, and into one of her dime novels. There, on the London streets, the hard men who threaten her get beaten down by a real, honest-to-goodness, Western cowboy. Complete with Stetson.
Will Coffin, born and raised in the West, simply couldn't let a bunch of scoundrels rough up a woman. Any woman. Let alone a lady. And Olivia Xavier is a lady to Will, whether she has a title or not.
They need each other. Olivia needs Will, not just to keep Pryce's men at bay, but to organize her own workers against the men of privilege. Will needs Olivia to help him on his quest. He came to London in search of his roots, and she can help him find them.
But the more time they spend together, the more they realize that they just need each other, as partners. As someone who sees them as they really are, and not as what society preconceives them to be.
But when Will finds out who his parents came from, it seems that society's dictates just might rule the day after all.
Verdict: What made Lady X's Cowboy so much fun was that the story worked on two levels. First, it is a terrific historic romance. Olivia and Will make a great couple, partly because they are so unexpected. They shouldn't work, even before Will finds out where his parents' came from. But they do. They grow towards a partnership. Some of that is because Olivia is unconventional; her widowhood allows her to break free of many of the strictures usually placed around women. And Will expects a woman to be more than London society allows because of his background. There are no parlors on the frontier. Everyone has to pull their own weight.
But their relationship develops gradually, out of their friendship and business partnership. It's fun to watch and based on mutual respect and admiration and very, very hot.
The other aspect was that every assumption that everyone has about everything turns out to be wrong. From the very beginning, Olivia thinks certain things about Will because of the dime-novels she reads, and they're all wrong. Society thinks certain things about her that are all wrong. Everyone's expectations of everybody get stood on their head, over and over.
I am very happy to give Lady X's Cowboy 5 bright shiny stars!

***FTC Disclaimer: Most books reviewed on this site have been provided free of charge by the publisher, author or publicist. Some books we have purchased with our own money and will be noted as such. Any links to places to purchase books are provided as a convenience, and do not serve as an endorsement by this blog. All reviews are the true and honest opinion of the blogger reviewing the book. The method of acquiring the book does not have a bearing on the content of the review.