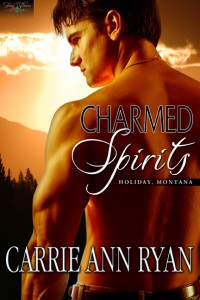 Format Read: e-book provided by Novel Sidekick courtesy of Author for Review
Length: 228 Pages
Genre: Paranormal Romance
Series: Holiday, Montana Book 1
Release Date: September 24, 2012
Publisher: Fated Desires Publishing
Formats Available: eBook, Kindle, Nook, Trade Paperback
Purchasing Info: Publisher, Author's Website, Amazon, eStore, Goodreads, ARe, Kindle, Nook
Book Blurb:
Jordan Cross has returned to Holiday, Montana after eleven long years to clear out her late aunt's house, put it on the market, and figure out what she wants to do with the rest of her life. Soon, she finds herself facing the town that turned its back on her because she was different. Because being labeled a witch in a small town didn't earn her many friends…especially when it wasn't a lie.

Matt Cooper has lived in Holiday his whole life. He's perfectly content being a bachelor alongside his four single brothers in a very small town. After all, the only woman he'd ever loved ran out on him without a goodbye. But now Jordan's back and just as bewitching as ever. Can they rekindle their romance with a town set against them?

Warning: Contains an intelligent, sexy witch with an attitude and drop-dead gorgeous man who likes to work with his hands, holds a secret that might scare someone, and really, really, likes table tops for certain activities. Enough said.
My Thoughts:
As noted in the synopsis Jordan Cross reluctantly returns to Holiday to clean out her late grandmother's (not aunt) house and ready it for sale only to find it vandalized and in disaray. Jordan has her work cut out for her if she is going to make the place presentable for sale, which means a much longer stay in a town full of unpleasant memories and people who treated her like a pariah because of fear and ignorance. Further, there is Matthew Cooper, the boyfriend she hurt badly when she left without explanation 11 years earlier.
Matt dealt with more than heartache when Jordan vamoosed all those years ago. He has a significant supernatural problem that occurs monthly and binds him to the town. He does have roots in Holiday and is very close to his 3 brothers but his recurring issue has been a nightmare come true.  Matt is well aware Jordan has supernatural abilities and since his problem first manifested the night she left, he believes she cast a spell on him or worse, cursed him.  However, when he sees Jordan again his previous feelings immediately resurface and he finds himself wanting her. Considering what Matt was dealing with I felt he was a little too forgiving, too quickly, but his character is drawn as a man who doesn't hold grudges and is just plain in love so I was able to let that aspect of his characterization go.
The Coopers are well respected in a town that is run by a psycho mayor who uses fear and very archaic laws to his own advantage. Jordan and the mayor and his equally nuts, manipulative sister are on less than friendly terms. Matt is protective of Jordan and angry about the way she is treated. As time goes on and the Coopers' pitch in and help her restore the house, Jordan becomes attached to the old place. She tries to do things to be more accepted in the community and she makes a friend.
Jordan has a lot of baggage concerning her abilities and overreacts when she is questioned or confronted about her magical abilities especially when her power goes awry during a time of high emotion. She has never fully embraced the the witchcraft that is part of her being and therefore doesn't have good control. However, things change when she learns Matt's secret and they become intimate, Jordan is determined to help him.
Charmed Spirits is a quick, quirky read with a lovers reacquainted theme. It is also about acceptance and a woman coming to terms with her abilities. One of my main issues with this story was editing, there were a number of typos and I did find the author's prose quite cumbersome at times. Despite a somewhat choppy plot, the tale does have a good hook regarding the hero, and his unusual problem. I did really like Matt and the Cooper brothers, and couldn't help but become invested in the story and hope that Jordan could help her lover. The eroticism is moderate in nature and these two do have a liking for kitchen tables. 😉

I give Charmed Spirits 3 Stars
***FTC Disclaimer: Most books reviewed on this site have been provided free of charge by the publisher, author or publicist. Some books we have purchased with our own money and will be noted as such. Any links to places to purchase books are provided as a convenience, and do not serve as an endorsement by this blog. All reviews are the true and honest opinion of the blogger reviewing the book. The method of acquiring the book does not have a bearing on the content of the review.