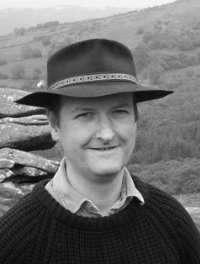 Today on Book Lovers Inc. it is my pleasure to welcome historical fiction author James Forrester, who also writes non-fiction under the other parts of his name, as Dr. Ian Mortimer. Historical fiction authors and aficionados may know him best as the author of The Time-Traveler's Guide to Medieval England.
And considering how compelling his first work of historical fiction, Sacred Treason (review here) turned out to be, it might seem as if Ian James Forrester Mortimer took himself on that time traveling trip to Medieval England. He certainly takes his readers there.
But in the here and now, he answered a few questions for us. And at the end of the interview, there's a chance for you to win a copy of Sacred Treason.
Marlene: Do I call you James or Dr. Mortimer? In either case, can you please tell us a bit about yourself?
Ian-James: Call me either Ian-James or Ian ('James Forrester' are my middle names.) I'm a historian based in the Southwest of the UK and have been a full-time writer for the last eleven years. So far I have written six non-fiction books about medieval England and one on 17th century medical history, plus many articles on historical subjects of all sorts. I originally qualified as an archivist, before I read for a PhD – hence the confidence in dealing with a very broad range of historical sources and themes.
Marlene: Can you describe a typical day of writing for us?
Ian-James: I am not a creature of routine. To give you an example: this week I've attended a meeting of my local National Park Authority (I am a government-appointed member), attended a meeting in London of a forum that helps to advise government on archival strategy, delivered a talk on life in Elizabethan England, written an article for a scholarly journal on twelfth-century chronology, attended a meeting with the TV production company with whom I am currently working on a social-history series for the BBC, inspected a 17th-century historic building that needs renovation, read part of a book for which my publishers want me to supply a puff-line, and made some notes for the history book I am currently writing. That's the sort of variety in my week – there's no such thing as a normal day.
Marlene: What is different about the experience of writing factual history as opposed to writing historical fiction?
Ian-James: Everything is different. The only thing in common is the word processor. In writing historical fiction you are creating the story; in writing history you are following the evidence. Comparing the two is like comparing driving a car and sailing a boat – both are forms of travel but that's about it. The levels of research you need to undertake to write history go far beyond what is required to write fiction. When fellow novelists tell me they do 'a lot of research' I point out to them that what they call 'research' is effectively looking at books in libraries – which are the end product of the historians' research, the historians having consulted the original documents, hundreds of them, in the original languages and scripts.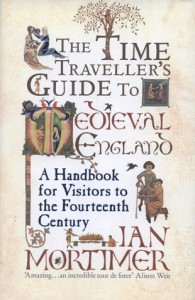 Marlene: What made you decide to take the leap from The Time Traveler's Guide to Medieval England to writing historical fiction?
Ian-James: The awareness that some important truths cannot be written in the form of history. I wanted to write about loyalty and betrayal – and to do that in a history book I would have had to write about someone else's experience. Writing fiction meant I could tell  the story I wanted to tell, and was not constrained by the evidence or the 'facts' of the past.
Marlene: You've written that "historical accuracy is like quicksand" when it comes to historical fiction. As both a historian and a writer of historical fiction, would you share your thoughts on just how sticky the quicksand is?
Ian-James: All historical fiction is fiction, and nothing but fiction. Even if you know a historical character said a particular thing at a set time in the past, you cannot possibly represent that accurately in a novel. In a novel you have to provide the whole context for that speech. Say Queen Elizabeth I was known to have made a speech: you would have to describe accurately who was listening. Was Sir William Cecil there – her Principal Secretary? If so, she would have borne this in mind. Had he just spoken to her urging her to say something? Was the audience composed of women? All this context has to be there in a novel and we just don't know it. Even the truth has to be changed for it to fit into a novel.
Marlene: Why did you choose the Elizabethan period for your historical fiction?
Ian-James: Because the themes of loyalty and betrayal are so sensitive at that point in time. If I were to set a story about adultery, heresy and betrayal in the modern world, no one would be that bothered. So what if the main man was unfaithful or lost his faith? But in the sixteenth century, you could be publicly flogged for adultery, hanged, beheaded or burnt alive for treason, and hanged or burnt for heresy. Betrayal is simply a much bigger deal when set in a 16th century setting.
Marlene: What do you think is the difference between a reader and a real Book Lover?
Ian-James: I don't know that I am a good person to ask that. I do not read many books from start to finish because I spend more time writing than reading. If I had to make a stab at this one, I would suggest that a 'real book lover' is someone who takes the story away with them when they put down the book. Or, alternatively, someone who simply cannot put down the book – like me with Pasternak's Dr. Zhivago, which I read in one go at the age of 19. I was entranced, in love!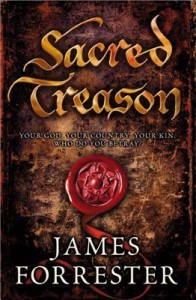 Marlene: What can we expect of Sacred Treason?
Ian-James: A conscientious, religious man and a disempowered woman are trying to find out a secret, concealed in a dead man's book, which they know holds the key to the queen of England's safety. It is set in 1563 – and lots of people are prepared to kill them to make sure the secret is never made known to the rest of the kingdom.
Marlene: What book do you recommend everyone should read and why did you choose that particular book?
Ian-James: I would never dictate such a thing. The beauty of reading is that it is a freedom, no one should feel that they ought to read any one book.
Marlene: Will there be more books in this series? What is next on your schedule?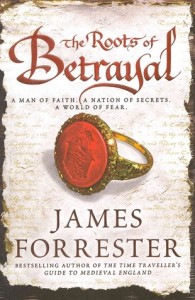 Ian-James: Sourcebooks will publish the second book, The Roots of Betrayal, in May 2013. In the UK, volume two (The Roots of Betrayal) and volume three (The Final Sacrament) have already been published, so the trilogy is now complete.
Ian-James, I do want to thank you for your thoughtful answers to my questions! I also want to say how very, very tempted I am to get Amazon UK to just ship Roots of Betrayal and Final Sacrament to me right now, and the heck with waiting for the US editions. (If we weren't moving again in two months…) 
This has been a terrific interview. But after reading Sacred Treason, I expected no less.
Sacred Treason by James Forrester

Clarenceaux Trilogy #1

London, December 1563. England is a troubled nation. Catholic plots against the young Queen Elizabeth spring up all over the country. At his house in the parish of St Bride, the herald William Harvey – known to everyone as Clarenceux – receives a book from his friend and fellow Catholic, Henry Machyn. But Machyn is in fear of his life, claiming that the book is deadly… What secret can it hold? And then Clarenceux is visited by the State in the form of Francis Walsingham and his ruthless enforcers, who will stop at nothing to gain possession of it. If Clarenceux and his family are to survive the terror of Walsingham, and to plead with the queen's Secretary of State Sir William Cecil for their lives, Clarenceux must solve the clues contained in the book to unlock its dangerous secrets before it's too late. And when he does, he realises that it's not only his life and the lives of those most dear to him that are at stake…

Buy at Amazon | Book Depository US | Book Depository (UK)
~~~~~~~~~~~~~~~~~~~~~~~~~~~~~~~~~~~~~~~~
~*~*Giveaway*~*~
Sourcebooks has generously offered

one paperback copy

of Sacred Treason by James Forrester to

one commenter living in the US/CAN

, but since we love our international readers SO much BLI is offering

one copy to an international commenter

!
All you have to do is tell us

what is your favorite time period for historical fiction?
Please say in your comment

whether you are US/CAN or INT

!
(You can read our full giveaway policy here)
Please be sure to include a valid email address in the comment form (need not be in the actual body of the comment).This giveaway is open worldwide!
Giveaway ends on November 3, 2012 and we will announce the winner on Sunday.
Good Luck!