Ghosts, vampires, demons, and more! Entangled includes ten suspense-filled paranormal short stories from authors Cynthia Eden, Jennifer Estep, Edie Ramer, Lori Brighton, Michelle Diener, Misty Evans, Nancy Haddock, Liz Kreger, Dale Mayer, and Michelle Miles, plus a Seven Deadly Sins novella by Allison Brennan.

Stacia Kane contributed the foreword. Formatting and cover art were also donated to the project by Lori Devoti and Laura Morrigan.

All proceeds go to the Breast Cancer Research Foundation.

Stories include:

HALLOWEEN FROST by USA Today bestselling author Jennifer Estep (author of the Mythos Academy, Elemental Assassin, and Bigtime series) — It's Halloween at Mythos Academy, but Gwen Frost and her friends are in for more tricks than treats when they run into a mythological monster intent on killing them.

THE FAT CAT by Edie Ramer (author of Cattitude, Galaxy Girls) — In a battle for the souls of seven women, a wizard has the god of war on his side; all the witch has is a fat, black cat.

MEDIUM RARE by Nancy Haddock (author of the Oldest City Vampire trilogy) —What's spooking the spirits of St. Augustine? As the witching hour of Halloween approaches, ghost seer Colleen Cotton must team with a by-the-book paranormal investigator to locate the one ghost who can save the city's specters. If she fails, her own great grandfather's spirit may be lost forever.

SWEET DEMON by Misty Evans (author of the Witches Anonymous series) —When Chicago's vampire king insists Kali Sweet join his empire, the vengeance demon must rely on her ex – the half-human, half-chaos demon who left her at the altar three hundred years ago – in order to escape the vamp's clutches.

SIAN'S SOLUTION by Dale Meyer (author of the Psychic Visions series) — When a vampire discovers the human man she loves has been captured and hung in a blood farm, she goes against her own kind and risks everything to save him.

A BIT OF BITE by Cynthia Eden (author of NEVER CRY WOLF and ANGEL OF DARKNESS) — A killer is stalking the streets of Crossroads, Mississippi, and it's up to Sheriff Ava Dushaine to stop him. But when suspicion falls on werewolf alpha Julian Kasey—Ava's ex-lover and the man who still haunts her dreams—Ava knows that she'll either have to prove his innocence…or watch the whole town go up in flames.

SINFULLY SWEET by Michelle Miles (author of the Coffee House series) — When Chloe bakes a little magic into her pastries, she attracts the attention of Edward, the sexy half-demon, half-witch, who's come to warn her those who murdered her sister are now after her.

A NIGHT OF FOREVER by Lori Brighton (author of A Night of Secrets and To Seduce an Earl) — Who is Aidan Callaghan? Mary Ellen James is intent on uncovering the truth about the mysterious man, but as she soon finds out, some things are best left buried in the past.

FEEL THE MAGIC by Liz Kreger (author of the Part of Tomorrow series) — Jenna Carmichael's magical attempt to rectify Jessica Manfield's birth identity takes an unexpected turn when the past comes back to haunt her.

BREAKING OUT by Michelle Diener (author of the Tudor-set historical suspense novel In A Treacherous Court) — Imprisoned in a secret facility, powerful telekinetic Kelli Barrack and two other 'special' inmates grab a chance to escape, only to confront their worst nightmares on the outside.

GHOSTLY JUSTICE, an all-new Seven Deadly Sins novella by New York Times bestselling author Allison Brennan (author of the Seven Deadly Sins series) — Demon hunters Moira O'Donnell and Rafe Cooper are dragged into the dangerous world of nocturnal predators to find "Ghostly Justice" for a virgin sacrificed to an ancient blood demon.
Our Thoughts:
Stella: When I asked for Halloween read recommendations Marlene was quick to name the Entangled anthology,  and when we started discussing it we thought why not make a special Halloween related dual review of it? Since it has more than 10 stories we thought reviewing the whole anthology would be way too long, so we decided for each of us to pick 2 stories and give you our thoughts on them.
Stella: I think it isn't a big surprise to those who know me (and have heard my constant praise of Jennifer Estep's series ;-)) that the story I was most excited about was Halloween Frost by Jennifer Estep, which is considered Book #1.5 in her Mythos Academy series, which I love! Truth be told I have already read this novella last year when the Entangled anthology was released but I enjoyed it so much I didn't mind in the least having to re-read it for this review. And I'm happy to say that it was just as much fun as it was the first time around!
Halloween Frost takes place after the first book in Jennifer Estep's YA urban fantasy series, Touch of Frost: Gwen our heroine is already used to life at Mythos Academy and she has made friends with Daphne, a cute and stylish Valkyrie and is crushing big time on Logan a strong and sexy Spartan. Those who haven't read the first book won't feel lost because Jennifer Estep includes enough background history references and explanations to give you an idea on who's who (which could seem a bit repetitive for already established fans of the series).
This short novella tells the story of how Gwen and her friends spent Halloween at Mythos Academy: everyone, teachers and students alike dressed up (except Gwen), the whole town around the school was decorated in full spookiness and the kids went around collecting not just mouthwatering-ly delicious treats but also jewellery and armour!
Can I just say how much I LOVE Jennifer Estep's Mythos Academy series? It is fun, exciting and exceptionally thrilling! It has everything: nail-biting action and fast paced fight scenes, a sexy heartthrob hero and a quirky and so lovable heroine. Halloween Frost packed even more spookiness and sinister athmosphere than the usual stories in the series due to the festive setting. Thanks to Jennifer Estep's vivid and colourful descriptions of Mythos Academy I can easily picture the gothic gargoyles and stone sphinxes guarding the gates.
Carved jack-o'lanterns lined all the cobblestone streets, the lit candles inside them flickering and making their grins seem particularly sinister in the darkening shadows. Thick, silvery webs complete with fat, rubber spiders swooped from one doorway to the next, while ghosts, ghouls, and other classic monsters could be seen in the storefront windows, arms outstretched like they wanted to break through the glass and grab the students strolling by.
Another aspect I love about Jennifer Estep's books is that she never fails to mention delicious treats that make my mouth water, and being a hobby baker I appreciate that 😀
[…] went from shop to shop, loading up our pumpkins with everything from gourmet pretzels to delicious brownies to candy apples bigger than my fist. I had a serious sweet tooth and quickly filled up my pumpkin, even though we hadn't gone through half the stores yet. I popped a piece of dark chocolate fudge topped with vanilla-raspberry syrup into my mouth and sighed as the rich flavors exploded on my tongue. Yum.
Verdict: Halloween Frost is a great addition to the Mythos Academy series and the perfect Halloween read. Let me just say that Gwen and her friends get some first hand spooky action this Halloween 😉 Read Halloween Frost while munching on some yummy candies!
I give Halloween Frost 4.5 spooky stars!

Marlene: The thing about story/novella collections is that there are usually a couple of "meh" stories in the bunch. So when Stella and I decided we would each pick two (and only two) stories to feature, it seemed like a brilliant solution. Not so! This collection doesn't have a "meh" story in the bunch.
My first pick was always going to be Edie Raymer's The Fat Cat. This starts out as a kitty adoption tale. A witch goes into her local shelter to adopt a kitten. Bad move, or so it seems. Instead of leaving with an adorable little kitten, she leaves with a virtually unadoptable fat black tomcat, who is past middle-age into the bargain. Samson not only hears her thoughts, he can speak to her mind. Mostly to ask for food. And quote Casablanca.
Samson becomes her best friend. He's way better company than her ex. But kitty old age is catching up way too fast, and Tory doesn't want to lose him, so she tries a spell. One that will make Samson young and virile again, instead of old and very farty. (Yes, I meant farty. Also arthritic) She tries her spell the night before Halloween. It doesn't seem to work and Tory is heartbroken
On Halloween she confronts the evil warlock who has captured the body, and imprisoned the soul, of her younger sister, along with several other women. He is powerful, and very, very smug. Also a handsome bastard. The only protection that Tory has is poor Samson, still in the body of an old cat. Guess what happens?
Verdict: This story has so many fun elements. The transformation of both the cat and the warlock. The redemption of the young women. Saving the old cat and discovering that he's her best friend. The lovely (well sometimes lovely) idea of knowing what our pets think. All worked into a terrific story of friendship, redemption, witchcraft and Halloween. With a happy ending!
I give The Fat Cat 5 claw-tipped stars!

Stella: The second story I selected was A Bit of Bite by Cynthia Eden. I have followed Cynthia Eden's blog and saw her new releases and was always curious and intrigued to read them for some time now, so now I thought the time has finally come for me to discover her writing through this novella of hers, and I enjoyed it a lot!
A Bit of Bite is a sexy and thrilling parabormal romance with a seriously possessive and protective alpha werewolf (yum!) and a kickass detective heroine.
A twig snapped a few feet away from her. Ava didn't jump and spin toward the sound, but her right hand did rise slowly to curl around the butt of her gun. The problem with all the supernaturals was that they could just move too fast—
"Easy." His deep, dark voice washed over her and, just like that, werewolf alpha Julian Kasey stood in front of her. The light, woodsy scent that marked his kind clung to him as he towered over her.
Mmm, can you seriously tell me you just didn't shiver while reading that one word sentence of his?
The chemistry and passion between these two is sizzling and scorching, the perfect story to make you tingle with a bit of thrill!
No one was ever gonna take Ava Dushaine from him. No one. His mouth crashed down onto hers. He should have been easier. Should have used some gentleness, but werewolves didn't exactly know much about tenderness. The only things he knew…she'd taught him. Her lips were parted, and his tongue pushed inside her mouth. He tasted her, and her kiss was better than he remembered. No dream to haunt him, she was real now.
The world-building was interesting and layered, the supernatural sections and societal hierarchy, fractions were different than usual. A Bit of Bite made me suspect there is a series where Cynthia Eden gives more depth to it, and I'll definitely look for it because I very much enjoyed her in-depth and detailed writing style.
Verdict: A Bit of Bite was a great steamy and exciting read. If it were a bit longer, a bit more detailed it could have been a five star story. As it is, it was a delicious novella and I'll have to check out Cynthia Eden's full length stories now that I have gotten a small taste of her writing. A Bit of Bite is a pulsing romance with paranormal setting and a big and delicious alpha hero!
I give A Bit of Bite 4 sexy stars!

Marlene: I also loved Cynthia Eden's A Bit of Bite, but I let Stella have that one. I was feeling generous. The second story I want to highlight is Lori Brighton's A Night of Forever. The story takes place in the same world as her novel A Night of Secrets, but I'll confess that I didn't know that when I read it and it didn't detract from my enjoyment one little bit. Of course, now that I do know, A Night of Secretsis going on my TBR list.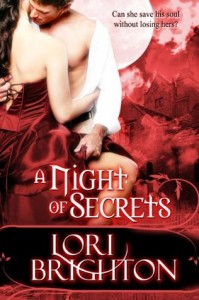 But about A Night of Forever…it starts out as if it were a typical Regency, or close enough, even though it's set in a later period. Mary Ellen plans to marry someone rich and titled, not because she's necessarily that mercenary, but because she craves the security that money and status can bring. However, she finds herself fascinated by a man who appears to have neither. Aidan Callaghan seems to be merely her brother-in-law's houseguest. He is a complete enigma, quiet and withdrawn for the most part, but always watching her. He fascinates her. And she fascinates him.
What Mary Ellen doesn't know is that her brother-in-law is a vampire. And so is his friend Aidan, who is trying his damndest not to use the powers of fascination and enthrallment that he has at his command. Because he could simply make Mary Ellen come to him, but then it wouldn't be real. He wants the contented life that his friend Grayson has found, a life, and love with a woman who knows what he is and loves him anyway.
So he watches Mary Ellen from the shadows, and knows that she is as sincerely interested in him as he is in her. But at the Halloween revels on Gray's estate, Mary Ellen leaves the safety of the house and is captured by thugs. When he comes to her rescue, Aidan is captured as well. In order to escape, he has to reveal what he is to save them. Will his willingness to fight for her provide Mary Ellen with a better kind of security than the money and status she said she wanted?
Verdict: This one had the kind of shivery gothic creepiness that all the best Halloween stories do. At first, you're not sure where the danger is going to come from, and then you're not sure if Mary Ellen will choose safety over love. A Night of Forever tells a terrific tale of the slow build, both to knowledge and to love.
I give A Night of Forever 4.5 fanged stars.

Stella: And yes, as you can see despite us vowing to review only 2 stories (I even asked Marlene to prevent me from becoming greedy and giving in to temptation), when I turned the last page of A Bit of Bite there were the first few lines of Michelle Miles' story and being the baking fan that I am I couldn't stop myself from reading it. See for yourself and tell me if you could have resisted it:
At four in the morning, Chloe O'Shea unlocked the door to Sugar Mamma's Bakery and flipped on the interior lights. She turned on the ovens, gathered her ingredients and started baking for the day. With a giant yawn that nearly split her head in two, she started her scones, a customer favorite. Then the muffins—blueberry, banana nut, poppy seed, bran. Once she had the morning cravings in the glass case ready to go, she started on the afternoon favorites. Cupcakes, cookies, mini-tarts and other delectable goodies.
So there you go, here is my bonus review 😉
To be honest I haven't even heard of Michelle Miles before, so this novella was a complete blank canvas for me, I had no expectations at all, and yet she managed to blow me away.
Our heroine Chloe is a witch on the run, she has been hiding in the human world and spending her days as a baker, but she can't help herself from pouring some of her magic into her creations:
Perhaps it was a mistake putting her small bits of magic into her cupcakes, her cookies, her scones and her muffins. Her customers loved her baked goods and why not? She poured Happiness into every batch. And lust into her red velvet cupcakes with cream cheese icing.
and so the bad guys she has been hiding from get a flare of where she is. Her savior is Edward a sex on stick mysterious man Chloe can't help but lust after (and trust me the reader won't be able to help herself either!). Together they try to combat the evil forces and stay alive.
Verdict: Sinfully Sweet was a deliciously steamy story with great world-building, fantastic writing style, a likable heroine and a hunk of a hero. Now that I've discovered Michelle Miles' writing first hand I'll go and hunt down her other novels, because I just want more delicious stories!
I give Sinfully Sweet 4.5 delectable stars!

***FTC Disclaimer: Most books reviewed on this site have been provided free of charge by the publisher, author or publicist. Some books we have purchased with our own money and will be noted as such. Any links to places to purchase books are provided as a convenience, and do not serve as an endorsement by this blog. All reviews are the true and honest opinion of the blogger reviewing the book. The method of acquiring the book does not have a bearing on the content of the review.