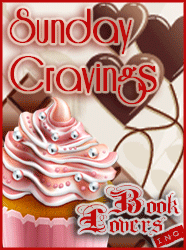 Hello Book Lovers! I'm still filling in for Anna while she's buried in wedding preparations. Maybe I should have paid more attention when she told us she was taking a leave of absence from the blog, because I really have no idea how long she'll be gone….
On the bright side, this is motivating me to look into blogging apps. Because now I can't just not post when traveling. (Which is why there are random weeks where I am not snarking at you all. Do you miss me when I am gone?) Blogging from my iPad's mobile browser is an exercise in frustration. Any suggestions? There appear to be a million of them, and the reviews are not anywhere approaching helpful.
On to this week's Cravings! Not much to choose from. Which is probably for the best. I'm busy re-reading Magic Rises for the umpteenth time.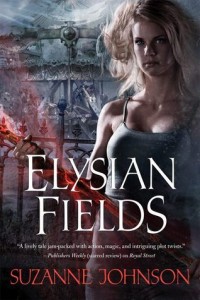 Marlene: Elysian Fields (Sentinels of New Orleans, #3) by Suzanne Johnson.
An undead serial killer comes for DJ in this thrilling third installment of Suzanne Johnson's Sentinels of New Orleans series

The mer feud has been settled, but life in South Louisiana still has more twists and turns than the muddy Mississippi.

New Orleanians are under attack from a copycat killer mimicking the crimes of a 1918 serial murderer known as the Axeman of New Orleans. Thanks to a tip from the undead pirate Jean Lafitte, DJ Jaco knows the attacks aren't random—an unknown necromancer has resurrected the original Axeman of New Orleans, and his ultimate target is a certain blonde wizard. Namely, DJ.

Combatting an undead serial killer as troubles pile up around her isn't easy. Jake Warin's loup-garou nature is spiraling downward, enigmatic neighbor Quince Randolph is acting weirder than ever, the Elders are insisting on lessons in elven magic from the world's most annoying wizard, and former partner Alex Warin just turned up on DJ's to-do list. Not to mention big maneuvers are afoot in the halls of preternatural power.

Suddenly, moving to the Beyond as Jean Lafitte's pirate wench could be DJ's best option.
This series is fan-damn-tastic! And Suzanne Johnson's 
Penton Legacy
 series, written under her Susannah Sandlin name, is like vampire romance crack. But I have to wait awhile for the new book in that one. Back to
Elysian Fields
. Okay, we've got wizards in New Orleans. That's enough right there. But there's Old Orleans because there's so damn much mojo that the old city still lives. (
It does, believe me!
) Pirate Jean Lafitte is still doing business deals, Satchmo still comes down to play the blues. And our heroine is trying to keep everything contained, including figuring out her magic. And we have necromancers. And werewolves. And occasionally the voodoo queen of New Orleans.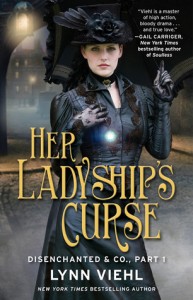 Marlene & Cass
: 
Her Ladyship's Curse (Disenchanted & Co., #1) by Lynn Viehl
.
In a steampunk version of America that lost the Revolutionary War, Charmian (Kit) Kittredge makes her living investigating magic crimes and exposing the frauds behind them. While Kit tries to avoid the nobs of high society, as the proprietor of Disenchanted & Co. she follows mysterieswherever they lead.

Lady Diana Walsh calls on Kit to investigate and dispel the curse she believes responsible for carving hateful words into her own flesh as she sleeps. While Kit doesn't believe in magic herself, she can't refuse to help a woman subjected nightly to such vicious assaults. As Kit investigates the Walsh family, she becomes convinced that the attacks on Diana are part of a larger, more ominous plot—one that may involve the lady's obnoxious husband.Sleuthing in the city of Rumsen is difficult enough, but soon Kit must also skirt the unwanted attentions of nefarious deathmage Lucien Dredmore and the unwelcome scrutiny of police Chief Inspector Thomas Doyle. Unwilling to surrender to either man's passion for her, Kit struggles to remain independent as she draws closer to the heart of the mystery. Yet as she learns the truth behind her ladyship's curse, Kit also uncovers a massive conspiracy that promises to ruin her life—and turn Rumsen into a supernatural battleground from which no one will escape alive.
Marlene
: I've been on a steampunk kick lately, and everyone says this series is terrific. Plus, I remember her early 
Darkyn
 books quite fondly and her 
Stardoc
 series (
written as S.L. Viehl
) were positively addictive for the first seven. I have hopes.
Cass: To be perfectly honest, I've been burned on Steampunk a lot lately. So much shit. Just romance with sky pirates. YAWN. Also, I was immediately turned off by the "I don't believe in magic" trope. However, I'm willing to give this one a shot entirely on Gail Carriger blurb. DON'T MAKE ME REGRET THIS GAIL.
What about you? Which books are you adding to the gravity-defying tower next to your bed? Remember that one day you will die tragically when it falls on you, so make sure you only buy books you wouldn't be embarrassed for the emergency response personnel to see.