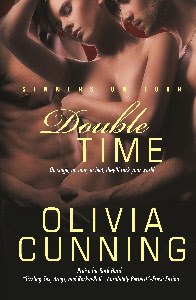 Format Read: paperback ARC provided by courtesy of Publisher for Review
Length: 416 Pages
Series: Sinners On Tour, Book 5
Genre: Contemporary Erotic Romance
Release Date: November 6, 2012
Publisher: Sourcebooks
Formats Available: eBook, Kindle, Nook, Trade Paperback
Purchasing Info: Publisher, Author's Website, Amazon, Barnes & Noble, Goodreads, Powell's, The Book Depository, Kindle, Nook
Book Blurb:
After falling head over heels in love with Reagan Elliot, the perfect woman for him, Sinners' rhythm guitarist, Trey Mills, vows to give up his bisexual ways forever.

When an obsessed fan threatens Reagan, she hires her friend, Ethan, to protect her while on tour. Falling for his girlfriend's bodyguard, a guy, was never on Trey's agenda.

Will he have to choose between them, or can he have the best of both worlds?
My Thoughts:
Sinners rhythm guitarist Trey Mills hasn't aspired to monogamy over the years. In fact, he has had innumerable partners, male and female, individually and at the same time, and, in every conceivable combination and position. He enjoyed the momentary physical release and moved on. There has never been any promise of commitment, in fact Trey makes sure his partners are well aware of his love 'em and leave 'em approach regarding relationships. Trey and Sinners lead guitarist Brian Sinclair were high school best friends and Trey has been secretly in love with Brian for years particularly after they experimented with male/male intimacy. Trey has come to the realization that Brian deeply loves his wife Myrna and he will never be more than a best friend and band mate therefore Trey reluctantly decides to move on.
Gifted female rhythm guitarist Regan Elliot enters and wins a contest replace the mega famous, über wealthy metal band Exodus End's singer and rhythm guitarist Max, who  is unable to play due to a medical condition. Trey's brother, Dare, is the lead guitarist of  Exodus End and Trey hears Regan's audition while visiting Dare's mansion. Trey is convinced it is Brian playing when he listens to Regan's rendition of a particularly famous Sinners tune. Trey is not only drawn to Regan's raw sexy vibs, they also have an affinity with music in common. Trey has no intention of looking for or finding someone to love the way he loved Brian, but surprisingly, he develops warm and fuzzy feelings for Regan Elliot.
Regan is realizing her dreams, not only is she going to play guitar with one of the most recognized metal bands on the planet she is being extremely well financially compensated to do it. Plus, her band mates are hot! Then Trey Mills, one of her guitar idols, walks into the sound booth and lightning strikes. When it turns out Trey is drawn to more than her talent she doesn't turn down the chance to spend time with the sinfully sexy Sinners guitarist.
Ethan Connor, a former cop turned security guard is Regan's roommate, best friend and her previous lover. Ethan is bisexual and when Regan came home one night to find him in a lovers knot with a guy, things did not go well, he hurt her deeply. They did manage to mend fences and establish a good friendship. Regan understandably has issues with becoming involved with men who are sexually attracted to men as well as women. She assumes Trey is straight, something he doesn't deny even though it's a lie.
Ethan pins Trey as bisexual as soon as they meet, and both men are attracted to the other. Trey even checks out the other man as he enters the bedroom to do the deed with Regan the first time. And, Ethan feels confused because he is jealous of both his former female lover and Trey because he wants both of them. Confused yet? I know I was… lol
Anyway, Olivia Cunning writes a light suspense subplot into the story, and Ethan's expertise is required. The Sinners are about to embark on a lengthy tour with Exodus End and prior the start Trey comes clean with Regan regarding his sexual preference for men and woman. After some initial angst, what began as a lover's triangle evolves into a ménage relationship. Ethan is a tough guy and likes a dominant role in the bedroom, which Trey enjoys too. But then Trey isn't picky—top, bottom, upside down, you name it that boy is game. Lol I thought Cunning did a good job of characterizing the protagonists, they did, for the most part compliment each other.
Regan faces a huge lifestyle adjustment. Being part of an internationally famous metal group requires an image make over, promotional appearances, photo ops etc. She is very much the sassy tom-boy, and doesn't dig being made up like a sex-goddess. I really liked Regan, what you see is what you get, she is real and very good for Trey who relates to her quick come backs and wry sense of humor. She also has a fiery temper and gives as good as she gets. It's shaky for Regan in the beginning but she proves she's got what it takes to survive the mega fame and frenzy that surrounds the band. Plus she has two men to support her although they go through growing pains too.
As with all the Sinners books you can expect oodles of carnal sex and plenty of hilarity. I have to say I hooted with laughter at Eric and his ladylove Rebekah, who majors in kink with a capital K. There are also serious issues that the band must work through and some tough decisions to be made. The dysfunctional Sinners family is, lord help us, propagating, and the band is evolving, but at least the guys now have their women (and one man) to help and support them along the way.
I've enjoyed the Sinners on Tour series. It took me a while to get into Double Time but at the end of the day I became invested in the story and wanted to see Trey, Regan and Ethan happy. My one big niggle is that through no fault of the author, Double Time is the fifth and final book in the series and we haven't seen book three and four yet! It's difficult understand why the publisher would make the decision to release Double Time ahead of the other novels, because it does give facts that could be considered spoilerish for the previous two stories. In addition, the Sinners world obviously builds over the course of the five books so a reader can't help but feel disadvantaged by not having access to the information shared in books three and four.
Regardless, I am looking forward to reading Hot Ticket, the quiet, seemingly introverted Jace's story that will be released in February.

I give Double Time 4 Stars
***FTC Disclaimer: Most books reviewed on this site have been provided free of charge by the publisher, author or publicist. Some books we have purchased with our own money and will be noted as such. Any links to places to purchase books are provided as a convenience, and do not serve as an endorsement by this blog. All reviews are the true and honest opinion of the blogger reviewing the book. The method of acquiring the book does not have a bearing on the content of the review.