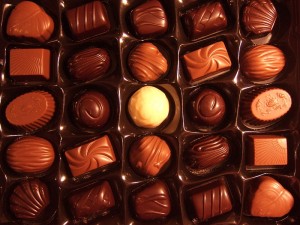 Today we'd like to offer a sweet welcome to Book Lovers Inc. to Rachel Astor. I say sweet because Rachel is here to talk about here new contemporary romance, Sugar Rush, and it takes place at a candy store. Talk about sweetness! Sweet competitiveness, since her hero and heroine are trying to out-do each other at a chocolate competition!
Speaking of competitions, if you want to win your own copy of Sugar Rush, be sure to check out the giveaway at he end of the interview.
Marlene: Hi, Rachel, welcome to Book Lovers Inc! Can you please tell us a bit about yourself?
Rachel: Thanks for having me! I grew up on a farm outside a tiny town (population 500), once worked at a bar named after a dog, and I'm a twin, which routinely gets me stopped by complete strangers thinking I'm my sister. In fact, it happened at an ice cream shop just a few weeks ago.
Marlene: Describe a typical day of writing? Are you a planner or pantser?
Rachel: For years, I didn't have a typical writing day since I worked full time outside the home and snuck in writing whenever I could. Now that I'm writing full time, I write, plot, and do the other business related activities during the typical daytime hours and try to free up my evenings and weekends for family and friends. I used to be a panster, but have slowly come around to the Plotter way. I've found writing the first drafts of a book is much less daunting when you have a clear picture of where you plan to go, although my outlines are very simplistic, with only major plot points already planned, so there is still a lot of creativity involved.
Marlene: What do you think is the difference between a reader and a real Book Lover?
Rachel: I think a reader is someone who reads only when they have to, or when they think it's "in fashion." There have been a lot of different series lately that have become huge fads and a lot of people have jumped on the reading bandwagon to feel involved. A real Book Lover is someone who has probably read most of their lives and read for the enjoyment of it, the escape. Don't get me wrong though, the fad books are a good thing too, since lots of those bandwagon readers might just become real Book Lovers!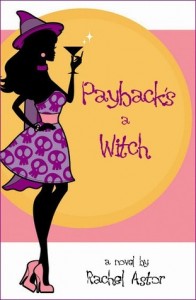 Marlene: Most of your books have been contemporary romances, except for Payback's a Witch. What made you decide to try your wings (or should that be broomstick) in a different branch of the romance genre?
Rachel: I like to read a variety of stories and that sort of rubs off on what I like to write. I love romance, of course, particularly lighter, fun stuff that can really let you escape to another place, especially with a bit of humor. I'm also drawn to mysteries or books that have an element of mystery. Really, the type of book isn't as key as the voice of the book, and I find I'm usually drawn to a casual writing style, so that's what I aim for with my writing, no matter what genre I choose.
Marlene: What can readers expect of Sugar Rush?
Rachel: Dulcie and Nick are competing candy shop owners, but they don't realize who each other is when they first meet and the sparks fly. Once they find out, the competition is on to see who can out-chocolate the other at the annual chocolatiers competition.
Stella: Sugar Rush is a culinary romance, where food, and especially desserts play a central role. Is food, your enthusiasm and appreciation for it equally as vitally important to you than to Dulcie and Nick? Do you like to cook/bake, browse food/baking blogs, watch the food channel or even dream about desserts? 😉

Rachel: The characters of a story are always the most important thing, in my opinion, even though I love crazy fun settings and plots. If the readers don't relate to, or fall for the characters, they aren't going to want to spend time with them, especially the entire time of a novel. I do like to cook and bake and absolutely LOVE the food channel. Obviously, I dream about desserts, doesn't everybody? 🙂
Stella: Was Sugar Rush the title of the novel from the start or did it have a working title? And if so, what was it?
Rachel: Actually the original working title was the title of Dulcie's store, Candy Land.
Stella: Just for the sake of it, if you were to write a culinary series about 3-4 brothers/sisters/siblings of a chef family, what would you call the books? (and yes, if you'd like, you can use Sugar Rush for one of the stories)
Rachel: Ooh, interesting. If I were to write it, it would probably be four sisters, since in my family, there are four girls. Titles are tough, it usually takes me days to come up with just the right one, but off the top of my head, the title of the series might be something like Family Fried or something fun like that.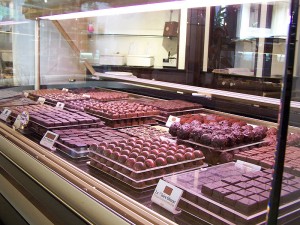 Stella: Your heroine is named Dulcie, which is very reminiscent of dulce, which in many neo-Latin languages (Italian, Romanian, etc.) means sweet treat, dessert. Was this something you chose based on some research and its meaning or was it completely by chance?
Rachel: A lot of my characters have names that have additional meaning within the book. You're right, Dulcie is a variation of the Latin dulce, and can be found in lots of baby name books, which are invaluable resources for a writer.
Stella: If you could have Dulcie and Nick describe each other by a food, what would they say the other is?
Rachel: Dulcie would see Nick as the Dark Chocolate of Desire, a decadent double chocolate confection that you know you shouldn't have, but just can't quite resist, and Nick would see Dulcie as something like the Surprise Indulgence, which would be a simple milk chocolate shell, filled with an unexpected filling of a sophisticated raspberry compote.
Stella: Both Dulcie and Nick have to create new things, have you ever created something original, went off the beaten path of the recipe book and let your muse whip that spoon?
Rachel: I'm more of a stick to the recipe kind of cook. I think my creative talents are better left to the page, rather than the kitchen. Things could turn out a little scary otherwise!
Marlene: What do you think is behind the current crop of chocolate-themed romances? (Better Than Chocolate, The Sweetest Spell, The Sweetest Dark)
Rachel: Who can resist chocolate and candy? Seriously though, it's a great backdrop for a book, and especially a romance because of the decadence already related to chocolate and candy – that little treat to indulge in.
Marlene: Now can you tell us 3 reasons why people should read your books?
Rachel: They're light and fun – great escape reads.
There tends to be a lot of humor.
I feel like they're pretty accessible – most people can relate to the trials and tribulations to the main characters.
Marlene: What projects do you have planned for the future? What is next on your schedule?
Rachel: I have a few things on my writing scope at the moment. Oddly enough, I'm working with my agent on polishing a middle grade novel set in a spooky abandoned mansion, but I'm also in the middle of plotting a new romance with a bit of mystery, which will take center stage soon.
Marlene: Coffee or Tea?
Rachel: Coffee, definitely coffee.
Rachel grew up on a little farm outside a tiny town in the middle of the wide open Canadian prairie, which is good, since when she travels, she gets a little claustrophobic when there's too much landscape looming over her. She lived with her parents and three sisters; an older, a younger, and a twin, in a house with only one bathroom.

She still lives on the prairie, but now it's with her husband and two stepsons (and thankfully, two bathrooms), and has constant girl stuff withdrawal.

Rachel has had a lot of jobs, but none quite as interesting as when she waitressed at a bar named after a dog.

She writes light, fun books that she hopes put smiles on reader's faces.

P.S. A little tidbit about the McMaster the Disaster trilogy: at least one of the embarrassing moments of each book in the trilogy are inspired by her own personal moments which have found new life on the pages of Josie's journal. She will go to her grave before admitting which ones. 

Where to find Rachel: Website | Facebook | Twitter | Goodreads
There's nothing quite like your first bite.

Dulcie Carter has been running her family's homemade sweet shop, Candy Land Confections, on her own since her mom passed away. But business is slow and rent is high, so Dulcie knows if she wants to keep her mom's dream alive, she'll need a miracle. Winning the annual Assembly of Chocolatiers competition will change everything, if only she can overcome her fears and bring herself to create something new for the first time in a long time.

Then she meets Nick, a molten-hot guy with a sexy smirk and chocolate brown eyes. The attraction is stronger than any sugar rush—until she discovers he's set to inherit his family's big-box candy shop in town, which is her strongest competitor for first prize. Nick's got his own reasons for needing the win, but then being around Dulcie is proving addictive.

As the competition heats up, so do the sparks between them. Can they keep their sights on winning, when love might be the sweetest prize of all?
~~~~~~~~~~~~~~~~~~~~~~~~~~~~~~~~~~~~~~~~
~*~*Giveaway*~*~
Entangled Publishing has generously offered an ebook copy of Sugar Rush by Rachel Astor!
All you have to do is leave a comment
 what you like (or don't) about chocolate-themed romances
(You can read our full giveaway policy here)
Please be sure to include a valid email address in the comment form (need not be in the actual body of the comment).
This giveaway is open to all!
Giveaway ends on Saturday, 10 November 2012; we will announce the winner on Sunday.
Good luck!