Today we are really happy to welcome author Allison Brennan to Book Lovers Inc in celebration of her latest release Stalked! Stalked is the 5th book in the Lucy Kincaid series, a romantic suspense title full of mystery and action. Allison stops by today with a really interesting guest post about books and what else, reading! So, welcome Allison and don't forget to check at the end of the post for the details on your chance to win a copy of Allison's books 😀
Readers First by Allison Brennan
Like most writers, I'm a reader first.
It doesn't matter that I've been writing stories since I could hold a pencil, I am first and foremost a reader who loves books. Though I have an iPad and have been known to read a book or two on my iPhone, I still favor a physical book in which I can disappear while curled into my favorite reading chair or—even better—to read in a hot bubble bath with a glass of wine at my side.
But because I love reading, I don't shun any medium—it's the story I care about, the ability of my favorite authors to bring me into their world and make me feel like I'm right there with their characters, in the pages, seeing what they see, feeling what they feel, loving who they love.
For example, among my early childhood favorites was Judy Blume. Honestly, what girl didn't love Blume's characters? I could relate to the girl who didn't have a dad in her life, or the girl starting her period of the first time. Blume made me feel like I was part of the story so even though I wasn't overweight as a child, I felt a kinship with the girl she created who was.
Because there was no substantive YA genre while I was growing up, I graduated from Judy Blume and Lois Duncan and Nancy Drew and Paula Danzinger fairly early. By the time I was 13, I was reading Stephen King and Dean Koontz and all my mom's police procedurals. (Fun fact: When my mom was pregnant with me in 1969, she read an Ed McBain book. Two of the characters were named Allison and Matthew. If I had been a boy, I would have been Matthew. Crime fiction is in my blood!)
I'm often asked by my readership what authors I recommend. This is a hard question to answer because I read A LOT (like most of you!) and I couldn't possibly list everyone I read or recommend. I have a few go-to authors who have never let me down, and a few who have penned some of my favorite books even though I haven't loved everything they've written. I greatly fear that I'll leave someone out and then when I see my list of recommendations I'll hit myself on the head because I should have added one, three, ten more names …
I used to think I read broadly, but compared to most avid readers (those who read more than one book a week), my reading is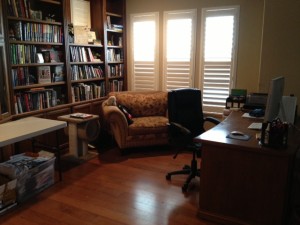 rather limited. I read primarily romantic suspense, mysteries and thrillers. I also read horror and contemporary romance, depending on the author or the theme. I don't read much historical and I'm sure I'm missing out; I prefer urban fantasy to paranormal romance; and I read extensive non-fiction that's related to crime and forensics, but little beyond that.
Fortunately, I'm lucky that there is a wealthy of reading material in my preferred genres. If I step out, it's usually because of a recommendation by someone I trust.
When I first started writing, I used to lament that I would never be as good as my favorite writers. Unfortunately, this is still the case. Whenever I'm done read Michael Connelly's latest, I inevitably think I will never be this good. When I'm finished with the latest J.D. Robb I think: How does she keep getting better? I started reading Lee Child later than most people – I read his first book about three years ago, and have been working my way through the Jack Reacher series. And I remember mentally hitting myself, after that first book, Why did I wait so long to read these books?
Before I seriously started writing (in 2002), I read 3-4 books a week. When I was on maternity leave with my son (Brennan #3) I read 77 books, an average of 4.8 books a week. (I can't sleep during the day, and he could.) Now, I'm lucky to read 3-4 books a month. I often miss it, which is why I tend to volunteer to judge contests like RWA's RITA awards or ITW's Thriller awards. Then I have to allot more reading time and I'm always happier … even when I don't get as much sleep as I should!
I rarely buy books because of hype, but I'm reading Gone Girl by Gillian Flynn right now – because it was specifically recommended to me by several people. The jury is out … but she's an amazing writer. I'm also reading my friend Laura Griffin's latest Tracers Series book, Scorched, which so far is right up there with the best of romantic suspense. I'm anticipating Robert Crais's January release Suspect and the next installment in Wendy Robert's Ghost Dusters series about a crime scene clean-up worker who can communicate with ghosts.
I love writing. I feel greatly blessed that I can write full-time and tell all the stories I have in my head. But I would never have written a word if I didn't love reading first.
What book are you reading now? What book or series are you most anticipating in 2013?
About the Author:
New York Times and USA Today bestseller Allison Brennan is the author of eighteen novels and several short stories. A former consultant in the California State Legislature, she lives in Northern California with her husband Dan and their five children.

Crime fiction, mysteries, and romantic suspense have always been Allison's favorites, so it's no surprise that her romantic thrillers have a dark suspense edge. Reviewers have called her books "terrifying," "mesmerizing," "fast-paced," "pulse-pounding," "wonderfully complex," "layered," and "a master of suspense – tops in the genre." Lee Child called LOVE ME TO DEATH, "A world-class nail-biter" and Lisa Gardner says, "Brennan knows how to deliver."

Writing three books a year is more than a full-time job, and so is raising five kids, but Allison believes life is too short to be bored. When she's not writing, she's reading, playing video games, watching old movies or new television shows, driving to or attending volleyball / basketball / football / soccer games, and on occasion even makes it to the gym where she enjoys people-watching more than exercise.

Allison is currently writing the Lucy Kincaid series about an FBI recruit. The third book, IF I SHOULD DIE, is on sale now. SILENCED will be out on April 24, 2012, followed by STALKED on 10.30.12 and STOLEN in spring 2013. Also look for THRILLER 3: LOVE IS MURDER, an anthology of romantic suspense edited by Sandra Brown, on sale 5.29.12
About Stalked:
Lucy Kincaid returns—as a killer's obsession.

IN THE GAME OF CRIME

A new trainee at the FBI Academy in Quantico, Lucy Kincaid has already seen more than her share of murder and mayhem. Still reeling from the sex-crime case that sealed her reputation, she's found a true friend and mentor in Agent Tony Presidio. No matter what goes down at the Bureau, Tony's got her back—until he's called to New York to help investigate the murder of a reporter with ties to Lucy.

NEVER PLAY THE VICTIM

But the reporter may not be the first victim of a patient killer with a penchant for revenge, and she's definitely not the last. Connections between closed cases, a missing person, and Tony himself lead Lucy to fear for those she cares for most. When the FBI is rocked by the death of one of their own, Lucy seeks the help of her boyfriend, private investigator Sean Rogan, to help put together the puzzle—and puts her career in jeopardy. But the harder she pushes for answers, the clearer the truth becomes: There's a killer inside Quantico. Watching her every move. Waiting to kill again…

Buy it at Amazon – B&N – Book Depository
~~~~~~~~~~~~~~~~~~~~~~~~~~~~~~~~~~~~~~~~
~*~*Giveaway*~*~
Allison has generously offered to one lucky winner his/her choice of one of her backlist books.
This giveaway is open to all!
All you have to do is answer one of Allison's questions: What book are you reading now? What book or series are you most anticipating in 2013?
(You can read our full giveaway policy here)
Please be sure to include a valid email address in the comment form (need not be in the actual body of the comment).
Giveaway ends on Saturday, November 17th, 2012; we will announce the winner on Sunday.
Good luck!