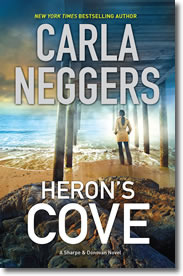 Format read: ebook borrowed from the library
Series: Sharpe and Donovan, #2
Genre: Romantic Suspense
Release Date: July 31, 2012
Number of pages: 336 pages
Publisher: Harlequin MIRA
Formats available: ebook, hardcover, paperback, mass market paperback, audiobook
Purchasing Info: Author's Website | Goodreads | Amazon | B&N | Kobo | Book Depository US | Book Depository (UK)
When your safety depends on living a lie…

After escaping certain death, deep-cover agent Colin Donovan is back home on the Maine coast with his new love, FBI art crimes expert Emma Sharpe. Then Tatiana Pavlova, a London-based jewelry designer, arrives in Heron's Cove, asking for Emma's help—a prized collection from a lost era of Russian opulence, decadence and rare beauty has resurfaced, and Tatiana warns Emma it's about to be stolen again. And Colin realizes his nightmare isn't over. It's just begun.

And everyone you love is a target…

Emma guards her past closely, and Colin is determined to unlock her secrets. As they investigate the mysterious collection and the equally mysterious Tatiana, they confront their greatest challenge. Now they must count on their expertise—and each other—to outwit an enemy who wants to destroy them and everyone they love most.

Who can you afford to trust?
My Thoughts:
The Sharpe & Donovan romantic suspense series is just as suspenseful in the second outing as it was in the first. Possibly even a bit more.
The romance in this romantic suspense series is different and interesting because it's not the usual romantic tension of new lovers meeting and navigating the initial rush of attraction–that already happened in Saint's Gate (reviewed here). In Heron's Cove, FBI Agents Emma Sharpe and Colin Donovan are trying to figure out whether the love can withstand the incessant pressure of their dangerous careers; as well as the weight of the secrets that both of them still keep.
The story begins with both the danger and the secrets jumping up to bite them; Colin is nearly killed while working deep undercover, and his rescue comes by way of a phone call from a man that Emma knows from one of her secret pre-FBI contacts.
Colin is afraid that the busted operation left too many loose ends that will come up to Maine to chase him down, and equally that there are too many secrets from Emma's family's work in art recovery. (Of course he turns out to be right on both counts or we wouldn't have a story!) Colin always wonders whether everything the Sharpe family has done has been completely legal. He doesn't like Emma's secrets, no matter how many of his own he continues to keep.
Emma feels the weight of all the different loyalties that she has accepted in her life. Her boss still believes that her contacts are an added bonus to her work, but there are times when her worlds conflict. The secrets she learned while working for Sharpe's Art Recovery still have to be kept as an FBI agent, as long as they don't contravene the law. They don't, even if they drive Colin Donovan crazy.
And while Colin is still recovering from his last near-death experience, a yacht docks in Heron Cove with visitors who represent a case from Emma's past. It should be simple, but of course, it isn't. Especially when the case turns out to involve Colin's past as well. His recent, and nearly deadly, past.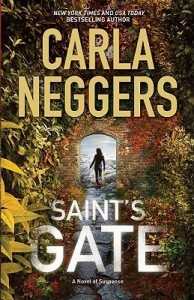 Verdict: If you like romantic suspense, this series is fun, but I think it works better if you start from Saint's Gate.
The push/pull of the romance between Colin and Emma is great. He may want to go all alpha male, and his family is certainly wired that way, but Emma doesn't take a lot of that BS. She is also an FBI agent and is both trained and wired to take care of herself. There is an immense irony that he complains that he doesn't know everything about her and she can't know everything about him, and it keeps getting in the way and they both need to just let it go.
The suspense part of this particular story was a lot like a Russian nesting doll, which is possibly the way the author designed it considering the story. There are Russian mobsters, and a stolen collection based on Russian folklore. Then a Russian designer says the collection is going to get stolen again. Then more Russian mobsters, and former mobsters. Along with some ex-wives and ex-daughters. It's almost tragic enough to be a Russian folktale.
Emma's grandfather had some very interesting clients. We get to meet another one in book 3, Declan's Cross. I'm looking forward to finding out more about the most fascinating character in the whole series so far, Father Finian Bracken, who is supposed to look like Bono.

I give  Heron's Cove by Carla Neggers 4 nested stars!
***FTC Disclaimer: Most books reviewed on this site have been provided free of charge by the publisher, author or publicist. Some books we have purchased with our own money and will be noted as such. Any links to places to purchase books are provided as a convenience, and do not serve as an endorsement by this blog. All reviews are the true and honest opinion of the blogger reviewing the book. The method of acquiring the book does not have a bearing on the content of the review.