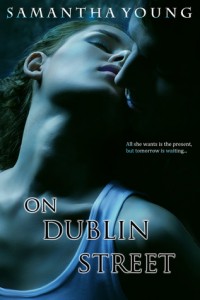 Format read: ebook
Series: None
Genre: Contemporary Romance
Release Date: August 31, 2012
Number of pages: 414 pages
Publisher: NAL
Formats available: ebook, paperback
Purchasing Info:  Amazon | B&N | Kobo | Book Depository US | Book Depository (UK)
Book Blurb:
Jocelyn Butler has been hiding from her past for years. But all her secrets are about to be laid bare…

Four years ago, Jocelyn left her tragic past behind in the States and started over in Scotland, burying her grief, ignoring her demons, and forging ahead without attachments. Her solitary life is working well—until she moves into a new apartment on Dublin Street where she meets a man who shakes her carefully guarded world to its core.

Braden Carmichael is used to getting what he wants, and he's determined to get Jocelyn into his bed. Knowing how skittish she is about entering a relationship, Braden proposes an arrangement that will satisfy their intense attraction without any strings attached.

But after an intrigued Jocelyn accepts, she realizes that Braden won't be satisfied with just mind-blowing passion. The stubborn Scotsman is intent on truly knowing her… down to the very soul.
My Thoughts:
I've been reading certain titles recently because of the noise they've been making in the romance circles. While most of the books have left me feeling underwhelmed and almost giving up on reading Contemporary Romance, I'm happy to report that On Dublin Street has renewed my love of the HEA.
I'll admit right off that part of the attraction for me was that it takes place in Edinburgh, Scotland. I love all things Scottish (except haggis) and i was happy that, for a change, the author herself is native to the country. This translated to knowing the characters HAD the accent but didn't spell the words out as such. It was refreshing, to say the least. Would Young also did was create a character that was American but had moved to Edinburgh, partly to study and partly to reclaim her heritage on her mother's side. This in particular struck a positive chord with me because it's something I've dreamed about doing myself. Cue the sighing…
Moving beyond that personal aspect, I found the story frustrating and fulfilling at the same time. Joss had held onto some strange beliefs about her past that made me want to smack her upside the head. She kept her distance from people because of what had happened to her, but for the most part, it felt to me like she was her own worst enemy. Of course, only some of her past was revealed in the beginning. An important facet showed up later in the story and made more sense to me about why she felt the way she did.
All of this was made more tolerable because Joss didn't let it suck her down into a void of misery. She sought proper counselling, thanks in part to her roommate Ellie, but I'd like to think Braden had something to do with it also. Braden had his own issues, be he knew a good thing when he saw it and was patient enough to help Joss find it too. Who wouldn't love a guy like that?
As much as the main love story was worth the read, so too were the antics of Ellie and Adam. I was almost rooting for them more than I was for Joss and Braden. Ellie was a sweet character, one that anyone would like to have as a friend. It was a nice subplot all in all.
In the end, I found this book was easily devourable and one that gave my love of HEA fiction a needed reboot.
I give  On Dublin Street 4 1/2 stars

***FTC Disclaimer: Most books reviewed on this site have been provided free of charge by the publisher, author or publicist. Some books we have purchased with our own money and will be noted as such. Any links to places to purchase books are provided as a convenience, and do not serve as an endorsement by this blog. All reviews are the true and honest opinion of the blogger reviewing the book. The method of acquiring the book does not have a bearing on the content of the review.