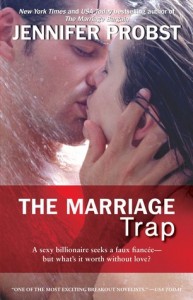 Format read: ebook
Series: Book #2 in the Marriage to a Billionaire series
Genre: Contemporary Romance
Release Date: October 2, 2012
Number of pages: 205 pages
Publisher: Gallery Books
Formats available: ebook, paperback
Purchasing Info:
Book Blurb:
To satisfy his late father's wishes, hot and single billionaire Michael Conte must find a bride—someone who will fit into his traditional family back home in Italy—and fast, so his engaged sister will be allowed to wed. With no intention of being tied down, Michael "proposes" to fiery, free-spirited photographer Maggie Ryan: if she will play the part of his fiancée during her trip to Milan for a photo shoot, he will keep away from her married best friend, Alexa, and stop making Maggie nuts with their too-close-for- comfort flirtations. But once in Italy, sexual tension sparks the hottest no-strings- attached arrangement on any continent. Could marriage be the most enticing trap of all?
My Thoughts:
In a scenario that's definitely more fictional than anything us real folks would ever encounter, Jennifer Probst brings us the second installment in her Marriage to a Billionaire Series. Each book focuses on couples that are 'meant to be', though they arduously disagree with this fact. Of course, somehow they end up married to solve an issue and that's when the fun ensues. The Marriage Trap sweeps us away to Bergamo, Italy with two head strong characters and an even stronger Italian matriarch that has plans of her own.
In spite of the fantastical circumstances, I have to admit that I really enjoyed the writing most of the time; this author can turn up the steam at will, and does so frequently. There were a few moments when I was rolling my eyes, like a particular early passage that started with "The sun looked pissed off" and, later, an unnecessary book name dropping of those crazy vampire kids living in Forks. Though these things stuck in my mind through the story, I still found it very enjoyable overall.
Maggie, the heroine, was a difficult character to like. She used her quick mouth as a defensive mechanism throughout and she was portrayed so effectively you could feel the sting her words left. A good base for her character faults was actually established in the first book, but revisited here too. It was the one piece of the puzzle that was missing, that made things clear for us as it was revealed, lending a sense of sympathy to Maggie that the reader might not have otherwise felt.
Michael, on the other hand, was a man that anyone would find attractive (except maybe for his long hair). He was considerate and responsible but with his own dangerous side. He complimented Maggie well, as he knew when to push her and when to back down. He's the kind of man so many of us would find swoon worthy if he weren't so darned fictional!
Probst artfully ties the previous book in a small way, as well as hinting what book three will hold in store for us. One thing for sure is that, after reading The Marriage Trap, the bar has been set high with its sexy encounters 🙂 Despite a few clichéd lines, this one is well worth a look.
I give  The Marriage Trap 4 stars
***FTC Disclaimer: Most books reviewed on this site have been provided free of charge by the publisher, author or publicist. Some books we have purchased with our own money and will be noted as such. Any links to places to purchase books are provided as a convenience, and do not serve as an endorsement by this blog. All reviews are the true and honest opinion of the blogger reviewing the book. The method of acquiring the book does not have a bearing on the content of the review.