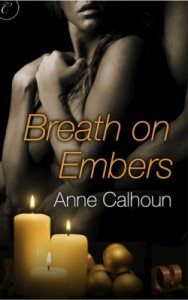 Format Read: e-book provided by Novel Sidekick courtesy of Author for Review
Length: 98 Pages
Genre: Contemporary Erotic Romance
Release Date: December 3, 2012
Publisher: Carina Press
Formats Available: ebook Kindle, Nook
Purchasing Info:Author's Website, Publisher, Goodreads, Kindle, Nook
Book Blurb
Christmas is the perfect time for Firefighter Ronan O'Rourke to take things to the next level with his sexually adventurous girlfriend. He knows she has feelings for him—and he's sure of his feelings for her—but when Thea refuses his invitation to sample Christmas in New York City because what they share is nothing more than sheet-burning sex, Ronan sets out to change her mind.

Deep down Thea Moretti knows she cares for Ronan, but she can't move past her grief over her late husband. Loud music and sex with Ronan are the only things she's got that her feel alive, so she takes as much of both as she can get. She knows Ronan wants more, but during the darkest time of the year finding her way won't be easy.

Ronan gambles everything and challenges Thea: one night of passion with him and another man. Can he prove to her that what they share isn't just great sex but an emotional connection strong enough to last forever?
My Thoughts:
Christmas is quickly approaching and its been two years since the sudden loss of Thea Moretti's beloved husband Jesse. To say she is one of humanities 'walking wounded', or 'walking dead' would be apt but cliché I think. Thea is an empty shell, as she laments: something broke inside her when Jesse died. She moved from Columbus  leaving a caring and worried family behind and accepted a new job in New York. She fills the emptiness inside with loud pounding music that blasts through  iPod ear buds that can be seen constantly nestled in her ear. When she meets fireman Ronan O'Rourke, she discovers meaningless sex offers another way of filling the void.
What starts as a onetime sexual encounter stretches into 9 months of brief adventurous kinky sensual interludes and Ronan finds himself falling for Thea, he becomes invested their relationship. Ronan loves Christmas and wants to spend time with Thea during the season. He is committed to breaking through what seems an impenetrable wall that surrounds this complicated woman keeping the light inside her shrouded, dim. Thea doesn't believe that sex with Ronan will have serious emotional consequences. In fact, whenever she finds herself becoming attached to this incredibly patient and compassionate man she snuffs out the feeling, after all, Jesse was her great love, her light.
Anne Calhoun's characters are richly formed and she leaves a reader no option but to become invested and spellbound by Thea and Ronan's story. A number of the powerful emotional scenes took my breath away. Yes, there is intense eroticism but at the same time Ronan's mission to just 'be' with Thea was real and very moving. Thea and Ronan enjoy passionate, inventive sex, a ménage scene is treated with sensitivity and enhanced by Calhoun's elegant prose.
I felt like I was taking a romantic walk along the streets of New York with Thea and Ronan as they enjoy the beautifully decorated Christmas store windows or sitting beside him as he watches her watching him in the side mirror of the fire truck while he's on duty:
The electric jolt to his heart sent adrenaline pumping through his veins before his synapses sent the input from his eyes to his brain.

Thea.

Probably she wasn't even aware of it, but she watched him with such longing, such intense yearning, his heart expanded hard against his sternum.

Breath on Embers © Anne Calhoun
Ronan has suffered and worked through personal loss too and in the course of duty has seen the ravages of families who suffer following a tragedy. Ronan knows guilt and grief walk hand-in-hand particularly when you've lost the spouse who was the love of your life. His challenge is to convince Thea that she can live, and, love again and in doing so she isn't being disloyal to Jesse. However, giving that ember of life inside Thea a breath to ignite it to burn bright may prove impossible.
Calhoun makes each scene count so you feel as if you have read a full novel, not a 90-page novella and while I was sorry when Breath on Embers concluded I also felt satisfied. Seeing Ronan and Thea find their HEA was wonderful. In 2009, I read many raves about Anne Calhoun's Liberating Lacey and downloaded the eBook, of course, it's been sitting in my mountainous TBR ever since. I'll be re-reading Breath on Embers over the Christmas season, followed by Liberating Lacey and working through her back-list. I loved Calhoun's voice.

I give BREATH ON EMBERS 5 Bright Stars
***FTC Disclaimer: Most books reviewed on this site have been provided free of charge by the publisher, author or publicist. Some books we have purchased with our own money and will be noted as such. Any links to places to purchase books are provided as a convenience, and do not serve as an endorsement by this blog. All reviews are the true and honest opinion of the blogger reviewing the book. The method of acquiring the book does not have a bearing on the content of the review.