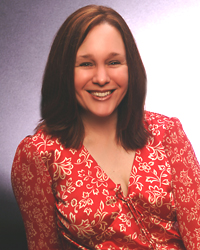 We are pleased to bring you Lisa Plumley, author of dozens of funny contemporary and sweet historical romances! Today Lisa stops by to tell you all about her latest release, a wonderful holiday love story: Together for Christmas (which in my opinion has one of the best holiday covers!). Read on to learn more about the story, the characters and get your free copy of holiday romances offered generously by Lisa Plumley! 
Stella: Hi Lisa, welcome to Ex Libris! Can you please tell us a bit about yourself?
Lisa: Thanks, Stella! I'm happy to be here. I'm a writer, wife, and mother from sunny Arizona. My first book was released by Kensington Publishing in 1997. Since then, I've written almost three dozen contemporary, historical, and paranormal romances, with five more on the way soon. Writing definitely keeps me busy! When I'm not working, I love to hike, run, bake, read, practice yoga, and travel.
Stella: Describe a typical day of writing? Are you a planner or pantser?
Lisa: I usually start writing at 7 AM, work with no breaks until noon, knock off for lunch and a walk, then spend the afternoon doing writing-related things like checking page proofs, updating my Facebook/Twitter pages, and answering e-mails. I've learned to be very disciplined over the years. Sticking to my schedule helps keep me on track. As far as planning vs. pantsing goes, I do a little of both. I write a very detailed synopsis, which helps me get a handle on my characters…then I don't look at it again until after the manuscript is written. It works for me!
Stella: What do you think is the difference between a reader and a real Book Lover?
Lisa: A reader reads for fun and finds it enjoyable. A Book Lover can't wait for new books, hoards new releases from their favorite authors until they have enough time to really enjoy them, talks about books with their family and friends and online pals, and lives and breathes the written word. The internet makes being a Book Lover so much fun, doesn't it?
Stella: You are here today to tell us about your latest holiday-themed book Together for Christmas. Can you tell readers what they can expect of it?
Lisa: Sure! In a nutshell, TOGETHER FOR CHRISTMAS is super-duper Christmassy and romantic! It's upbeat and sweet and full of togetherness…but with an edge. Some readers have likened the story to the holiday movie, LOVE ACTUALLY (written and directed by Richard Curtis), and that's a pretty fair assessment. TOGETHER FOR CHRISTMAS focuses on Hollywood troubleshooter Casey Jackson and small-town diner owner Kristen Miller, but there is also a fun secondary romance featuring Kristen's pop-star sister and a worker on the set of her gala Christmas special, and another romance involving a couple of Kristen's quirky diner friends. If you like gingerbread and mistletoe and Christmas trees and Christmas carols and all the trimmings (plus adorable pies in a jar!), I think you'll love TOGETHER FOR CHRISTMAS.
Stella: Could you introduce Kristen and Casey, the heroine and hero of Together for Christmas?
Lisa: Well, the best way to get to know Casey is to peek into his head as he drives into Kismet, Michigan in chapter one…
Nothing short of a catastrophe on the scale of Heather Miller's problem-plagued, currently in-production holiday special—and the lucrative bonus Casey stood to earn if he brought it in on budget and on time—could have made him spend more than an hour in a town like Kismet: a place that promised candlelit ice-skating sessions, an official Christmas parade, a fanciful holiday-light house tour, sleigh rides with genuine jingle bells, a Santa Claus-lookalike contest (in the town square, right next to the community's fifty-foot decorated Noble fir tree), and a weekly cookie-decorating get-together and jamboree.

It was all so flipping wholesome. Casey thought he might be breaking out in freckles and naiveté already. It was possible he felt an "aw-shucks" coming on. He'd only been in town an hour—long enough to meet Heather Miller, hear her initial demands, and start laying the groundwork for the two of them to come to terms. At this rate, he'd morph into Gomer Pyle by lunchtime.

Muttering a swearword, Casey set his Subaru in motion again. He suddenly craved a cigarette, a shot of tequila, and a week's worth of irresponsible behavior—not necessarily in that order.

Boundaries made him itchy. Coziness made him cranky. And the holidays…well, they sent him straight into Scrooge mode.
And if Casey is a Scrooge (hint: he is), Kristen is a Christmas-loving homebody with one tiny problem: her glamorous sister's whole-town takeover and subsequent insistence that Kristen "get rid" of Casey Jackson somehow…
Just when Kristen started thinking she'd made a dent…

"I know! Feed him some of your pie!" Heather suggested brightly. "Once The Terminator has had some of your pie, he'll—"

"Wait. 'The Terminator'?"

"That's Casey Jackson's nickname in L.A."

Kristen scoffed. "It is not."

"Would I lie to you?"

Hmm. Better not answer that one. Instead, in her most soothing tone, Kristen said, "My pie isn't magical." It was her diner's most popular item, though. Hands down. "I can't just feed your Terminator some pie and then have my way with him."

"Yes, you can!" Heather blurted. "Feed him pie! You never know until you try. That stuff is addictive. Once you give The Terminator a few bites, he'll be putty in your hands."

"You are seriously overstating my culinary charms."

"I am not. Just don't be fooled! He'll seem nice. He'll seem charming," Heather cautioned. "But underneath it all, The Terminator has all the heart and soul of a calculator."

"He can't be that bad."

"Oh yes, he can." Another clatter-filled pause. Then, ominously, Heather added, "He doesn't even like Christmas."

"He doesn't like Christmas?" Kristen froze. The idea didn't compute. "What kind of person doesn't like Christmas?"

"The kind of person who comes to shut down another person's Christmas special! That's what I've been telling you!"

"Okay. So you might have a point."

"I know! That's what I've been saying. That's why you have to keep him away from me."

"Right," Kristen said sarcastically. "With magical pie."

"Yes," Heather agreed, completely oblivious to her sarcasm. She could be very single-minded when she wanted something. "Or with…whatever else you have available. Sure!"

Kristen sighed. "I'm not going to let you pimp me out to some uptight, permatanned CPA type from La-La Land, Heather."
Stella: The premise of Together for Christmas sounds like the perfect romantic comedy film, who would play the characters if you could have your dream cast?
Lisa: I'd have to leave it up to readers to decide that one! If anyone's read TOGETHER FOR CHRISTMAS yet, I'd love to know who you'd cast!
Stella: Casey is anti-Christmas while Kristen is a Christmas-aholic, loving everything about the holiday (just like me!), so I wanted to ask you which approach do you share, or are you somehwere in the middle?
Lisa: It was a lot of fun to write Scrooge-y Casey, but I'm squarely on Kristen's side! I love Christmastime and everything about it—so much so that I've written two other full-length romances set in Kismet (the most Christmassy town in Michigan), with another one on the way. I also wrote a fun story for the SANTA BABY anthology with Lisa Jackson, Elaine Coffman, and Kylie Adams, and I revamped and "Christmasified" three of my earlier short contemporary romances into the single-author anthology, ONCE UPON A CHRISTMAS. All this usually means I'm cranking up the A/C and listening to "Holly, Jolly Christmas" in June while writing my next holiday-themed book, but that's okay with me—I get to enjoy the holidays twice!
Stella: Did you have a favourite secondary character in Together for Christmas, or one that you particularly enjoyed writing about?
Lisa: The secondary character who most intrigued me in TOGETHER FOR CHRISTMAS was Shane Maresca, Casey's long-lost (and mysterious) former best friend. I couldn't wait to find out more about him! My next book for Kensington will feature Shane and his "anti-fixer" ways as he goes undercover to close down a family pizzeria in Portland, Oregon…and winds up falling for feisty pizzaiolo Gabriella Grimani instead.
Stella: Can you tell us any behind the scenes secret related to Together for Christmas?
Lisa: TOGETHER FOR CHRISTMAS stands alone, but it's also part of my ongoing "Kismet Christmas" series, which began a few years ago with HOME FOR THE HOLIDAYS and HOLIDAY AFFAIR. I fell in love with the town of Kismet, and my fantastic editor—Peter Senftleben at Kensington—encouraged me to go back. Also, TOGETHER FOR CHRISTMAS has been exciting because it was recently featured as an editor's choice in FIRST for Women magazine, was selected by the Doubleday Book Club, Rhapsody Book Club, Doubleday Large Print, The Literary Guild, and BOMC2, and earned a fantastic review from Publishers Weekly.
Stella: Now can you tell us 3 reasons why people should read Together for Christmas?
Lisa: (1) TOGETHER FOR CHRISTMAS will make you laugh out loud at least once; (2) TOGETHER FOR CHRISTMAS will squash any "bah-humbug" tendencies immediately; (3) just looking at the cover of TOGETHER FOR CHRISTMAS will make you feel a little bit jolly! Also, if you read TOGETHER FOR CHRISTMAS, you'll understand why I'm posting Christmas tips and recipes for delicious pies-in-a-jar on my alternate Twitter account, @Heather_Hotline, all month long.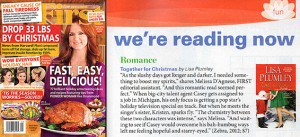 Stella: Can you summarize Together for Christmas for us twitterstyle (140 characters or less)?
Lisa: (My publisher did it best on the back cover): In a hilarious and heartwarming novel from USA Today bestselling author Lisa Plumley, a down-home diner owner meets a sexy Scrooge—but will it be a match made in holiday heaven?
Stella: Together for Christmas has the perfect holiday cover: plenty of snow, pine tree, red and green, presents and even a Santa suit! You have written several holiday novels, what do you like about the holidays? What inspires you newer and newer stories to set around this time of the year?
Lisa: My favourite thing about the holiday season is that everyone comes together to make it special. Christmastime doesn't just "happen." It's put together by husbands, wives, parents, sisters, brothers, grandparents, friends, co-workers, neighbors…everyone! The whole world conspires to make things a little bit cheerier, with garlands and music and ornaments and heart-warming movies and all the rest. It's magical, plain and simple. It happens because of the people involved. I love writing holiday-themed books because I love sharing that feeling with my readers!
Stella: Do you have a favourite holiday movie/TV show episode?
Lisa: Yes! It's a tie between A CHRISTMAS STORY (which I watch with my family every year, because we never get tired of hearing about Ralphie's quest for an Official Red Ryder Carbine-Action Two-Hundred-Shot Range Model Air Rifle with a compass in the stock and this thing which tells time) and the original animated version of HOW THE GRINCH STOLE CHRISTMAS (because I've been watching it since I was a kid and love to sing along to "You're a Mean One, Mr. Grinch," performed by the amazing Thurl Ravenscroft). Together, they're holiday bliss!
Stella: Please complete: Christmas/the holidays wouldn't be the same without…
Lisa: My family. No other answer is possible! I'd rather spend the holidays with my family, stranded by the side of the road with a single gingerbread man and a cup of eggnog to share among the four of us, than by myself at the most incredible, luxurious, all-inclusive Christmas-themed resort. (Although I did create a holiday B&B that basically "caters" Christmas for its guests in HOLIDAY AFFAIR, and the idea of visiting someplace like The Christmas House still feels pretty appealing!)
Stella: What shall we expect from you, what is next on your schedule?
Lisa: Next up for me will be a western historical romance, THE HONOR-BOUND GAMBLER, due out from Harlequin in June 2013. After that will be another contemporary romance from Kensington (Shane's story, still untitled), then another Harlequin book (a revamped Wild West beauty-and-the-beast tale), then another Christmas-themed romance for Kensington, and several more book in my ongoing "Morrow Creek" series for Harlequin. I'm very excited about them all, and I'm super grateful to be so busy! (Thanks to my wonderful readers!) Which reminds me that I'd like to invite everyone to drop by my web site, www.lisaplumley.com, where you can check out first-chapter excerpts from all my books, sign up for my free new-book reminder service, catch sneak previews of my upcoming books, request special reader freebies, and more.
Stella: Can you share with us some little secret trivia, something that not many people know about you?
Lisa: You mean, like the fact that I make the world's best homemade granola? Whoops! Cat's out of the bag now! (Kidding.) The truth is (although my granola is fab), that I'm a big fan of NFL football and I'm positively NUTS about the Seattle Seahawks. I put on my team gear and watch games every week, follow the Seahawks on Twitter, watch videos on their web site, read their blog, and keep up on all the news. What can I say? I'm a sucker for an underdog team! I try to make it to Seattle for a few games every season, and I've been lucky enough to watch my favorite players up close and personal several times now (go Hawks!). I took the stadium tour a few weeks ago and was allowed onto the football field at C-LINK. What a thrill! I'm absolutely serious. Sound weird? It would have to me too, years ago—but I did a lot of NFL research while writing my shopaholic-meets-NFL-stud romance, LET'S MISBEHAVE, and I became sincerely fascinated with football. All I needed was to truly understand it. Now I'm hooked!
Together for Christmas by Lisa Plumley

In a hilarious and heartwarming novel from USA Today bestselling author Lisa Plumley, a down-home diner owner meets a sexy Scrooge—but will it be a match made in holiday heaven?

Casey Jackson doesn't do Christmas. Mistletoe, eggnog, pitchy carolers—it all leaves the L.A. based talent agent colder than a winter sleigh ride. Nonetheless, Casey's been called to Kismet, Michigan, to help get a pop star's holiday special back on track. But it's the diva's sister who's proving the biggest obstacle. Kristen Miller is funny, sassy—and crazy about Christmas. And suddenly, Casey has all kinds of visions dancing in his head…

Kristen can't believe that Casey is anti-Christmas. To her, the season is as magical as the thrill she feels whenever they touch. Because even though Kristen set out to teach the charismatic hotshot a thing or two, she's learning some lessons of her own. About letting herself stand in the spotlight for once, about holiday flings that can turn into much more—and about how all you really need for the perfect Christmas is the right person to share it with…Money, success, women…everything comes easily to Damon. Until Natasha hands in her notice. He needs to get her, and his mojo, back—fast. But from the moment Damon rings Natasha's doorbell and steps into her personal life, he starts feeling things he never has before. For once, the notorious playboy wants to be good. Which makes it extra inconvenient that Natasha is suddenly tempted to try being a little wicked. And the results may be sweeter than either ever anticipated

Buy at Amazon – Kindle – Book Despository
USA Today best-selling author Lisa Plumley has delighted readers worldwide with more than two dozen popular novels. Her work has been translated into multiple languages and editions, and includes contemporary romances, western historical romances, paranormal romances, and a variety of stories in romance anthologies. Her fresh, funny style has been likened to such reader favorites as Rachel Gibson, Susan Elizabeth Phillips, and Jennifer Crusie, but her unique characterization is all her own. Her latest chocolate-themed contemporary romance, MELT INTO YOU (May 2012), earned a starred review in Booklist magazine, was awarded 4 stars from Romantic Times magazine, and was a featured selection of the Doubleday, Rhapsody, and BOMC2 book clubs.

You can find Lisa on Facebook, Twitter, Goodreads, Pinterest, or at her website.
~~~~~~~~~~~~~~~~~~~~~~~~~~~~~~~~~~~~~~~~
~*~*Giveaway*~*~
As an exclusive thank you to blog readers, Lisa is offering a FREE limited-time download of her holiday-themed short story collection, ONCE UPON A CHRISTMAS, at Smashwords.
It's regularly priced at $5.99, but you can download a free copy today. Just use coupon code SF53W, now through December 15th.
(You can read our full giveaway policy here)
This giveaway is open to all!
Giveaway ends on Saturday, 15 December 2012!
Happy reading, and happy holidays!