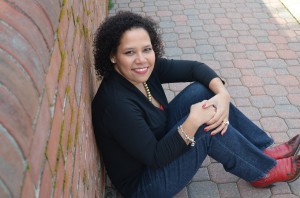 Is it "Silent Night"? "O Tanenbaum"?  "Jingle Bell Rock"? Today at BLI, romance author Robin Covington stops by to share with us some of her favorite holiday tunes, along with reasons why they've touched her heart. With over 600 such tunes on her iPod, it's safe to say she's an authority on the matter. ^_^ Her latest story, Secret Santa Baby, falls right into that spirit of Christmas, nerd style! (More on that later.)
Please show Robin a warm BLI welcome! (And for the record, I'm all about "Baby It's Cold Outside" and "Rockin Around the Christmas Tree"; modern classics! What about you?) 
————————
My Top Ten Favorite Christmas Songs
I start listening to Christmas in October. Now, I have compromised with the Main Man and I don't play it in the house or the car while he is around until after Thanksgiving because he is not a huge fan of yuletide tune-age. With over 6oo Christmas songs on m iPod, I have a lot to choose from, but I've developed a few favorites:
1. "Santa Baby" – I have loved the Eartha Kit Version for years because of her unique delivery but I have recently fallen in love with the Michael Buble version which features a male POV with a jazzy feel.
2. "Please Come Home for Christmas" – I have heard many versions of this one and I love it because of the slow tempo and the romantic longing in the lyrics.
3. I'll be Home for Christmas – This is my all-time favorite song because I can't imagine not being home for Christmas since I am so close to my family. Now, that I work for the Navy, it also has special meaning since I have so many friends who deploy.
4. "It's the Most Wonderful Time of the Year" – I grew up listening to the Andy Williams version and I was able to see his Christmas show live before he passed away. He was a true, old-fashioned type of entertainer.
5. "Little Wood Guitar" – This is an original song by the band, Sugarland. I just love the story telling – from the pastor getting ready for his sermon, the pie baking and the little girl with her guitar.
6. "What Are You Doing New Year's Eve" – Not really a Christmas song but still part of the holiday. And, I love the idea of someone making sure they secure the date of their dreams for the big night.
7. "Have Yourself a Merry Little Christmas" – I hands down love the Judy Garland version from the movie, "Meet Me in St.Louis". I always picture her the red velvet dress, singing to her little sister as they prepare to move from their hometown to a place far away. She always gets me the heart-breaking emotion in her delivery.
8. "Marshmallow World" – A super fun, little song about walking with your sweetheart through the snowy wonderful-ness of December. The Dean Martin/Frank Sinatra version is just the perfect blend of swing and swagger.
9. "It Really Is (A Wonderful Life)" – This is a song my one of my favorite singer-songwriters and it is a perfect play on one of the best Christmas movies ever – It's as Wonderful Life. Very sweet and sentimental.
10. "Wake Up! Wake Up!" – This is a song Matt Wertz recorded a couple of years ago and the pure joy and excitement of a kid waking up on Christmas morning is contagious. I dare you not to smile.
So, that's the Top Ten on my list that help make the season bright. What is your favorite song? Let me know to enter for a chance to win a copy of my novella, Secret Santa Baby.
About Robin:

Robin Covington, who NYT Best Selling authors, Robyn Carr and Carly Phillips, said was their new "auto-buy author", writes sizzling hot contemporary and paranormal romance. A Night of Southern Comfort, her best-selling debut was nominated by RT Book Reviews for the 2012 Best Contemporary Romance from an Indie Press for bringing a "fresh, modern feel to the genre while still sticking to the things that get our adrenaline pumping — sex and danger". When she's not exploring the theme of fooling around and falling in love, she's collecting tasty man candy, indulging in a little comic book geek love, and stalking Joe Mangianello.

Robin is a member of the Romance Writers of America, the Washington Romance Writers, a faculty member at Romance University, a member of the Waterworld Mermaids, a Goddess at The Naked Hero, and a contributor to the Happy Ever After blog at USA Today. You can find Robin on her website, Facebook, Pinterest, and Twitter (@RobinCovington).

Want more Robin Covington? Find her at:

her website | blog | Facebook | Twitter | Goodreads | Pinterest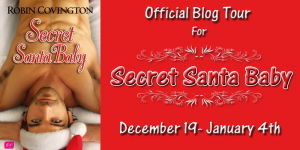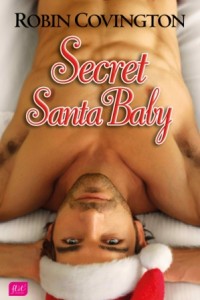 Secret Santa Baby by Robin Covington

Tessa Stoneman hasn't been able to get long-time friend and business partner Nicholas Boone out of her head since they shared a single kiss in college. Even when she dated Nicholas's best friend. Now that she's giving up her position at GameNerdz to strike out on her own—and now that she's single—maybe it's the right time to see if there's still something between them.

Nicholas knows once Tessa leaves the company she helped found, they might drift apart. Before she starts her own company in the new year, he wants to woo the woman he fell in love with during college. So he poses as her Secret Santa, gifts her with items from the song "Santa Baby," and plans a big reveal at the company holiday party. But when his best friend wants to rekindle his romance with Tessa, will Nicholas lose his last chance?

Buy at Amazon – Barnes & Noble – Publisher's Website
~~~~~~~~~~~~~~~~~~~~~~~~~~~~~~~~~~~~~~~~
~*~*Giveaway*~*~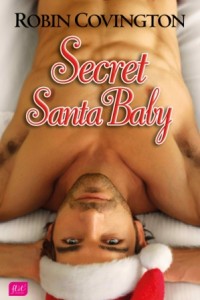 Robin has generously offered an ebook copy of Secret Santa Baby to one lucky commenter!
All you have to do is answer her question:
What is your favorite holiday song?
(You can read our full giveaway policy here)
Please be sure to include a valid email address in the comment form (need not be in the actual body of the comment).
This giveaway is open worldwide!
Giveaway ends on Saturday, 5 January 2013; we will announce the winner on Sunday.
Good Luck!