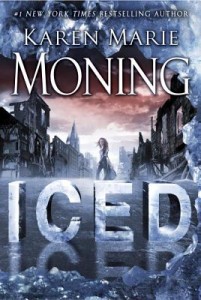 Format Read: Ebook.
Number of Pages: 495.
Release Date: October 30, 2012.
Genre: Urban Fantasy.
Series: Fever #6/Dani O'Malley #1.
Publisher: Delacorte.
Formats Available: Hardback, ebook, audiobook
Purchasing Info: Goodreads, Author, Book Depository, IndieBound.
Book Blurb:
The year is 1 AWC—After the Wall Crash. The Fae are free and hunting us. It's a war zone out there, and no two days are alike. I'm Dani O'Malley, the chaos-filled streets of Dublin are my home, and there's no place I'd rather be.

Dani "Mega" O'Malley plays by her own set of rules—and in a world overrun by Dark Fae, her biggest rule is: Do what it takes to survive. Possessing rare talents and the all-powerful Sword of Light, Dani is more than equipped for the task. In fact, she's one of the rare humans who can defend themselves against the Unseelie. But now, amid the pandemonium, her greatest gifts have turned into serious liabilities.

Dani's ex–best friend, MacKayla Lane, wants her dead, the terrifying Unseelie princes have put a price on her head, and Inspector Jayne, the head of the police force, is after her sword and will stop at nothing to get it. What's more, people are being mysteriously frozen to death all over the city, encased on the spot in sub-zero, icy tableaux.

When Dublin's most seductive nightclub gets blanketed in hoarfrost, Dani finds herself at the mercy of Ryodan, the club's ruthless, immortal owner. He needs her quick wit and exceptional skill to figure out what's freezing Fae and humans dead in their tracks—and Ryodan will do anything to ensure her compliance.

Dodging bullets, fangs, and fists, Dani must strike treacherous bargains and make desperate alliances to save her beloved Dublin—before everything and everyone in it gets iced.
My Thoughts:
I have not read the Fever books. I've thought about it multiple times over the years, but the blurbs always left me feeling meh. Pretty basic premise. Orphan-discovers-magic-powers-and-fights-evil. Magical Ireland hidden in plain sight? Sounds like Harry Potter: the college years. More drunken hookups and fewer finals exams.
This post-apocalyptic spin-off, however, caught me hook, line, and sinker.
You can go to sleep in your own bed and wake up in a completely different reality. If you're lucky, the climate won't kill you instantly and the inhabitants won't eat you. If you're really really lucky, you'll find your way home. Eventually. If you're superlucky, time will pass at a normal rate while you're gone. Nobody's that lucky. Folks vanish all the time. They just disappear and are never seen again.
Well, well, well. Color me intrigued. I am a sucker for catastrophic world-building, and this sounds awesome! Like Kate Daniels with the Fae. It helps that I spent all weekend burning through Lost Girl on Netflix. I am ready for some weird Fae shit!
"Welcome to Dublin, AWC—After the Wall Crash—where we're all fighting for possession of what's left of the planet.

The Fae have no king, no queen, no one in charge. Two psychotic, immortal Unseelie princes battle for dominion over both races. Humans have no government. Even if we did, I doubt we'd listen to them. It's complete chaos.

I'm Dani "Mega" O'Malley.

I'm fourteen."
And here's where the book goes from frakking awesome, to complete and utter train-wreck.
Dani, the main character, is fourteen. She has an extremely immature understanding of the world, reacts childishly to matters she admits she doesn't understand (e.g. adult character's sex lives), and carelessly puts herself (and others) in dangerous situations due to her lack of foresight.
In short? She is a child. A child growing up alone in a deadly world, but a child nonetheless.
The problem? The menfolk.
Ryodan and Christian. They are clearly set up as two prongs of a love triangle for young Dani. Two immortal adult males, with insane levels of power and extreme control issues, spend the entire book sexualizing a GODDAMN CHILD.
Over the course of the book, Dani is magically roofied, forced to strip in public, seduced, forbidden from interacting with other men, forced to dress in fetish wear, almost raped, and wakes up naked in a man's bed. With the cooling corpse of his previous fuck-buddy on the floor.
She's also the butt of god knows how many perverted innuendos that (thankfully) fly right over her head.
"Stop. Vibrating." Ryodan plucks a paper out of the air and slaps it back down on his desk.

I wonder if he cleans it. How many tushes have been on that thing? I'm never touching it again. "Can't help it," I say around a mouthful of candy bar. I know what I look like: a smudge of black leather and hair. "It happens when I get really excited. The more excited I get, the more I vibrate."

"Now there's a thought," Lor says.

"If you mean what I think you mean, you want to shut the fuck up and never think it again," Ryodan says.

"Just saying, boss," Lor says. "You can't tell me you didn't think it, too."
Now you'd like to think that Ryo-boy is pissed off that one of his employees is perving out over a CHILD. But oh-no, he's just upset that another man is checking out the merchandise he's already claimed. Hence the aforementioned scene in which she is forced to change out of (age and lifestyle appropriate) pajamas into fetish-wear. Because the pjs smelled like another man. Nevermind that Dani was left for dead in an alley and needed something warm/clean to wear. All that matters is that his property reeks of some other Y chromosome. Better that she borrow some kink from the indentured waitresses at his club (and subsequently traipse around town like an anime-fetishists wet dream), than wear anything provided by Christian.
Just in case the sexual obsession over a little girl isn't creepy enough for you, both "love" interests smack her around on more then one occasion. Because if there is one thing you can do to express love to an abused, abandoned child you'd like to fuck, it's beat the everloving shit out of her.
They also lock her up, stalk her, and threaten to kill her and everyone she care about. For good measure.
Karen Marie Moning has done a wee bit of fan interaction to defend Dani's age and the sexually charged nature of her story. Blah blah, I don't write YA, blah blah.
Lady? Screw you. None of your fans are upset that you aren't doing a YA spin-off, they are upset that you've penned the paranormal Lolita and are expecting us to find it romantic and enticing. Vladimir Nabokov didn't whine about the backlash, neither should you.
I give Iced 2.5 Stars. This could have been a 3.5 (or even 4) star book if any of the menfolk populating the Fever-verse noticed that Dani was a kid, and treated her as such. There is plenty of time for young Dani to get her sexcipades on. When she is old enough to be an active, willing, and engaged participant. No need to rush to the gate.


You should only read Iced if you are deeply invested in the on-going saga of characters in the Fever-verse. Otherwise it is not worth the creepy.
***FTC Disclaimer: Most books reviewed on this site have been provided free of charge by the publisher, author or publicist. Some books we have purchased with our own money and will be noted as such. Any links to places to purchase books are provided as a convenience, and do not serve as an endorsement by this blog. All reviews are the true and honest opinion of the blogger reviewing the book. The method of acquiring the book does not have a bearing on the content of the review.