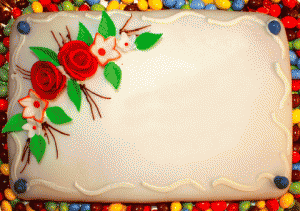 It seems like only yesterday we were celebrating our Geeky Lover's Birthday, but nope a whole year has already gone by!
*throws confetti*
Happy birthday Susi!
We  love you!
We all wish you a wonderful day, filled with love, books and cake! (I'm even throwing a Half-Naked-Male-Maid to the mix! )
And now, because nothing says happy birthday like Star Trek and Lolcats *wink*….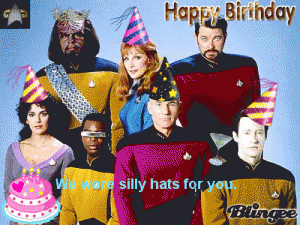 Amanda:
Happy birthday darling Susi! I hope you have the most fantastic day full of lovely champagne, yummy chocolate and wonderful books. You deserve all the happiness in this special day and for the year to come. Massive hugs
Stella:
Dearest Susi, wishing you a very HAPPY BIRTHDAY, may this year be much better than the lust one, wishing you more free time, time to read, relax and just enjoy life! Big hugs and hope you celebrated with some delicious cake and cocktails! 😀 Happy Happy Birthday! *hugs*
Anna:
Dear sweet Susi Happy Birthday!!! Hope you all the very best in the world on this special day! Hope you get to spend it doing what you love along with people you love 🙂 And along with everything else, I wish you more free time. I know how much you need it 🙂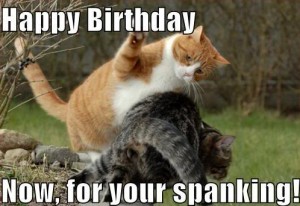 Has:
Hey Susi!!!! I am wishing you the bestest ever birthday which will be full of books, goodies and chocolates! And that the upcoming year will fulfil your wishes and dreams and with more books! Lots and lots of love Has xoxoxo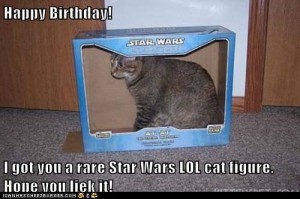 Marlene:
Happy, Happy Birthday Susi! I wish for you the very bestest of birthdays, filled with sweet treats and only the yummiest of surprises. I hope that the year ahead brings you more free time and fantastic books to read while you enjoy it. Or just fantastic books to read while you escape! HUGS! And chocolate!
Alisha:
Susi, I think of you as our fearless, tireless, brave warrior princess who always comes through for us gals. You deserve every single happiness that comes your way this year, and then some! Happy birthday!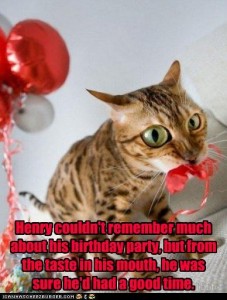 Lea:
Happy, Happy Birthday Susi! May your day be filled with everything wonderful: celebrations, libations, cake, chocolate & PRESENTS!! Wishing you all the best for the coming year. ((((HUGS)))))
Jackie:
I'm sending big squishy birthday hugs to you and hope that you have a fantastic day fill with gifts, bubbly, and a Stargate marathon 😉 You deserve the very best!
Caro:
Hon, I'm wishing you the best birthday ever! I'm thankful every day to have you in my life, I'm not sure I could live without you now. So thank you for being my friend. *hugs* Luv you hon. Happy happy birthday to you.  May this year be full of awesome things for you! And may the force be with you my young padawan. *squirrel hug*
I never lie! Here's your Half-Naked-Male-Maid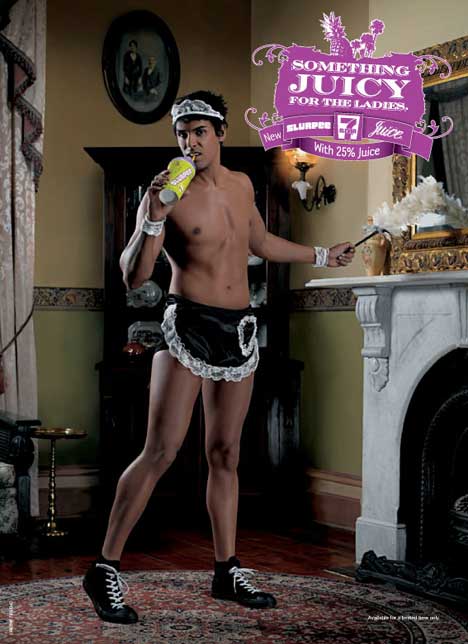 [youtube http://www.youtube.com/watch?v=RG_0KmL5EBo]
Happy Birthday Susi!!
And a last one…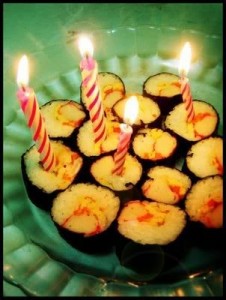 …because if I listen to Google, Happy birthday Susi is the same thing as Happy birthday Sushi!   I think it's fitting for a vegetarian 😉 lol