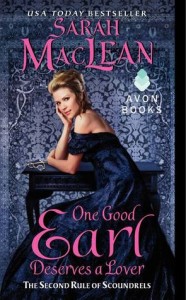 Format read: eARC
Series: The Rules of Scoundrels #2
Genre: Historical Romance
Release Date: Jan. 29, 2013
Number of pages: 384 pages
Publisher: Avon Books
Formats available: ebook, paperback, audiobook
Purchasing Info: Amazon | B&N | Kobo | Book Depository US | Book Depository (UK)
Lady Philippa Marbury is odd. The bespectacled, brilliant fourth daughter of the Marquess of Needham and Dolby cares more for books than balls, flora than fashion and science than the season. Nearly engaged to Lord Castleton, Pippa wants to explore the scandalous parts of London she's never seen before marriage. And she knows just who to ask: the tall, charming, quick-witted bookkeeper of The Fallen Angel, London's most notorious and coveted gaming hell, known only as Cross.

Like any good scientist, Pippa's done her research and Cross's reputation makes him perfect for her scheme. She wants science without emotion—the experience of ruination without the repercussions of ruination. And who better to provide her with the experience than this legendary man? But when this odd, unexpected female propositions Cross, it's more than tempting . . . and it will take everything he has to resist following his instincts—and giving the lady precisely what she wants.
My Thoughts:
I honestly believe that it's impossible for Sarah MacLean to write a bad book. She has this great, slightly magical, way of telling a story that keeps you captivated till the very end. One Good Earl Deserves a Lover holds true to this theory of mine but with a slight difference, this time, I think. Here's why:
One Good Earl Deserves a Lover felt like it was more of a slow burn; a marathon of unrequited desire building to the point where one of a few outcomes would be dealt to the heroine, Pippa. For the most part, the rules of society are usually tossed to the wind quite happily in romantic historical stories such as these, particularly in the case of MacLean's strong female leads. In Pippa's scenario though I was totally conflicted. On the one hand, I felt the need for her to be totally ruined and as the reader, enjoying the ride to her ruination. But, equally, I wanted this cerebral and innocent woman to remain pure for her marriage to whomever that would be with. It was this see-sawing of emotion that kept me reading late into the night.
What makes a MacLean book so enjoyable is the humour throughout and what better platform than from a main character that was intelligently inclined, with the stereotypically coexisting lack of 'street smarts'. It was yet another way of making a story about a woman that wasn't necessarily perfect in all ways, but highlighted the many good qualities that she possessed. Many authors are beginning to realize that as readers, we want to feel a connection with the characters we are reading about, but it was MacLean in particular that made this come alive for me. That fact that 'real' women can be blended into tales of love with a comedic flair is just pure genius, as far as I'm concerned.
It was funny though, that whenever I read a description of Cross and read the name Pippa, it kept bringing to me images of Prince Harry and Pippa Middleton (though this fictional version of Pippa was blonde). It was very hard to shake the association but really, who would want too, in the case of Prince Harry? 😉
Sarah MacLean delivers another great work with One Good Earl Deserves a Lover with a quirky female lead and a great hint of who the next book will feature. I can't wait for THAT one!
I give  ***One Good Earl Deserves a Lover*** 5 stars!


***FTC Disclaimer: Most books reviewed on this site have been provided free of charge by the publisher, author or publicist. Some books we have purchased with our own money and will be noted as such. Any links to places to purchase books are provided as a convenience, and do not serve as an endorsement by this blog. All reviews are the true and honest opinion of the blogger reviewing the book. The method of acquiring the book does not have a bearing on the content of the review.