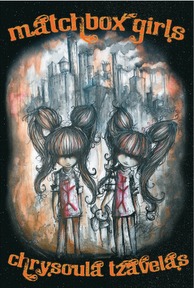 Review: Matchbox Girls by Chrysoula Tzavelas.
Format Read: eARC from Netgalley.
Number of Pages: 326.
Release Date: February 21, 2012.
Publisher: Candelmark & Gleam.
Genre: Urban Fantasy.
Formats Available: Paperback, ebook.
Purchasing Info: Amazon, Goodreads, Book Depository, Author.
Book Blurb:
Marley Claviger is just trying to get her life together. Stumbling into an ancient conflict between celestial forces is going to make that a whole lot harder…

When Marley wakes up to a phone call from a pair of terrified children, she doesn't expect to be pulled into a secret war. She rescues them from an empty house and promises to find their missing uncle. She even manages to feed them dinner. But she barely feels competent to manage her own life, let alone care for small children with strange, ominous powers…

And when a mysterious angelic figure shows up and tries to claim the girls, it all falls apart…

Plagued by visions of disaster, Marley has no idea what she's gotten herself into, but she knows one thing: magical or not, the kids need her.
My Thoughts:
Before we begin, everyone pause for a moment to bask in the wonders of:
An urban fantasy heroine who is not a cop/investigator, and
A woman who is not Insta-Mom material (just add a child and water!).
Seriously, bask. REJOICE. How many urban fantasy books can you think of that are not of the crime-fighting flavor? If you can name more than a handful, you can pick the next book I review.*
The first third (half?) of Matchbox Girls was absolute perfection. I fell instantly in love with the twins and Marley's "ohfuckmehowthehelldopeopledothis" response to inheriting two kids out of the blue.
Also? BEST ROOMMATES EVER. I was never that understanding when my roommates brought kids home. Never.
I loved Marley's willingness to acknowledge the bizarrity of the situation and just roll with it. I was so engrossed in the story that I stopped caring that Marley should have called the police or social services by Chapter 2.
Sadly, after that stellar beginning, Matchbox Girls began to crumble under the weight of it's own built-up mysteries.
I started getting a vibe that the author was a Lost fan. She decided we needed answers to every little thing, and we needed them ASAP. She took a delightfully surreal journey into the bizarre (a la Neil Gaiman, or Cathrynne Valente), and turned it into a convoluted mess of curses, prophesies, mysterious heritages, bad guys, good guys, and love triangles.
Angels, demons, fae, cats….what started out mysterious and engrossing turned into a bureaucratic jurisdictional clusterfuck that I couldn't keep straight, and, in all honesty, didn't even want to.
I felt as though the author could have benefited from a slightly different narrative structure. Maybe some online-only short story prequels that would relieve some of the burden off these poor kids. I wouldn't have minded having a few less answers in return for a cleaner story. There is only so much you can do in one novel. This one tried to do too much. Are we discovering a magical world, embracing our magical heritage, finding twue wuv, or saving The Chosen Two from evil?
Is the underlying story brilliant and intriguing enough to make up for a rocky delivery? Absolutely. This is Chrysoula Tzavelas' first novel, and she undoubtably has tons of potential. She could breathe new life into the genre! If she learns trust her readers to take some deductive leaps and leaves some mysteries unsolved. Take a page from Robin McKinley. She never explains everything, and her work is essentially flawless. (Anyone who thinks X author did rape well needs to read Deerskin. As do all those little assholes in Steubenville).
I give Matchbox Girls 3 Stars! As magnificent as the beginning was, I still found my eyes glazing over through the mid-section.


You should read Matchbox Girls if you love urban fantasy, but are getting burned out on all the unfortunate genre tropes.
*I consider all heroines who work as medical support for an investigative unit to be of a 'crime-fighting flavor.'
 ***FTC Disclaimer: Most books reviewed on this site have been provided free of charge by the publisher, author or publicist. Some books we have purchased with our own money and will be noted as such. Any links to places to purchase books are provided as a convenience, and do not serve as an endorsement by this blog. All reviews are the true and honest opinion of the blogger reviewing the book. The method of acquiring the book does not have a bearing on the content of the review.