Please join us in welcoming to Book Lovers Inc. Rebecca Rogers Maher, whose name when readers hear know that they're in for an emotional, heart-squeezing and thought-provoking story. Rebecca stops by today to tell us a bit more about her latest book, Hurricane Lily, which you can bet won't leave you unaffected. So give it up for Rebecca and read on, you could even win a copy of Hurricane Lily at the end!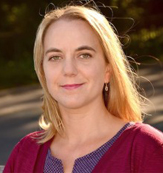 Stella: Hi Rebecca, welcome to Book Lovers Inc! Can you please tell us a bit about yourself?
Rebecca: Thanks so much for having me here today! Let's see … I live in Brooklyn, New York with my husband and our two little boys. I was a teacher for many years before I started writing. People often describe my books as "not your typical romance." They have lots of intense love and sex scenes and they always have a happy ending, but they're very realistic and raw.
Stella: Are you a planner or pantser? Can you tell us a bit about your writing process? How do your novels come to life?
Rebecca: I usually start out with a problem or conflict that relates to something that's bothering or interesting me. Then I think about what kinds of characters might struggle with that conflict, and I start taking little notes all over the place until a basic plot emerges. Once I start writing in the characters' voices, I get to know them better – what they actually would do or feel in a given situation – and sometimes that changes the plot. So I guess I'd say I'm part plotter, part panster.
Stella: What do you think is the difference between a reader and a real Book Lover?
Rebecca: I can only speak for myself here. Good books make me feel things deeply and think about the world in a different way. They show me the points of view of people who are very different from me and they get me out of my own head, which is sometimes a crazy place. I really NEED books, as opposed to just kind of liking them once in a while. I get twitchy when I don't have one nearby. I imagine other Book Lovers can relate!
Stella: Your latest novel, Hurricane Lily just got released this week, congratulations! Can you tell our readers a bit about the story and what they can expect of it? 
Rebecca: Thank you! Hurricane Lily is about a woman with such intense anxiety that she can't leave her house. She hires a contractor named Cliff to prepare the house for hurricane season, and he immediately despises her. All his clients on Cape Cod are wealthy snobs, and he assumes Lily is just like them. The only problem is that from the first moment they meet, he's painfully attracted to her, and after an intense encounter it becomes clear that she feels the same way. Bit by bit they unravel each other and realize they have a lot more in common than they thought.
Stella: Could you introduce Lily and Cliff, the heroine and hero of Hurricane Lily to us? 
Rebecca: Cliff, describing Lily:
"He stared at Lily, perched like a hothouse flower on the edge of her chair. She hadn't realized it, but she'd been rocking that damn rocking chair for the entire duration of their
conversation. Rocking it stiffly and precisely, her body as rigid as a stem.

She was exactly the kind of woman he hated. Entitled, cold and completely unaware of how much she had in relation to the rest of the world. Unaware of the rest of the world in every way, actually. Totally cut off.

Despite all this, despite her icy stiffness, she was excruciating to look at because—he hated to admit this—she was really fucking beautiful. The kind of beautiful that made him a little sick and starved inside."
Lily, describing Cliff:
"He leaned forward. The shift of muscles under his T-shirt was truly spectacular, and that was an irritation Lily did not feel like dealing with at all. By digging her fingers into her own arms, she forced herself to maintain eye contact. Which should have made things easier, except that against the reddish gold of his beard, his eyes were so unbearably blue.

It was almost painful to look at him. To be looked at by him. It was like he could see right through her and inside her. His presence vibrated across the room, a shimmering fault line that rumbled along the floorboards underneath them, trembled its way up her legs and erupted hotly in the core of her body."
Stella: Can you share with us a behind the scenes secrets about Hurricane Lily? 
Rebecca: Weirdly, Hurricane Lily actually takes place in the future. The very near future that is – late summer/early fall of 2013. I was thinking maybe I should have included flying cars, but I opted against it.
Stella: Now can you tell us 3 reasons why people should read Hurricane Lily?
Rebecca:
The sex scenes are really hot. I honestly blush just thinking about them.

Lily is a real, flawed heroine. That's important because a lot of the female characters we see in popular culture are very one-dimensional – so almost-perfect that it creates this unrealistic idea of what a woman has to be in order to be likeable. The women I know and love in real life are complicated people who make mistakes, but I still root for their happiness, and that's how it is for the heroine in this book. She's difficult, but she has her reasons, and she deserves her happy ending, as all of us do, imperfect though we may be.

This is the kind of book that evokes a strong reaction. Love it or hate it, you'll remember the story, and it will stay with you.
Stella: Could you please summarize Hurricane Lily for us Twitter-style (in 140 characters or less)?
Rebecca: Hurricane Lily: a contemporary romance about anxiety, class conflict, climate change & the healing powers of righteous anger & good hot sex.
Stella: What is the significance of the title? It can be interpreted in different ways, so in a way it is also a play on words…
Rebecca: I always struggle with titles, but I love this one for exactly the reasons you mention. It's open to interpretation and hopefully starts a conversation with readers. In that sense, what fun would it be if I did the interpreting for you? I'd much rather hear what readers think it means.
Stella: Your novels are never the light and fluffy kind of cotton candy rose romances, they have angst, heartache and thought-provoking dilemmas, what attracts you to these darker, more nuanced stories?
Rebecca: I like cotton candy romances too, as a reader, and I'm grateful that there are authors out there writing those books. But there's something about the journey from darkness to light that draws me in. My characters are wounded and flawed, but they do recover and find happiness, and that inspires me.
Stella: What is next on your schedule? Any future plans you'd like to share with us?
Rebecca: Hurricane Lily is the first in a trilogy called Class Acts. All the stories in the series will have something to do with class conflict, and I'm now working on book two. This next one's about a waitress and a businessman who are thrown together in extreme circumstances and have to find a way to help each other survive. I'm aiming to release it this summer or fall, so stay tuned!
Stella: Could you share with us something, a trivia that not many people know about you?
Rebecca: When I was a kid, I was the only girl in my class who could climb the rope to the ceiling. I'm still proud of that!
Thanks again for chatting with me today!
Hurricane Lily
by Rebecca Rogers Maher

Lily Sawyer flees her controlling, wealthy family in New York City for a solitary existence on Cape Cod. Three months later, a mounting anxiety binds her to the house she can no longer leave.

With hurricane season approaching, Lily hires Cliff Buckley—an angry carpenter with an immediate disgust for his elitist employer—to storm-proof her house.

Cliff soon discovers they have more in common than he thinks, as well as a raging spark between them could either destroy—or save—everything they care about. The question is, can either of them survive Hurricane Lily?

Find at:

Goodreads | Amazon | Barnes & Noble | Kobo | Vook | Author's Site (including exerpt!)
Rebecca Rogers Maher writes contemporary romance novels about real women. She's a Vassar graduate, a former community organizer and Brooklyn public school teacher, and a mother to two insanely sweet boys. Rebecca likes bold stories with strong, flawed heroines. She believes messed-up ladies deserve happy endings too, as well as lots of hot sex with genuinely kind men. She lives in Brooklyn, New York with her hot, kind husband and their children.

Stop by Rebecca's website, Facebook, or Twitter and say hello!
~~~~~~~~~~~~~~~~~~~~~~~~~~~~~~~~~~~~~~~~
~*~*Giveaway*~*~
Rebecca has generously offered an ebook copy of  Hurricane Lily to a lucky commenter! 
All you have to do is leave a comment and tell us:
 Do you like reading about flawed characters in romance? Who are some flawed heroines that you've loved, and why?
(You can read our full giveaway policy here)
Please be sure to include a valid email address in the comment form (need not be in the actual body of the comment).
Giveaway ends on 4 May 2013 and we will announce the winner on Sunday.
Good Luck!