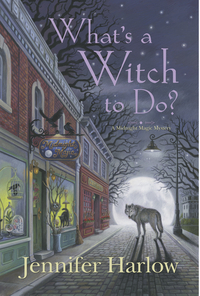 Format read: Trade Paperback
Series: A Midnight Magic Mystery (#1)
Genre: Paranormal Romance, Urban Fantasy
Release Date: March 8, 2013
Number of pages: 336 pages
Publisher: Midnight Ink
Formats available: ebook, trade paperback
Purchasing Info:  Amazon | B&N | Kobo | Book Depository US | Book Depository (UK)
Book Blurb:
A suspenseful brew with a dash of passion

High Priestess might sound like an '80s hair band, but its Mona McGregor's life. She runs the Midnight Magic shop in Goodnight, Virginia, and leads a large coven. She's also raising two nieces and hasn't been with a man for fifteen years…until a handsome doctor takes an interest in her. But Mona's life really heats up when Adam Blue, a sexy werewolf, arrives at her door. Adam informs her that someone wants her dead and he is there to protect her. Hell's bells! When a demon begins stalking her, Mona has to suspect her coven members, and even her family.

With two handsome men and a determined demon after her, Mona teams up with Adam to find out who really wants her dead . . . and who really wants her.
My Thoughts:
As a sorta/kinda, fledgling, wanna-be writer myself, I've been paying attention recently to how authors work layers of interest into their stories. I thought that Jennifer Harlow worked this out beautifully, with a generous to-do list for each of Mona's days. It gave the story a frame and something for the reader to look forward to. Of course, real life doesn't always strictly follow the lists we set out and neither did Mona's, which made for some interesting twists in her story.
Mona is a wonderful character. Slightly on the mature side, slightly made up in a less than perfect way. She is an excellent representation of the average woman everywhere. It's the personality and strength underneath her less than overwhelming outgoing appearance that speaks volumes about her in the end. She looks after her two nieces, she works with her community, and she protects everyone she loves from bad things. Gosh, I wish I had her energy!
What Harlow did with this 'real' woman was make her the go-to person for everyone around, but also highlight that she needed a life of her own too. This was done with a massive crush on the local doctor and a badly hurt werewolf showing up at her door. Both men quickly became contenders for Mona's heart and this was as much a fun ride for the reader as it was for Mona herself.
With its base in Southern culture, there were a lot of other interesting characters throughout the story, most of them ending up on the suspects list at one point or another. I think the best of the bunch even surprised me by the end, which turned out to be Mona's two young nieces. They had good intentions where their aunt was concerned but also a devastating back story. We do see glimpses of it in the book, but there is room for so much more where they are concerned. I, for one, would love to see where their mother went and how they know so much!
Some of the story elements had a familiar feel to me, reminiscent of writers such as Jim Butcher, Charlaine Harris, and Kalayna Price. The fullness of the creatures in Harlow's world, the politics behind the interactions of witches, werewolves, and vampires, and more are all elements that I have enjoyed from other authors. Harlow takes these aspects and makes them her own with Southern charm and a great lead character.
I heartily recommend What's a Witch to Do? to people that enjoy the preternatural world with a healthy dash of romance.
I give  What's a Witch to Do? 4 1/2 stars!

***FTC Disclaimer: Most books reviewed on this site have been provided free of charge by the publisher, author or publicist. Some books we have purchased with our own money and will be noted as such. Any links to places to purchase books are provided as a convenience, and do not serve as an endorsement by this blog. All reviews are the true and honest opinion of the blogger reviewing the book. The method of acquiring the book does not have a bearing on the content of the review.