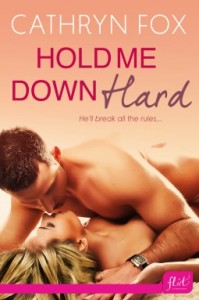 Format read: ebook provided by NetGalley
Genre: Contemporary Romance
Release Date: May 13, 2013
Number of pages: 48 pages
Publisher: Entangled Publishing
Formats available: ebook
Purchasing Info: Author's Website | Goodreads | Amazon | B&N | Kobo | Publisher's Website
When Eden Carver, Iowa farm girl turned NY actress, decides to seduce the sexy cop next door, she begins to wonder if she's bitten off more than she can chew.

The last thing Officer Jay Bennett wants is to cross a line with the sweet and innocent country girl—no matter how much he'd like to help himself to a nibble. Not only are they in the friendship zone, a naïve girl like Eden doesn't belong in his dangerous world.

But when she asks him to help her rehearse lines, and things go from simmer to boil, he finds himself doing the one thing he swore he'd never do. He knows he needs to walk away from temptation, but when sweet little Eden bites back, it tilts his world on its axis.
Because biting back changes everything.
My Thoughts:
File this one under "extra short and extra steamy".
At right around 50 pages, this is a short story. Let's call it a sexy interlude. What makes the story work as erotic romance, instead of just porn-without-plot, is that the Eden and Jay know each other before the first page.
They're neighbors, and they're friends. Unfortunately, they are friends without benefits.
Jay is a cop, and he's decided that sweet and innocent country girl Eden couldn't possibly want to do the dark and wicked things he knows he'll do to her if he lets her out of the "friend zone".
Of course, he's never asked Eden what she wants! He has no clue that all of Eden's dates end up running away, because they decide she's a pervert when she asks to be tied up.
Did I mention she has a uniform fetish?
Are these two made for each other, or are they made for each other?
Verdict: The story is a quick and very enjoyable read. The problem is that it is too short. We don't learn anything about how they met, or how their friendship developed. It's clear they've been interested in each other from the beginning, so how have they managed to get so easy with each other? And by easy in this case I mean get together for pizza and a movie every weekend easy, not the other kind.
The problem is that they both want the other kind of easy, with each other, and have managed to become close friends without figuring out clue one about each other. I'd love to have seen how that worked out.
And I'd love to know more about how they manage to get past the whole "he decides what's good for her" thing in a longer story, and therefore longer relationship, but if you're looking for something very short and hot with a happy-ever-after, this might be just the ticket.

I give  Hold Me Down Hard by Cathryn Fox 3 and 1/2 uniform blue stars!
***FTC Disclaimer: Most books reviewed on this site have been provided free of charge by the publisher, author or publicist. Some books we have purchased with our own money and will be noted as such. Any links to places to purchase books are provided as a convenience, and do not serve as an endorsement by this blog. All reviews are the true and honest opinion of the blogger reviewing the book. The method of acquiring the book does not have a bearing on the content of the review.