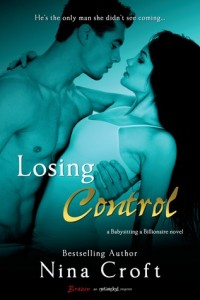 Format read: ebook provided by the publisher
Series: Babysitting a Billionaire, #1
Genre: Contemporary Romance
Release Date: Aug. 12, 2013
Number of pages: 250 pages
Publisher: Entangled: Brazen
Formats available: ebook
Purchasing Info: Author's website | Goodreads | Amazon | B&N | Kobo | Publisher's Website
Four years after escaping her abusive ex-husband, Kim finally believes she's in control of her life and her emotions and she's determined to never risk either again with a man. She has a great home, a job as a security specialist which she loves, and Jake for a best friend. But things are a tad lonely in the sex department, so she decides to embark on a no-strings-affair with one of her hot co-workers. And who better to help her remember how to lure a man than her best friend?

Jake has wanted Kim from the moment he first saw her, but four years ago, she was too young and too damaged. So he kept her close and he kept her safe, offering her a job in his security company and the training to feel safe again, and he bided his time. But now, after the long wait, if she imagines he's going to stand by while she seduces some other guy… Never going to happen
My Thoughts:
I wanted to love this book. I really, really did. Nina Croft's Blood Hunter series is awesome science fiction romance. I mean totally awesome, she made vampires and werewolves in space completely work.
But Losing Control is a contemporary, and it didn't just make my willing suspension of disbelief meter go flying out the window, it's making me put ranty pants on for this review.
Because the story is about a woman who was nearly suicidal while married to an abusive, control freak man and who has spent the last four years pulling herself together. It is, and it should be, a long and scary journey.
Kim works for a security company because she needed to feel more secure about her own damn self. She's taken all the self-defense courses, she wants to be an agent. She needed to grab control of her own life.
Four years after the end of her marriage, she's finally starting to feel like sex might be worth trying again. But none of the guys she works with are interested in her. And her husband was only interested in belittling her and hurting her. She's starting the think that she's the problem.
No, the problem is that her best friend, her boss Jake, has told all the guys at the job that she's off limits. He's saving her for himself. And since he owns the company, and they all like their paychecks, the guys all paid attention to what the boss said.
Kim has no clue. Of course, she had no clue that her ex was gay, either. At least she had the excuse of being 18 for that. But still. Oh, did I mention that her apartment is subsidized by her job? Meaning her protective boss? The one who won't let her out into the field as an agent because he can't stand the thought of her being in danger, not that she isn't qualified.
Kim's spent the last four years putting herself in charge of her life, getting new friends, taking new risks. But Jake has been making sure she's safe, checking up on her friends, not necessarily trusting all of her decisions.
Then when she decides that she's finally interested in getting intimate with someone, he drops the bombshell that he's been waiting for her all along, and there's no way he'll let anyone else into her life. Yes, he makes it sound more romantic than that, but he does control her life.
He's been her best friend for four years, he's her boss and his company subsidizes her rent. The first half of the book, was a lot of him ignoring or riding roughshod over all of her attempts to set any ground rules for their new relationship. He always knew better than any objections she might have.
Kim had a LOT of damage that prevented her from having a healthy relationship with someone. She did need to get over it. Her mother died when she was young, her father was cold and distant. She married an abuser because she was easy prey for someone who pretended to love her. (I didn't hear any mention of therapy, and did she ever need it!)
None of that gets cured by a quick f*ck, no matter how long the guy has loved her, particularly when there's no protection involved. And yes, that comes back to haunt in the too easy happy ever after.
The fact that she continued to let him walk all over her boundaries made me decide that she still had way too many doormat tendencies left in her.
And after all the come-here/go-away games the two of them play, we get a very fast, tie-up the loose ends happy ending where Kim decides that because Jake lets her tie him up in bed that he isn't as big a control freak as she thought so marrying him will be okay after all.
Besides she goes to punch her ex's lights out and she has a lovely reconciliation with her daddy who says that he loves her and no, her mommy didn't kill herself so everything is sunshine and lollipops. And she's pregnant.
Verdict: There are people who are going to love this book. I'm just not one of them. My rant-o-meter wouldn't come down after the first 150 pages where Jake repeatedly blows past Kim's boundaries and ignores everything she says. He is controlling her, and he has been controlling her. That he's been nice about it doesn't matter.
For this story to have had a chance at working, Kim needed to be truly on her own and discover if she could make it without training wheels. She should have been wondering how much of her recovery was really her own doing. Or at least she would have if she had been as kick-ass as the book's description made her out to be.
Instead she turned out to be a damsel in distress wearing a heroine's costume, waiting for her Prince to sweep her off her feet and get her knocked up.

I give  Losing Control by Nina Croft 1 disappointed star.
***FTC Disclaimer: Most books reviewed on this site have been provided free of charge by the publisher, author or publicist. Some books we have purchased with our own money and will be noted as such. Any links to places to purchase books are provided as a convenience, and do not serve as an endorsement by this blog. All reviews are the true and honest opinion of the blogger reviewing the book. The method of acquiring the book does not have a bearing on the content of the review.