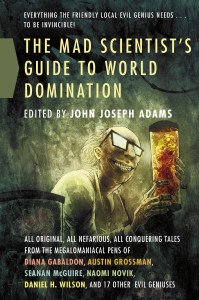 Format Read: eARC from Netgalley.
Number of Pages: 368.
Release Date: February 19, 2013.
Genre: Science fiction, anthology.
Publisher: Tor.
Formats Available:  ebook, paperback.
Purchasing Info: Goodreads, Author's Website, Book Depository, Powells.
Book Blurb: 
From Victor Frankenstein to Lex Luthor, from Dr. Moreau to Dr. Doom, readers have long been fascinated by insane plans for world domination and the madmen who devise them. Typically, we see these villains through the eyes of good guys. This anthology, however, explores the world of mad scientists and evil geniuses—from their own wonderfully twisted point of view.

An all-star roster of bestselling authors—including Diana Gabaldon, Daniel Wilson, Austin Grossman, Naomi Novik, and Seanan McGuire…twenty-two great storytellers all told—have produced a fabulous assortment of stories guaranteed to provide readers with hour after hour of high-octane entertainment born of the most megalomaniacal mayhem imaginable.

Everybody loves villains. They're bad; they always stir the pot; they're much more fun than the good guys, even if we want to see the good guys win. Their fiendish schemes, maniacal laughter, and limitless ambition are legendary, but what lies behind those crazy eyes and wicked grins? How—and why—do they commit these nefarious deeds? And why are they so set on taking over the world?

If you've ever asked yourself any of these questions, you're in luck: It's finally time for the madmen's side of the story.
My Thoughts:
This book was released just days after my birthday and an epic win in one of my most brutal cases. Coincidence? I think not. Time to start formalizing my plans to rule the tundra with an iron fist!
****
Professor Incognito Apologizes: An Itemized List by Austin Grossman – Dr. Horrible's over-long love-sick monologues only worked because it was Neil Patrick Harris singing. (-)
Father of the Groom by Harry Turtledove – Making Bridezilla a literal truth, one future-in-law at a time. (+)
Laughter at the Academy: A Field Study in the Genesis of Schizotypal Creative Genius Personality Disorder (SCGPD) by Seanan McGuire – Everyone who ever lived with a Psych major in college fully understands how the most insane specimens of the human species are drawn to psychology. It follows that the cream of that crop would pursue advanced degrees in the field. Consider the Milgram Experiment. (+)
Letter to the Editor by David D. Levine – Supervillains provide a necessary defense against superheroes. If it weren't for the the slow death of investigative journalism we might have discerned the truth decades ago. (+)
Instead of a Loving Heart by Jeremiah Tolbert – Remember dads, your daughters select your nursing home. Mutilating the cute Parisian painter she's been crushing on buys you a one way ticket to an arctic wasteland. (+)
The Executor by Daniel H. Wilson – You can't just wrap up an inter-generational episode of Jerry Springer with a sappy ending. (-)
The Angel of Death has a Business Plan by Heather Lindsley – It used to be any enterprising young person could change the world from their mom's garage, but these days? These days you have to slave away ingratiating yourself in the corporate culture before brutally exploiting the weaknesses of your enemies and allies alike. (+)
Homo Perfectus by David Farland – Yay. New and improved ways to date-rape. Anyone else have an author blacklist? Put this fucking pervert on it.  (-) x1000
Note: At this point I stopped reading for several months. Mad scientists and supervillains do not demean themselves by stalking grad students, drugging them, and jerking off over their semi-conscious bodies. Also? Fuck you waiters, cab drivers, and all ancillary nameless persons who didn't bat an eye at the blatantly roofied women being hauled off by a rich scumbag.
Ancient Equations by L.A. Banks – Mad scientists should be focused on science. Not invocation of Hindi deities to break a dry spell. (-)
Rural Singularity by Alan Dean Foster – Dude, when the doting daddy tells you not to touch his daughter's toys, you do not touch his daughter's toys. Even small-town tabloid reporters should be able to follow simple instructions. (+)
Captain Justice Saves the Day by Genevieve Valentine – That's RIGHT people. Never underestimate the value of a good office assistant. The office functions per their whims, not that of the "boss" who is too wrapped up in projects to keep up with anything. (+)
The Mad Scientist's Daughter by Theodora Goss – Typical deadbeat dads, obsessing over their careers, neglecting and/or abusing their children, and leaving them totally fucked up and maladaptive. At least they've made a nice little support group. (+)
The Space Between by Diana Gabaldon – I am distracted by the similarity between Melisande and Melisandre. Red hair, religious fervor, voices, poison, magic….. we're better off watching Game of Thrones. (-)
Harry and Marlow Meet the Founder of the Aetherian Revolution by Carrie Vaughn – I've never enjoyed the affectation of "aether" in steampunk. Finally someone had the decency to point out that messing around with that kind of unclassifiable shit is dangerous. (+)
Blood and Stardust by Laird Barron – Typical American. Doesn't bother moving out of dad's house until he threatens to cut off the cable and starts demanding that all murders be done the old-fashioned (i.e. hard) way. (+)
A More Perfect Union by L.E. Modesitt Jr. – Is this what will happen when Congress keeps failing to unsink the budget and then bans the Daily Show? Beware the mad political scientist! (+)
Rocks Fall by Naomi Novik – OMFG JUST KISS ALREADY. It would have been so beautiful. (+)
We Interrupt this Broadcast by Mary Robinette Kowal – So this is how the inventors of WMDs cope with the fallout of their creations. (+)
The Last Dignity of Man by Marjorie M. Liu – Parents need to seriously consider the ramifications of the names they select for their children. (+)
The Pittsburg Technology by Jeffrey Ford – The first rule of Fight Club is that you do not turn it into a Ponzi Scheme! Tyler is turning over in his imaginary grave. (-)
Mofongo Knows by Grady Hendrix – Haven't any of your people seen Planet of the Apes?! Put a leash on your miserable demon spawned offspring and leave the genius gorilla in peace! (+)
The Food Taster's Boy by Ben Winters – Rich people. They want everything done their way, but never want to work for it. I'll just sit back here and hope my perfect nemesis into being, and then bitch and moan that it doesn't turn out exactly as I imagined it in the lifetime during which I accomplished nothing. (-)
****
I generally find it difficult to review anthologies because, by their very nature, there is drastically differences in quality. Hence: the +/- rating system. If nothing else, I can judge percentage.  The Mad Scientist's Guide to World Domination scores 15/22. Quite respectable on it's own.
However, the Mad Scientist responsible for assembling this guide has taken pains to truly unify all these works into a single, coherant whole. Each story is thusly categorized and indexed for the convenience of the burgeoning mad scientist deriving wisdom from their forbears: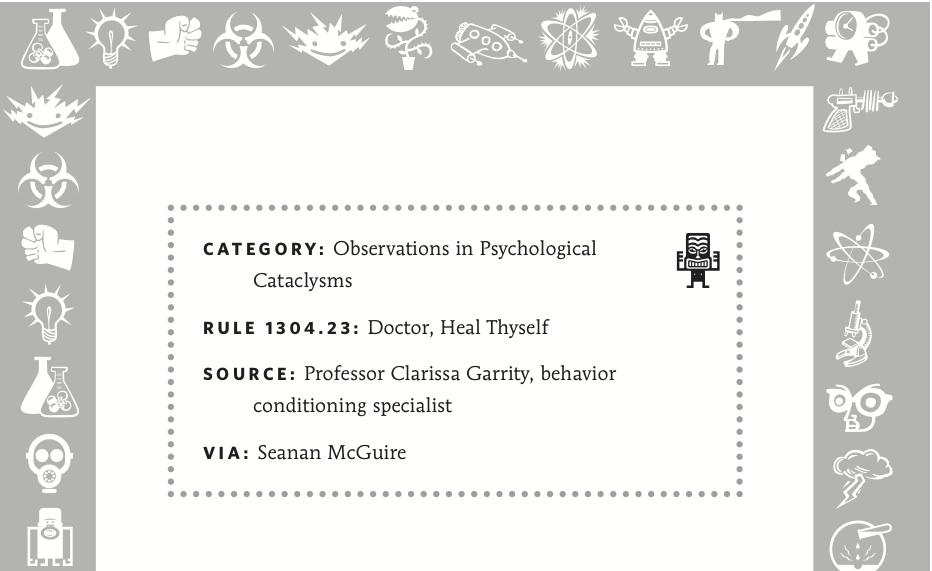 These extra touches raise this collection from a good anthology to a great one, worth enjoying form start to finish. Except for Farland's entry. Just surgically remove those pages when you get your copy in the mail. I will.
I give The Mad Scientist's Guide to World Domination 4 stars!

The Mad Scientist's Guide to World Domination makes the perfect graduation gift for anyone on your list who needs a little extra guidance as they venture out into a cruel world unwilling to sit patiently through an entire monologue.
****FTC Disclainer. Most books reviewed on this site have been provided free of charge by the publisher, author or publicist. Some books we have purchased with our own money and will be noted as such. Any links to places to purchase books are provided as a convenience, and do not serve as an endorsement by this blog. All reviews are the true and honest opinion of the blogger reviewing the book. The method of acquiring the book does not have a bearing on the content of the review.