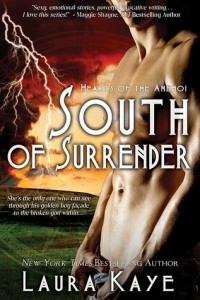 Format read: ebook provided by the publisher
Series: Hearts of the Anemoi, #3
Genre: Paranormal Romance
Release Date: May 28, 2013
Number of pages: 400 pages
Publisher: Entanged Select
Formats available: ebook, paperback
Purchasing Info: Author's website | Goodreads | Amazon | B&N | Kobo | Book Depository US | Book Depository (UK) | Publisher's Website
Chrysander Notos, Supreme God of the South Wind and Summer, is on a mission: save Eurus from his death sentence and prove his troubled brother can be redeemed. But Eurus fights back, triggering vicious summer storms that threaten the mortal realm, dangerously drain Chrys, and earn the ire of the Olympic gods who ordered Eurus dead.

Laney Summerlyn refuses to give up her grandfather's horse farm, despite her deteriorating vision. More than ever, she needs the organized routine of her life at Summerlyn Stables, until a ferocious storm brings an impossible—and beautiful—creature crashing down from the heavens.

Injured while fighting Eurus, Chrys finds himself at the mercy of a mortal woman whose compassion and acceptance he can't resist. As they surrender to the passion flaring between them, immortal enemies close in, forcing Chrys to choose between his brother and the only woman who's ever loved the real him.
My Thoughts:
South of Surrender falls somewhere between north and west. Yes, I know the compass points aren't laid out that way.
However…
I'm talking about Laura Kaye's Hearts of the Anemoi series, and the way the books feel/read, at least to this reader. YMMV.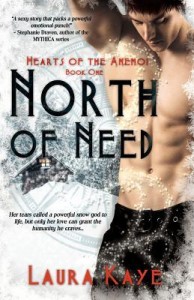 North of Need was positively luminous. Sunlight sparkling on new-fallen snow shiny. Not just original, but absolutely awesomesauce (review at Reading Reality). And it set the bar incredibly high for the rest of the series.
West of Want left me (actually us, see Stella's and my dual review here at BLI) definitely wanting. Insta-love, not enough world-building or relationship-building, and very much of a multiple deus-ex-machina ending.
Now that we've reached Chrysander Notos, the god of the south wind and summer, the story and the storm are both starting to come to a climax.
Something is horribly wrong with Eurus, the god of the east. He's responsible for all the bad stuff that has happened in the story so far. The question is, what's the matter with this dude? It sounds like he has one heck of a lot of "daddy issues", but we don't get much of an explanation. What we do know is that the pack on Olympus have sentenced him to death for his evil in West of Want.
Meanwhile, the story starts with him pounding Chrys into godlike bits, the same thing he's been doing all summer. Eurus has managed to steal a ring from their father that has power over all the wind gods. The fact that their father Aeolus created such a ring may be a tiny part of the explanation for the aforementioned "daddy issues".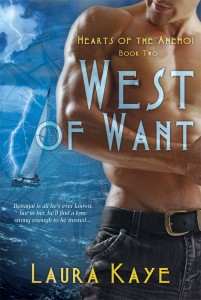 Aeolus is not a candidate for father of the millennium, or even the year, let's put it that way. But we don't quite get enough to explain Eurus' brand of bwahaha evil. He's pretty far out there.
We do get a love story between Chrys and Laney Summerlyn, because he falls unconscious through her barn roof at the end of one of his epic stormy battles with his brother.
Two things are different about this, Laney has retinitis pigmentosa, so she's nearly blind (see Tanya Huff's Blood Ties for the last time I've seen this used in paranormal romance) and Chrys has lost so much control he crashes as a Pegasus.
Laney may be mostly blind, but she knows that the horse she cared for during the night had wings, and that when she woke up in the morning in the horse's stall, she lay cuddled with a man. A man who disappears when her ranch foreman comes to check on the damage.
Chrys just knows that Laney is the first person he's been able to let touch him without panicking. And we're never clear on exactly why he panics, only that he's been doing it for centuries. So yes, we have the insta-connection thing going on.
Verdict: While it added more dimension to Laney's character that she was dealing with her blindness, the romance still hinged on the insta-connection between Chrys and Laney as well as his issues with not being touched. Which weren't explained. I liked them as a couple, but I just didn't get what his original trauma was.
There was a lot more action and downright plotting and planning going on in South of Surrender than in either of the previous books. Chrys, Zeph (West) and Boreas (the actual North Wind) have to take care of Eurus before he either takes care of them or comes into his own season. Or before the Olympians just plain kill him. The whole god-plotting and double-crossing was more interesting than parts of the romance.
South of Surrender ends with a bang that pulls out all the stops, tissues and heartstrings. I am looking forward to East of Ecstasy, because I want to see whether Eurus goes down or gets redeemed.

I give  South of Surrender by Laura Kaye 4 sunny stars!
***FTC Disclaimer: Most books reviewed on this site have been provided free of charge by the publisher, author or publicist. Some books we have purchased with our own money and will be noted as such. Any links to places to purchase books are provided as a convenience, and do not serve as an endorsement by this blog. All reviews are the true and honest opinion of the blogger reviewing the book. The method of acquiring the book does not have a bearing on the content of the review.