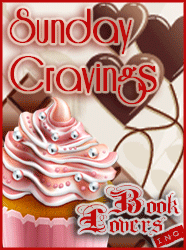 Hello Book Lovers everywhere in the world! How are you this weekend? Anything exciting to share with us? Next week is a little less busy than the  previous one but again, there are some very interesting titles scheduled for release. So let's see which will be our Sunday Cravings for this week 🙂
Marlene and Stella: Flirting with Disaster by Ruthie Knox
In the latest eBook original novel in Ruthie Knox's scorching-hot Camelot series, a no-strings fling looks an awful lot like falling in love—or flirting with disaster.

Fresh out of a fiasco of a marriage, Katie Clark has retreated to her hometown to start over. The new Katie is sophisticated, cavalier, and hell-bent on kicking butt at her job in her brother's security firm. But on her first assignment—digging up the truth about the stalker threatening a world-famous singer-songwriter—Katie must endure the silent treatment from a stern but sexy partner who doesn't want her help . . . or her company.

Sean Owens knows that if he opens his mouth around Katie, she'll instantly remember him as the geeky kid who sat behind her in high school. Silence is golden, but he can't keep quiet forever, not with Katie stampeding through their investigation. It's time for Sean to step up and take control of the case, and his decade-old crush. If he can break through Katie's newfound independence, they just might find they make a perfect team—on the road, on the job, and in bed.
Marlene: I'll confess to being a Ruthie Knox fangirl. I've loved everything she's written since About Last Night, and she hasn't disappointed me yet. Her characters are always flawed in fascinating and very human ways, and the romance always manages to be both hot and believable. I have a particular soft spot in my heart for her Camelot series, they're set not too far from my own hometown.
Stella: I have to concur with Marlene and ditto everything she said, except that I became a die hard fan of Ruthie Knox even earlier: she won me over with her debut novel Ride With Me, which became one of my favourite reads of 2012, ever since then, whatever she has written I have read and LOVED! 😀 So yep, I want an 'I HEART Ruthie Knox" fan T-shirt 😀 So after this intro I'll ditto Marlene and say that I can't wait to read Flirting with Disaster!!
Stella: She's the One by Erin Nicholas
Sometimes you see love clearly. And sometimes it has to smack you in the face.

Counting on Love, Book 1

When a stranger walks up and punches him, Ryan Kaye assumes there's a good reason. But he's stunned to learn it's over a one-night stand that never happened —with his friend's sister, straight-laced Amanda Dixon. When Ryan confronts her about the lie, Amanda apologizes, but Ryan realizes he doesn't want her to be sorry…he wants the night they supposedly spent together.

Amanda's not looking to add anyone to her long list of commitments, so she was only trying to let a nice guy down easy by telling him a fling with Ryan broke her heart. So what if the fling only happened in her dreams? But when Ryan Kaye tempts her with the chance to go crazy and fulfill a few fantasies, she can't resist. Thank goodness one night isn't enough time to fall in love…

Product Warnings
Contains a hot paramedic who knows how to get a girl to let her hair down, a girl who thinks she prefers her hair up, some naughty laser tag, some naughty role-playing and a lot of falling in love.
You all know what a huuuge Erin Nicholas fangirl I am. I have read everything she has written so far and she never disappoints. Her stories are always enchanting, funny and smexy: they always make me laugh and smile and happily sigh at the end. She's the One is the first book in her brand new series and I was lucky to read it in advance and let me tell you it is just as good (if not better) than her Bradfords series!! 😉
What about your Sunday Cravings?