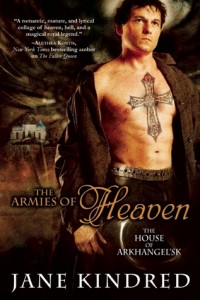 Format read: ebook provided by the publisher
Series: The House of Arkhangel'sk, #3
Genre: Fantasy
Release Date: June 25, 2013
Number of pages: 400 pages
Publisher: Entangled Select
Formats available: ebook, paperback
Purchasing Info: Author's Website | Goodreads | Amazon | B&N | Kobo | Book Depository US | Book Depository (UK)
Full-scale war has broken out in Heaven, and Anazakia must embrace her destiny, leading an army of Virtues into battle against a Host of enemies to restore the House of Arkhangel'sk. Furious with her for putting her trust in the angel who has done them all irreparable harm, Vasily tries to ignore his growing resentment, while Belphagor returns to the world of Man with a cadre of beautiful androgynous Virtues to restore the sundered alliance between the Fallen and the gypsy underground. Without their help in enlisting the terrestrial forces of Grigori and Nephilim, Anazakia's Virtues are hopelessly outnumbered. But there are more things in Heaven and Earth than any of them have dreamt of, and those they cannot see will mean the difference between victory and losing everything.
My Thoughts: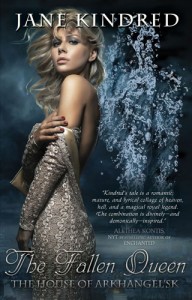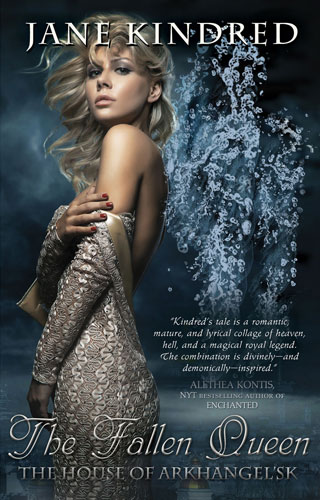 What goes around, comes around. Not exactly profound, but there is definitely a sense that everything, good and bad, from The Fallen Queen (reviewed here at BLI) and The Midnight Court (reviewed at Reading Reality) comes back around in The Armies of Heaven.
The chickens all come home to roost. Chickens and angels both have feathers, right?
The House of Arkhangel'sk is the heavenly reflection of the House of Romanov. And both were manipulated by the Snow Queen, Aeval, because she didn't get what she wanted when she wanted it. Yes, she was just that petty. Aeval is that cold.
Aeval set in motion a series of events with far-reaching consequences on earth and in the Courts of Heaven. Because she is the Snow Queen, she had no care for any of those consequences, as long as she got what she wanted.
But now there are three players on the board. Aeval is still the Usurper Queen of Heaven. Anazakia is fighting to regain her throne. And somewhere, Anazakia's former nurse Helga is holding Anazakia's daughter Ola prisoner in an oubliette while she puts forward a surprise candidate for the throne.
All this time, Anazakia believed that Aeval had ensorcelled her cousin Kae into murdering their family, including the child her sister Omelia was carrying. His own child. Now the truth is revealed, that Helga murdered Omelia by performing a butchery of a Cesarean birth and taking the child.
Helga says she wants social justice. Many in heaven who want to see the aristocracy thrown down are rallying to her banner. There have been too many inequities for too long, and reforms are needed, but Helga is only out for herself. At any price, including the sacrifice of both children.
As the armies gather, as allies become enemies become allies, Anazakia and her friends fight to find the children, and to attempt to save as much of both heaven and earth as they can. Every relationship and belief is strained to the breaking point.
But this story is ultimately about the importance of the family you make. On her 17th birthday, Anazakia went riding with her cousin Kae. On that ride, he was ensorcelled by Aeval. Everything else happened because of that ride. Kae was her best friend then, and Anazakia has to admit to herself that she still loves him, that he was not responsible for the things he did while he was under Aeval's blood-spell.
Kae has to let himself believe that too.
And Anazakia has to make a deal with her worst enemy in order to achieve the best part of what she wants. It's a damn hard lesson to learn.
Fate is cruel. Even for the Queen of Heaven.
Verdict: What makes this story so fascinating isn't the battles, or even the politics (although the politics are incredibly intricate), it's the people.
This is a series that has to be read as a whole, because the relationships are so complex. Even with the summary at the beginning of this volume, there's no way to understand who these people are to each other without reading the whole series.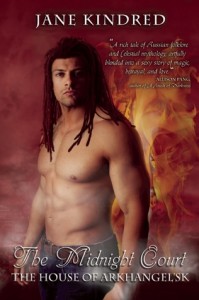 Because Anazakia fell from heaven, she becomes more than a spoiled princess. She makes her own family with the demons Belphagor and Vasily, and eventually with Ola, and then Love, and Kirill. And finally, again, Kae. She opens up and grows because she got shaken from her setting, even if that shake was in the worst way possible.
She's a better person, and a better queen, because of what she experiences. Otherwise she would have been just another complacent, spoiled princess, and nothing would have ever changed.
If The Midnight Court was like Russian tea, The Armies of Heaven is more like baklava, made of of many, many individual layers, each of which has it's own flavor (and is sometimes full of nuts) and is its own part of the whole melange.
Every single tiny piece of the story, from first to last, came back to haunt by the time this book ended. Every thread got tied off. And the weave of them all was complicated, and very much like the Kushiel series or Babylon 5, every detail mattered.
The end came around to the beginning, both with Aeval and with Kae, although with Aeval, I was left wondering what it was all for from the forest sprites' point of view. Is there another tale yet untold?
The idea of using the Tarot to send messages to the internet from heaven was just plain cool.

I give  The Armies of Heaven by Jane Kindred 4 and ½ heavenly stars!
***FTC Disclaimer: Most books reviewed on this site have been provided free of charge by the publisher, author or publicist. Some books we have purchased with our own money and will be noted as such. Any links to places to purchase books are provided as a convenience, and do not serve as an endorsement by this blog. All reviews are the true and honest opinion of the blogger reviewing the book. The method of acquiring the book does not have a bearing on the content of the review.