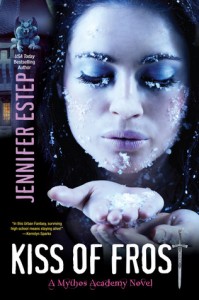 Format read : Ebook arc provided by the author
Length: 354 pages
Publisher:  Kensington
Release date:  November 29th 2011
Formats available: Kindle ebook, Print book.
Purchase info : Goodreads, Author's Website, Amazon, Book Depository US, Book Depository UK
Book Blurb:
Logan Quinn was try­ing to kill me. My Spar­tan class­mate relent­lessly pur­sued me, swing­ing his sword at me over and over again, the shin­ing sil­ver blade inch­ing closer to my throat every time. A smile tugged up his lips, and his ice-blue eyes prac­ti­cally glowed with the thrill of battle…Im Gwen Frost, a second-year warrior-in-training at Mythos Acad­emy, and I have no idea how I'm going to sur­vive the rest of the semes­ter. One day, I'm get­ting schooled in sword­play by the guy who broke my heart—the drop-dead gor­geous Logan who slays me every time. Then, an invis­i­ble archer in the Library of Antiq­ui­ties decides to use me for tar­get prac­tice. And now, I find out that some­one at the acad­emy is really a Reaper bad guy who wants me dead. I'm afraid if I don't learn how to live by the sword—with Logan's help—I just might die by the sword…
My Thoughts:
I really enjoyed the first book, A Touch of Frost, because I really liked Estep's take on the setting of a boarding school for supernatural being. But the characterisation and plot was fun and I found myself hooked into the story, so I was definitely looking forward to this followup.Gwen Frost is settling down with her routine at her new boarding school  for the preternaturally gifted students. which prepares to defend against the threat of Loki the evil god and his minions, the reapers who threaten the whole world. The students who range from Spartan warriors to Valkyries, have very cool powers or born natural warriors, Gwen is the odd one out as her gift is that of the Touch which allows her a glimpse of an object or even a person's past and emotions. Because of the events in the previous book, A Touch of Frost  Gwen is now a target  by Loki and his Reapers and  she has to deal with numerous attempts at her life from a Reaper whose focused on revenge. As well as dealing with a crush on Logan the sexy Spartan warrior who seems not to share the same feelings. But with an upcoming school trip which involves skiing, things come to a head and she has to learn to ski!
Kiss of Frost was definitely fun, the cast of characters really share a great chemistry and I love their interactions especially with the growing friendships that Gwen shares with her frenemy turned best friend Daphne. However I did find the mystery plot-line was pretty predictable and not as strong as the previous book. I guessed who was the villain of the book straight off although this didn't detract from my enjoyment of the book nor the plot.  Nonetheless, the personal growth that Gwen goes through is developed wonderfully, I especially liked the discovery of her new powers and how that was linked to the new knowledge about her mother's past. it really added layers of intrigue and builds up tension for future books in the series.
The other aspect I loved is the relationship that Gwen shares with Logan,   who she has deep feelings for. Their relationship is pretty bumpy but although I was afraid that there was a potential of a love triangle forming in this book with a new character being introduced but I was glad to see that Gwen is still leaning towards Logan and that he may reciprocate. I really can't wait to see what happen next!
Kiss of Frost is an exciting and enjoyable read, and Jennifer Estep has neatly laid out a backstory full of mystery and mythology and with an engaging heroine like Gwen who may not be as powerful or strong as a Valkyrie or a Spartan. But I prefer my heroes underpowered in some ways because it keeps things lively and unexpected!

I give Kiss of Frost a 3 and half stars!