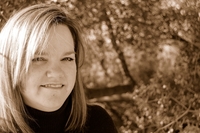 We are very happy to welcome back to Book Lovers Inc. Karen Erickson on who we can count on to provide us with our daily romance ratio: be it sweet or sexy, Karen has it. Today she stops by to tell you about her brand new romance series about three Italian brothers, the Renaldis (of course this series is sexy, how could it be with some Italian hunk of heroes? ;-)). Please give her a warm welcome, read on to discover this new series and you could even win yourself a copy of the first book, Tempted by Her Boss! 😀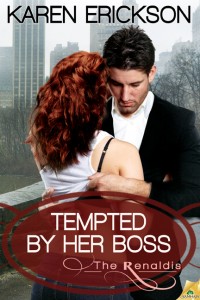 Loving the Boss
There is something so forbidden about falling in love with your boss, right? He's the man in authority, he's usually powerful and commanding and extremely handsome. Attentive. A little gruff, but always with good intentions. And did I mention sexy?
Okay fine, this was never the case in my real world boss experiences but hey, this is romantic fiction! As an author, I can make my fictional boss hero as sexy, charming and ruthless as ever.
I've written boss/employee love stories before (hello, Worth It series) and I'm doing it again in my new Renaldi series.
The first "sampler" came out last month – TEMPORARY ARRANGEMENT. It's a free novella that offers you a glimpse of Matteo and Paige. The turmoil and the angst and the longing these two feel for each other.
To get the full story, you need to pick up TEMPTED BY HER BOSS, which came out July 2nd. And unbelievably enough, it hit the USA Today Bestseller list at #97! Talk about shocked. I must say a huge thank you to all the readers out there who picked it up. And for those of you who haven't read it yet, maybe I can tempt you (ha ha) to check it out…
TEMPORARY ARRANGEMENT by Karen Erickson

Look, but don't touch…

Book #0.5 in The Renaldis series

Alone and broke, Paige Stewart can't believe her good luck. Who hires a virtual stranger out of a New York City coffee shop to care for their adorable grandson? Apparently Claudia Renaldi does.

Widower Matteo Renaldi isn't pleased that his mother found a replacement nanny so soon after he fired the last one. Yet little Matty takes to Paige like no other nanny before. And Matteo can't deny he's quite taken with her as well. She's beautiful. Sweet. And far, far too young for him.

There's something about the gorgeously sexy Matteo that fills Paige with longing to break through his wall of formality and touch his softer side. But no one knows better than she that crushing on her boss is one thing. Acting on those feelings is forbidden. Foolish.

Inevitable…

Warning: Sexy, grumpy Italian hero who is determined to keep his walls up. No matter how much his son s sweetly beautiful nanny drives him to distraction

Buy at: Samhain | Amazon | B&N | Kobo | All Romance eBooks
And now about its sequel, the 1st book in Karen's brand new The Renaldis series:
TEMPTED BY HER BOSS by Karen Erickson

Business? Meet pleasure…

Book #1 in The Renaldis series

Paige Stewart has committed the ultimate nanny sin—she's fallen in love with her boss. She adores Matteo Renaldi's sweet, precocious son. Who wouldn't? But it's torture going about her day-to-day tasks, catching fleeting glimpses of the boy's enigmatic father. Chastising herself for fantasizing she's in the Renaldi master bed…

It's ridiculous, pointless. After all, soon little Matty won't need her anymore and she'll move on.

Matteo has no interest in dating. He's consumed by work, his son…and his son's nanny. She's everything he's not: young, carefree, trusting, maybe a little naïve. She deserves better than an embittered widower. Yet when she accidentally falls into his arms, he can't resist drawing her in for a kiss that quickly spirals out of control.

As they travel to his family's home in Italy and slowly fall in love, the whispers start. And when one particularly ugly story blows up in their faces, their reputations might escape unscathed, but their hearts may not…

Product Warnings: The sexy, grumpy Italian hero is finally won over by his son's sweetly beautiful nanny—though it was quite the challenge for her to catch him. Watch for lots of high drama, passionate love and malicious rumors before these two can find their HEA.

Buy at: Samhain | Amazon | B&N | Kobo | All Romance eBooks
About the Author:
Bestselling romance author Karen Erickson writes what she loves to read — sexy contemporary romance and sensual historical romance. Digitally published since 2006, she currently writes for Samhain Publishing, Entangled Publishing's Bliss & Brazen Imprint and Avon Impulse. A native Californian, she lives in the foothills below Yosemite with her husband and three children.

Where you can find Karen: Website | Facebook | Twitter | Goodreads | Pinterest
~~~~~~~~~~~~~~~~~~~~~~~~~~~~~~~~~~~~~~~~
~*~*Giveaway*~*~
Karen has generously offered an ebook of Tempted by Her Boss to a lucky commenter!
All you have to do is leave a comment and tell us:
Do you like to read about boss/employee or colleague romances? Why or why not?
(You can read our full giveaway policy here)
Please be sure to include a valid email address in the comment form (need not be in the actual body of the comment).
This giveaway is open to all!
Giveaway ends on Saturday, 3 August 2013; we will announce the winner on Sunday.
Good luck!