Today I am very happy to welcome back to Book Lovers Inc. not only Karen Erickson, author of many fabulous romance series, but also Rhett and Gabriella, the hero and heroine of Worth the Challenge, the latest story in the Worth It contemporary romance series about how three dashingly handsome and sexy brothers find love 😉 So please give a warm welcome to Karen, Rhett and Gabriella, read on about their magical trip and tell us about one of yours and you could win the first book in the Worth It series to get started! 😀 
(Thanks to the ladies of Book Lovers Inc. for hosting me as their guest today!)
Hey everyone!
Meet Rhett Worth:
And meet Gabriella Durand:
Together, they are the couple from the third book in the Worth It series, Worth the Challenge. And they were kind enough to join us today at Book Lovers Inc. to give all the readers a little insight into their relationship. Because when these two first met, the sparks were flying, let me tell ya.
Instead of me interviewing them though, I decided they should interview each other because you know, who knows each other better? Take it away you two!
Gabriella: *whispers beneath her breath* Stop looking at me like that.
Rhett: *grins at Gabriella* Looking at you like what?
G: You're so bad.
R: Please. You love it.
G: Stop. *clears throat* Okay, Rhett. I want to know—what's the first thing you thought when you met me at the Worth Building?
R: Um, that you looked a little out of place?
G: Ouch. Don't be rude. I couldn't help it that I wasn't your usual glossy, fake blonde floozy.
R: Listen, you were a sweet, sometimes bumbling mess until my sister-in-law got her hands on you. Then she gave you that makeover that brought out your natural beauty. Not that you needed a makeover for me to notice you or anything…
G: Right, right, putting your foot in it as always. Sometimes, you have a terrible way with women. I don't know how you were such a ladies' man.
R: Ouch back at you, babe. *rubs his chest*
G: *smiles* Back to the makeover. Tessa was so good to me, taking me shopping.
R: That was my idea, you know.
G: Really?
R: *nods* Yeah. I sprung the Maui trip so quick on you I knew you had no time to prepare. I also knew you would never let me take you shopping so I asked Tessa to step in.
G: You're right. I wouldn't have let you take me shopping…then. But I would now. It might be fun. I might need your help in the dressing room with stubborn zippers and the like.
R: Now you're talking my language.
G: Ahem. Moving on. Regarding the scent idea we came up with while we were on Maui—when I first told you about it, did you think it was a bad idea?
R: You really know how to ask the hard questions, huh? No, I didn't think it was a bad idea. Unusual, yes. Hard to capture, most definitely. But then you proved you could do it and I knew we had a hit on our hands.
G: You gave yourself none of the credit when you were my inspiration. My muse, so to speak.
R: I'm flattered.
G: You're still my muse. Creating the men's cologne was all based on you, you know.
R: Oh, I know, babe. I'll be your muse any time you want me.
G: You're so bad.
R: And you love it.
G: *smiles softly* I love you.
R: Aw, don't get all misty-eyed on me. You know I love you, too.
G: *sighs* Who knew that working together, we would fall in love?
R: I should've known. Happened to my brothers, too. Saps that they are, they fell head over heels for their women.
G: You're a sap, too.
R: Whatever you say. Now come over here, sit on my lap and give me a kiss. I think this interview is just about over.
G: Sorry for Rhett's abruptness everyone, but duty calls.
R: *lowers his voice to a growl* I'll show you duty.
G: God Rhett, why does everything have to end up dirty with you?
Okayyy, let's just end it at that. I hope you all enjoyed this brief glimpse of Rhett and Gabriella as they shared bits of their story from Worth the Challenge!
Special contest for Book Lovers Inc. blog readers! Comment to win a copy of the first book in the series, Worth the Scandal! Just answer this question: Where's your favorite place to vacation? (Rhett's and Gabriella's is Maui, of course!)
Worth the Challenge by Karen Erickson

Together, they're magic. Now to capture it in a bottle…

Book #3 in the Worth It series

For once in his errant life, Rhett Worth is ready to prove to his older brothers he's more than good looks and a woman-melting smile. Except he's screwed up. And it's about to hit the fan as he prepares to tell them he's failed to deliver the master perfumer, Michel Durand, to create Worth Luxury's signature scent.

Then salvation walks through the boardroom door, all wrapped up in a petite, seductive package.

Gabriella Durand is prepared to beg the Worths to give her capricious father another chance. Instead, she finds the devastatingly handsome Rhett Worth offering it to her as if he'd planned it all along. And Gabriella, hungry to emerge from her father's shadow, jumps at it.

Soon they're in Maui to hunt for the perfect scent…and find it in the tropical breeze that washes across their entwined bodies. Now the pressure is on to capture that passion in a bottle—before they let love complicate the delicate mix. Before a whiff of betrayal threatens to destroy everything.

Buy Worth the Challenge at: Amazon | Barnes & Noble | Samhain | iBookstore
Bestselling romance author Karen Erickson writes what she loves to read — sexy contemporary romance and sensual historical romance. Digitally published since 2006, she currently writes for Samhain Publishing and Carina Press. A native Californian, she lives in the foothills below Yosemite with her husband and three children.
~~~~~~~~~~~~~~~~~~~~~~~~~~~~~~~~~~~~~~~~
~*~*Giveaway*~*~
There are TWO giveaways offered by Karen!
A Blog Giveaway
Karen has generously offered an ebook copy of the 1st book in the Worth It series: Worth the Scandal to a lucky commenter!
(For a chance to win Book #2 Worth the Risk click HERE.)
All you have to do is  answer Karen's question: Where's your favorite place to vacation?
(You can read our full giveaway policy here)
Please be sure to include a valid email address in the comment form (need not be in the actual body of the comment).
This giveaway is open to all!
Giveaway ends on Saturday, 27 October 2012; we will announce the winner on Sunday.
Good luck!
And a Grand Prize Giveaway!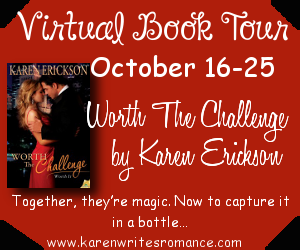 Karen is giving away a $50 giftcard (Amazon or B&N) to one lucky reader who follows her book tour.
Just fill out the Rafflecopter form below:
For more chances follow the tour HERE.
This giveaway is open to all!