Otherwise known as the "squee on me, people" post. Read carefully, I did NOT say "pee on me". This is the "picks" post and not the "pans" post. If we ever decide to do a snarky "pans" post, Cass is going to have to write it.
I thought we'd try a "which books we squeed over the most this month" post. This is it. The books The Book Lovers loved in July. What we read in July, not necessarily what was published, or what we reviewed.
Fangirling was permitted and even encouraged. Oohing and aahing begins here.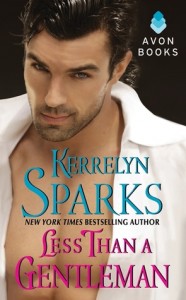 Anna:
Less than a Gentleman
 by Kerrelyn Sparks: I may not have yet read Sparks' very famous pnr series but I'm definitely in love with her Historical Romance one! I read last year the first book in the Historical series and I immediately fell in love with Sparks' writing style and her ability to portray events and characters and how wonderfully she was able to blend facts with fiction.
The Forbidden Lady
was one of my favorite books last year and the next book in the series,
Less than a Gentleman
is just as good people! There's action in there, passion and an undeniable chemistry between the main characters. Plus, the hero is a spy! And the heroine is also one. I mean what more could I ask to fall in love with a story! Add to all that Kerrelyn Sparks' wondeful writing style and sense of humor and the result is a book you can't possibly put down! 
Less than a Gentleman
isn't just my favorite book of July, it's one of my favorites of all year 🙂
Stella: Well, for our first edition I'd like to cheat 😉 lol I'd like to squee about a book I read in June, because 1) it was terrific and also 2) because none of the books I read in July were that outstanding… so here it is, my "July" pick:
Into the Fire by Amanda Usen: Wow. I have previously read Luscious by Amanda Usen, and though I wasn't fond of the heroine I became an instant fangirl of Amanda Usen, come on she is a pastry chef and a romance author and all-around lovely person, what's not to love and squee about? 😉 lol So yeah, when I heard her next release would be a sexy culinary romance at Entangled I was counting back the days until its release and it most certainly did not disappoint, Into the Fire was explosive, scorching hot and so decadently delicious, the only thing that could have made it even better was if it were served with some of the mentioned meals! 😉 The chemistry between the hero and heroine was one of the most potent ones I have ever read about and Amanda Usen weaves a passionate sensual romance with decadent and utterly irresistible meals, a truly winning combo! Into the Fire was an addictive and sinfully delicious romance, I loved it! 😀
I prefer the original cover, it was much hotter and gave you an exact idea of what (=culinary romance) to expect.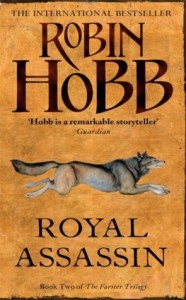 Amanda: Royal Assassin by Robin Hobb is my squeedom this month. Not just the book but this whole Farseer Trilogy and this author in general just gives me the happy happies. I love her so much and I can't wait until next month when I get to finish this trilogy because then I will be jumping straight into her Liveship Traders trilogy and I am so excited because that's my favourite series of all time.
So Royal Assassin for me is the key to so many more good books which is why it made me happy this month. The only bad thing I have to say about it is that I really don't like the cover on my copy. I am seriously thinking about going all out OCD and purchasing the original covers or even the newest covers…
Newest covers
http://sffbookreview.files.wordpress.com/2012/07/farseer-trilogy-2.png
Covers I want
http://3.bp.blogspot.com/-m_jaMXKB1Kg/T3Aj8cQ_IwI/AAAAAAAAFA0/mYKRT6hoNWg/s1600/farseer-trilogy.jpg
Covers I have
http://robinhobb.com/wp-content/uploads/slider/sliders7.jpg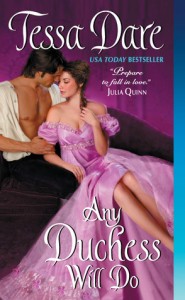 Caro: Any Duchess Will Do (Spindle Cove #4) by Tessa Dare
I was in a reading slump and decided to give this book a try. I've always enjoyed Tessa's books in the past and wow..I could not stop reading. It was awesome!!!  I honestly wasn't sold on the book synopsis…A barmaid will pretend to be the Duke's fiancée? Really? A Duke? You mean the highest ranking, most powerful (after the King) aristocrat of England will actually risk a scandal by choosing a barmaid as his fake fiancée? I was definitely skeptical this storyline would interest me but I should not doubt Tessa Dare's magic! I LOVED it! It was humorous, intelligent, not that predictable (I mean, hey we're talking Historical romances here!), sweet and HOT! I really loved it. The heroine is not a naive young miss who will be used, she's strong and she loves her sister with all her heart. She's alwso very human, she's clumsy and not perfect. I loved this book, did I mention that? 😉  Super cute!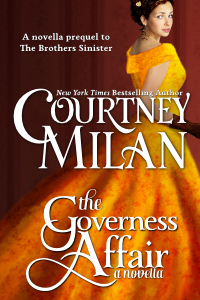 Alisha: The Governess Affair (Brothers Sinister #0.5) by Courtney Milan
Novellas are often wily little creatures, sometimes scurrying away too fast for a reader to get a good sense of characters, or to feel a real sense of satisfaction with the depth of storytelling. For novellas that precede a series…it can be even more of a tall order to not only create a satisfying story, but also whet one's appetite to keep on reading into the series. The Governess Affair, however, succeeded on all accounts so well that I had to *run* for the first full-length book in this series (The Duchess War). This historical romance novella has intelligent, well-crafted characters, a compelling conflict, and lots of wit to spare. (Somehow, I also loved the fact that neither of the protagonists were titled. It's the little things, I guess!) This book is the definition of a expertly done novella, and I would recommend any HR lovers out there pick it up for an easy, satisfying read.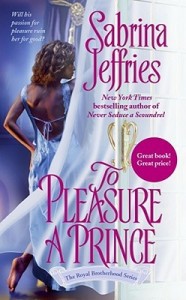 Caro: To Pleasure a Prince (Royal Brotherhood #2) by Sabrina Jeffries
ROAR!!!! Now here you have my favorite type of heroes. OMG I was melting all book long. Gahhhh I have a serious weakness for the dark/scarred/brooding  type and oh boy did this book deliver! The hero is the bastard son of the Prince of Wales and it's ruined his whole life. He's living outside of society as a recluse in his estate. He is very tall, broad, savage looking…he has unfashionably long hair,and a beard he uses to hide a huge nasty scar on his face. To top it all he has the temper to match. (He has such a bad temper that everyone calls him "the Dragon Viscount") Oh he's not perfect that's for sure. He said the meanest most misogynistic  things you can imagine to the heroine at one point and I wanted to slap him SO hard…but well I forgave him. Did I mention the poor guy is all broken? *sigh* *swoon* Ahem…I mean yeah it pushed all my buttons.  I really love the whole series but this one is my favorite. Love love loooooooooooove!!!!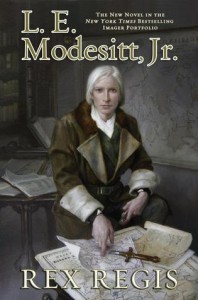 Marlene: Rex Regis (Imager Portfolio #8) by L.E. Modesitt Jr.
I debated whether I should put this one in or not, because it won't be published until January 7, 2014. Before you start throwing things, here's why it's in now. It's book damn 8 in the series. If you love high fantasy or epic fantasy, and you haven't read the Imager Portfolio, you have time to catch up. Start with Imager and read your way through. What I enjoyed about this series is that even though the hero does have to come into his powers, it's not a typical child-hero. In both parts of the series, the hero is young but a grown up who has to change his expectations, or sometimes other people's expectations. Also he doesn't become king or emperor or warleader. And he finds a life-partner where he least expects.  Love and war and politics and magic. The good stuff.
There you have it. The books The Book Lovers loved best in July. Don't be shy! Share in the comments which books were your best beloveds last month!