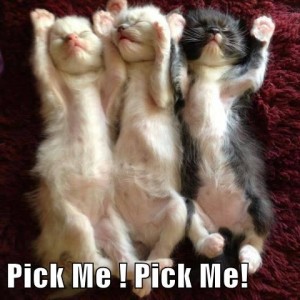 We're here to squee all over you! Yes, that's right, it's time for our "Pick of the Litter" post. And who better to lead things off this month than our resident snarky Dragon Lover! I can't believe Cass found a book she enjoyed that did not involved dragons. OH NOES! The sky is falling…
Cass: Perdition (Dred Chronicles #1) by Ann Aguirre.
This book was a ton of fun! I loved the idea of a prison ship in space, and how The Man (government? corporations?) just decided to fuck worrying about guards and rioting and shit. They're in space! Let me figure their own shit out. Leaving room for the Glorious Dred Queen to emerge. I have a sneaking suspicion future books will show how The Man rues their lackadaisical approach to prison oversight and maintenance.
Stella: Some Like It Spicy (A Perfect Recipe #1) …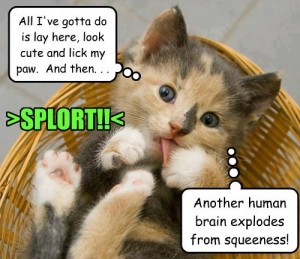 It's that time again!
We're back for another edition of "The Pick of the Litter"–the Book Lovers chance to squee a bit about the books we loved reading during the month.
Let the adoration begin…
Amanda: Storm Glass by Maria V. Snyder
I loved the Study series. Poison Study being a favourite of mine and Storm Glass was a great beginning to the Glass trilogy. I was almost afraid to start this series because the Study series was so good. Naturally I'm kicking myself now because I need more. Thankfully I have the next two books on my TBR.
I just love her world and her magic. I want to become a glassmaker at the moment and make a Swan.
Caro: Magic Rises by Ilona Andrews
I haven't read much this month but the 1 book I read was awesome!  I read Magic Rises by Ilona …

featured,Pick of the Litter,The Rocket Lover

28 Aug 2013

5 comments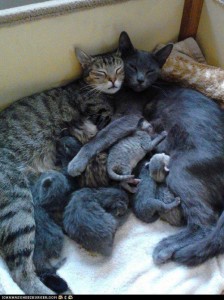 Otherwise known as the "squee on me, people" post. Read carefully, I did NOT say "pee on me". This is the "picks" post and not the "pans" post. If we ever decide to do a snarky "pans" post, Cass is going to have to write it.
I thought we'd try a "which books we squeed over the most this month" post. This is it. The books The Book Lovers loved in July. What we read in July, not necessarily what was published, or what we reviewed.
Fangirling was permitted and even encouraged. Oohing and aahing begins here.
Anna: Less than a Gentleman by Kerrelyn Sparks: I may not have yet read Sparks' very famous pnr series but I'm definitely in love with her Historical Romance one! I read last year the first book in the Historical series and I immediately fell in love with Sparks' writing style and her ability to …

featured,Pick of the Litter,The Rocket Lover

1 Aug 2013

5 comments