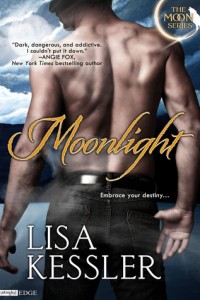 Format read: ebook provided by the publisher
Series: Moon, #1
Genre: Paranormal Romance
Release Date: July 15, 2013
Number of pages: 265 pages
Publisher: Entangled: Edge
Formats available: ebook
Purchasing Info: Author's website | Goodreads | Amazon | B&N | Kobo | Publisher's Website
Rancher Adam Sloan is more than meets the eye. As the heir to his Pack, the sexy werewolf's biggest challenge is keeping his kin's true nature under wraps. But a group of jaguar shifters threatens to reveal the pack, blasting into town killing humans in plain sight. And when he smells one at the local diner, his standing orders are to take her out.

Lana Turpin doesn't realize she's a moving target. Raised in the foster system, she only knows that she blacks out during the new moon and wakes up without remembering a thing. But now she's being tracked by some strange organization that wants her back–even though she's never stepped foot inside their compound. And the stranger across the diner is watching her like an enemy.

It should be a simple mission for Adam, but when he touches the frustratingly beautiful Lana, his inner wolf howls…mate. Now, the two must find and stop the people who hunt her…and Adam must keep his own family from killing the only woman he will ever love.
My Thoughts: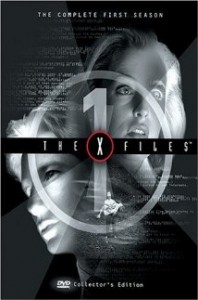 This should have been a total visit to troperville. Fated mates, genetic experiments and military conspiracies. (Did I mention I'm watching the X-Files for the first time?) Parts of Moonlight would make a great X-file.
But Moonlight totally worked for me. The question would be what made it work?
On the one side, we have werewolves. One werewolf in particular, Adam Sloan. He's not quite the leader of the pack in Reno, but he is the Alpha's oldest son. Interesting twist on this particular shapeshifting world, all the werewolves are born as twins. Also, only the males are born wolves; mates start human and have to be converted. Of course, to make things more interesting, not all survive.
Yes, we are dealing with the fated mate trope. It works in this particular story because Adam does have to court his mate. He knows she's the one, but she doesn't know. For her, he's just this hot guy she met and plans to leave after some mind-blowing sex.
Lana can't afford to let herself get close to anyone, she's running from the men in the white coats. Really. She has blackouts and these scary dudes are chasing her across the country to lock her up in the name of the so-called "Nero Organization". She has no clue who they are but she knows they mean her no good.
What she doesn't know is that she's a jaguar shifter. She really, really doesn't know. Lana was abandoned as a baby, she has memory of who her parents were. She doesn't remember what happens when she blacks out every month during the new moon.
Of course, the jaguars are the enemies of the werewolves. They fight like cats and dogs. Figures, doesn't it?
The jaguars want Lana back. Except Lana doesn't know that there is a "back", because she's never been "there" to go back to. And that's where the genetic experiment and conspiracy part of the plot comes in.
Along with an interesting side plot of the old "the enemy of my enemy" might be my ally, at least temporarily. Because one of the jaguars is not too happy at being played for a sucker, particularly not by what he thought was his own side.
Verdict: The story hinges on Lana accepting who and what she is. It's a long and dangerous journey; she starts out not knowing that shifters exist, from there she has to accept that she is one, that she is being hunted because of it. The story is her search for identity, and that search isn't completely over when the story ends; but she's accepted herself and what she is even though she doesn't know the whole story. And can't yet (see conspiracy angle)
Adam has to accept responsibility, that's his arc. He has a position but doesn't take the responsibility at the beginning of the story, by the end he's shouldered all the burdens. His is also a big transformation.
But because Lana is not a wolf, even though she's his mate, she doesn't know and because Adam's been quite a player, no one else believes him. Especially since the jaguars are enemies. He has to convince everyone that this relationship is real. Including himself.
The military/government conspiracy angle was just plain fun. (Yes, it did remind me of the X-Files, and more than one shifter series, but it was well done in Moonlight, just the right touch of impersonal, bureaucratic evil). Someone is playing with shifter genetics, and they're not benign. They never are. I think this is going to be the big arc. But if we see Cigarette-Smoking Man I'm going to laugh myself silly.

I give  Moonlight by Lisa Kessler four claw-tipped stars!
***FTC Disclaimer: Most books reviewed on this site have been provided free of charge by the publisher, author or publicist. Some books we have purchased with our own money and will be noted as such. Any links to places to purchase books are provided as a convenience, and do not serve as an endorsement by this blog. All reviews are the true and honest opinion of the blogger reviewing the book. The method of acquiring the book does not have a bearing on the content of the review.