Today we are pleased to welcome back to Book Lovers Inc. Grace Burrowes who, author of many wonderful Regency, Victorian and Scottish historical romances! Grace is celebrating the release of her brand new novel, Once Upon a Tartan with an epic eReader giveaway, which thanks to the generosity of Sourcebooks Book Lovers Inc. readers can participate in as well! 😀 So read on and don't forget to enter the epic giveaway at the end!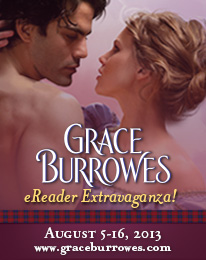 Stella: Hi Grace, welcome to Book Lovers Inc!  Can you please tell us a bit about yourself?

Grace: Most important fact: I love to write. I love the drafting, revising, copy edit review, all of it. This was what I was born to do, and I'm so glad I have the chance to do it.
Stella: Are you a planner or pantser? Can you tell us a bit about your writing process? How do your novels come to life?

Grace: I often start with an opening line, which I hear in my head. The hero usually emerges from my imagination first, but by no means always. From that opening line, comes an opening scene, and from there I must excavate the larger story. I'm guessing that makes me a pantser.
Stella: What do you think is the difference between a reader and a real Book Lover?

Grace: Meeting the right authors. I was a good student and I liked to read, but when I came across Kathleen Woodiwiss, I became a voracious reader who LOVED her books.
Stella: Your latest novel, Once Upon a Tartan is the second book in your MacGregor trilogy, could you tell us a bit about this series and what our readers can expect of Once Upon a Tartan in particular? (if you'd like you could even include a teaser or a titillating few lines)

Grace: I'm a child welfare attorney, and so I've seen far too often the tragedy that is a custody battle. Two people who love a child and believe they're championing the child's best interests end up spending a lot of money, time, and anxiety wrecking much of the child's chance at happiness. It's a terrible heartache for all involved, and thus a good challenge to hand to the characters of a romance if they're to demonstrate courage, love and honor. Tye and Hester come through with flying colors, as does, of course, the child. Fiona.
Stella: Could you introduce the hero and heroine (or any other character) of Once Upon a Tartan to us?
Grace: Here's what Tye thinks when he first sees Hester:
A female thundercloud was advancing on Tye where he sat his gelding, the little girl perched before him. Beneath his hand, he felt the child's spine stiffen and her bony little shoulders square.

This particular thundercloud had golden blond hair piled on top of her head, quite possibly in an attempt to give an illusion of height. She wore an old-fashioned blue walking dress, the dusty hems of which were swishing madly around her boots as she sailed across the drive.

He'd always liked the sound of a woman's petticoats in brisk motion, they gave a man a little warning—and something to think about.
Stella: Besides the hero and heroine there is another character elevated to the role of featured main character, and that is Fiona. How did the idea to build the whole story, the h/H interactions around a battle of wills for custody and love of a child?

Grace: As noted above, my day job intruded on my plotting efforts, but in hindsight, I see that Fiona is also a metaphor for the parts of Hester and Tye that have been orphaned. Neither adult is very good at recreation, at play, at trusting to instinct, and they relearn those skills in part because Fiona sets them a good example.
Stella: Do you remember how the story(characters) came to be? Any specific event/moment that inspired it?
Grace: I could hear Tye's voice, hear its clipped diction and big words trying to hide a passionate nature, the way relentless pruning tries to keep a hedge of roses from going to riot. The same was true of Hester's prim and tidy clothing, her never-a-hair-out-of-place appearance. These two badly needed some mussing and stammering, and they got both.
Stella: Now can you tell us 3 reasons why people should read Once Upon a Tartan?
Grace: I'll let Tiberius manage this one: 1) When he's in bed with Hester, his naughty talk is in Latin. 2) He confides in his horse. 3) He never breaks his word to the child, EVER, even when it means he must buy her… a confounded bunny.
Stella: Awww 😀 Could you please summarize Once Upon a Tartan for us Twitter-style (in 140 characters or less)?

Grace: Honorable (if uppity!) earl battles spinster-on-her-dignity for custody of a child, and loses his heart to the girl and the lady both.
Stella: Your previous books are Regency romances, how are your MacGregor novels different/similar to your Windham series?

Grace: Love always wins, of course, but the Scottish novels have that English/Scottish dynamic to play with, and the all the tumult and variety of the Victorian response to the industrial revolution. VERY exciting times!
Stella: Could you tell us any "behind the scenes secret" related to the writing of Once Upon a Tartan (a real life moment/person inspiring a scene, something that didn't make the final edits, a character who went through)?
Grace: Tye meets Fiona in the shade of a Treaty Oak, and the idea for that came from the fact that one of the five "surveying oaks" that fell in a line up the center of the valley where I was raised grew in a field below my parents' house. I've loved the idea of trees participating in community life ever since.
Stella: With historical romances authors usually conduct some research, what was the most weird/interesting/stunning tidbit you discovered while researching your MacGregor trilogy?
Grace: It wasn't until Victorian times that the word "orgasm" referred to female pleasure. In Regency usage, it referred to animals being fertile or in heat. Makes you wonder who was repressed, and who understood how to enjoy themselves.
Stella: LOL! 😀 What is next on your schedule? Any future plans you'd like to share with us? When will the third and final part of the trilogy be released?
Grace: The MacGregor's Lady comes out in February, and THEN we'll have a story for one of Tiberius's sisters, Lady Joan, as the 2014 Christmas story (title TBD!). We'd originally planned on only a trilogy, but I'm just having too much fun in the Scottish Highlands. The last time I got carried away like this we ended up with eight sibling novels and four novellas for the Windham series.
Stella: Could you share with us something, a trivia that not many people know about you?

Grace: One summer when I was exiled to San Diego as a kid, I learned the rudiments of sailing.
Once Upon a Tartan by Grace Burrowes

Book #2 in the MacGregor trilogy

Honor or happiness—he can't have both.

Tiberius Flynn may be every inch an English lord, but smart, headstrong beauty Hester Daniels has no use for his high-handed ways–no matter how handsome, charming, or beguiling he is. They only see eye to eye in caring about the feisty little girl who is under their protection.

Tiberius's haughty insistence that his wealthy estate in England is a better place for the child than her beloved, rundown Scotland home sparks Hester's fierce protectiveness, and the battle lines are drawn.

Praise for Once Upon a Tartan:

"Burrowes creates a powerful story replete with heartfelt emotion and rich characterization… An instant keeper." —RT Book Reviews, 4 ½ stars, Top Pick of the Month
"Expert prose, likeable characters, realistic relationships, and believable complications create a pleasant and satisfying keeper." —Publishers Weekly
"Warmth, sensuality, and humor infuse Burrowes' writing, and fans of Suzanne Enoch and Sarah MacLean should enjoy this series." —Booklist
 "Grace Burrowes weaves her magic with words… a memorable love story—excellent and exquisite." — A Long and Short Reviews Best Book

Buy at Amazon – Kindle – Book Despository
New York Times and USA Today bestselling author Grace Burrowes is the author of the acclaimed Windham Family Series, The MacGregor Trilogy and The Lonely Lords Series. Her debut novel, The Heir (2010), as well as The Bridegroom Wore Plaid (2012) were both included as Publishers Weekly Best Books of their respective years, in the romance category. A practicing attorney specializing in family law, Grace lives in rural Maryland, where she is working on the final book in the Windham series, Lady Jenny's Christmas Portrait (October 2013) and third MacGregor story, The MacGregor's Lady (February 2014), and many more books. Visit her website at www.graceburrowes.com for more information about all of her books, exclusive extras and her lively blog.

Please visit her website or follow her on Twitter for more information.
~~~~~~~~~~~~~~~~~~~~~~~~~~~~~~~~~~~~~~~~
~*~*Giveaway*~*~
Sourcebooks has generously offered a Kindle Paperwhite to a US/CAN commenter!
All you have to do is tell us: who is your favourite child character either in a book or a movie/Tv series? 
(You can read our full giveaway policy here)
Please be sure to include a valid email address in the comment form (need not be in the actual body of the comment).
This giveaway is open only to US/CAN residents!
Giveaway ends on Saturday, 24 August 2013; we will announce the winner on Saturday.
Good luck!
THE GRACE BURROWES ONCE UPON A TARTAN EREADER EXTRAVAGANZA!
10 eReaders, 10 Blogs, a different giveaway each day during the work week, August 5-9 and 12-16
Four Kindle Paperwhite 3Gs
Four Nook HDs
One Nook Color
One iPad
In celebration of Grace Burrowes' latest book in the MacGregor Trilogy, 10 eReaders will be given away during the first two weeks of August! Follow along as Grace guest blogs and answers questions at different blogs, and enter a chance to win a brand new eReader!
8/5 RTBookReviews.com: Kindle Paperwhite
8/6 All About Romance: Nook HD
8/7 Delighted Reader: Kindle Paperwhite
8/8 Night Owl Reviews: Nook HD
8/9 Book Lovers Inc.: Kindle Paperwhite
8/12 Discover a New Love: Nook Color
8/13 Book Savvy Babe: Nook HD
8/14 Jaunty Quills: Kindle Paperwhite
8/15 Fresh Fiction: Nook HD
8/16 Her Grace Notes: iPad
Digital reading not your thing? Grace has print giveaways going on as well! Follow along for chances to win signed copies all month long!
8/1 Book Hounds
8/2 RomFan Reviews
8/5 In the Hammock
8/6 Book Girl of Mur-y-Castell
8/7 Manga Maniac Café
8/12 Joan Swan's Blog
8/13 Cocktails and Books
8/14 Romancing the Book
8/15 Ramblings from this Chick
8/16 Books-n-Kisses
8/19 Anna's Book Blog
8/20 The Book Girl
8/21 The Reading Café
8/22 Seductive Musings
8/23 Peeking Between the Pages
8/26 Love Romance Passion
8/27 So Many Precious Books, So Little Time
8/28 Thoughts in Progress
8/29 Debbie's Book Bag
8/30 Linus' Blanket