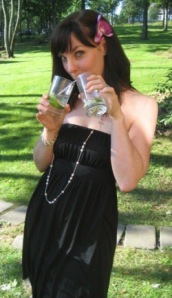 Today we're here to welcome Amber Lynn Natusch to Book Lovers Inc.  Amber Lynn is stopping by today as part of her Got Caged? tour to give us a glimpse into her favorite scenes from Caged.  And also a peek into the anxiety producing moments that an author experiences when confronted with the request for a guest post! Who knew?
Please welcome Amber Lynn and don't forget to check at the end of the post for the details on our giveaway!
When I was asked to compose a guest blog post, I had no idea what to write. As an author, it was an especially low moment. Then a great friend suggested that I take an excerpt from the first novel in my series, Caged, and explain what I loved about it. Genius! Times like this illustrate my need for a team of levelheaded people around me―an entourage of rational thinkers.
The unfortunate …