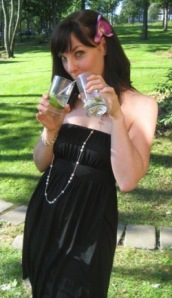 Today we're here to welcome Amber Lynn Natusch to Book Lovers Inc.  Amber Lynn is stopping by today as part of her Got Caged? tour to give us a glimpse into her favorite scenes from Caged.  And also a peek into the anxiety producing moments that an author experiences when confronted with the request for a guest post! Who knew?
Please welcome Amber Lynn and don't forget to check at the end of the post for the details on our giveaway!
When I was asked to compose a guest blog post, I had no idea what to write. As an author, it was an especially low moment. Then a great friend suggested that I take an excerpt from the first novel in my series, Caged, and explain what I loved about it. Genius! Times like this illustrate my need for a team of levelheaded people around me―an entourage of rational thinkers.
The unfortunate reality for me was that my favorite scenes from Caged all contain spoilers, but I still managed to find some good ones 🙂
For this blog, I chose a scene that highlights the cheeky relationship between Ruby and one of the leading male characters in the book (who I'm not going to reveal by name). What I love about them is the non-stop level of tension they share, even if it isn't always sexual. They love to see who can get the last word and better the other one. This particular male was never meant to be a large part of the series, but, once he came on the scene, he demanded my attention. Eventually, he got it.
So, without further ado, I give you Ruby, the mystery man, and the notorious shower scene.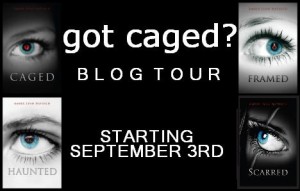 Got Caged?
by Amber Lynn Natusch
"Got any clean towels?" he asked, still draped in the doorway.
I nodded a little too enthusiastically.
"In the linen closet, top shelf," I said, walking past him to open the closet door and grab a towel. He accepted it when I passed it to him, but, as I turned to head for the kitchen, he gently grabbed my arm.
"You're going to have to come with me," he said with a serious edge.
"Hell isn't freezing anytime soon, nor am I going in that bathroom with you."
He moved closer. Too close.  He looked down his perfect nose at me and repeated himself, reminding me that I was not to leave his sight.
"It's not like I can't sneak out of the room once you're actually in the shower. Besides, how far am I going to get before you hear me making a break for it?" I pleaded, trying desperately to get out of the situation.
He slowly shook his head.
"Get in there," he said, shoving me towards the entrance.
"May I remind you that I'm a killing ma―"
"NOW!" he hollered.
Shit!
"Fine," I muttered under my breath as I made my way into the bathroom with him hot on my heels.
He closed the door behind him and locked it.  After starting the water up, he assessed the towel I had given him.  Apparently he's a connoisseur of terry cloth.
When he started to undress, I snapped my eyes shut, squinting as hard as I could. I was pretty sure that he laughed as he entered the shower.  Settling myself down on the toilet seat, I heard the screeching of the curtain rings as they passed along the rod, signaling that the coast was clear. At least it should have been.
I opened my eyes to the lightly tanned perfection that was his body. Apparently, in all his genius, he thought it best to only partially close the curtain, allowing him to cleanse and babysit all at the same time.  I'd never met a man who could multitask before.
My brain was screaming at my eyes to close and my head to turn, but a coup had started inside my nervous system and neither was happening.  By that time, he was very aware of my staring.  He enjoyed it immensely.  Though his face was playful, there was a heat in his eyes that I had not seen before. I was mesmerized.  At least it kept my eyes above his neck.
"I had to keep you in sight.  You understand, don't you?" he asked, running the soap up and down his chest. I watched the trail of suds wash down his stomach then slammed my eyes shut, shaking my head slightly. I nodded in response.
When I opened my eyes I looked away from him, turning my body towards the door.  He chuckled to himself and then started whistling some tune I didn't know.  I listened to the water bounce off of his body as he soaped and rinsed, repeating the process so many times that I lost count.  He was taking forever.  My knees bounced uncontrollably and I sat on my hands to keep me from biting my nails down to stubs. I was about to lose my shit.
About Caged:
I stood in the middle of the room, unmoving – I barely breathed. My life had just become surreal, impossible, and one enormous lie. I needed to go, to run somewhere, anywhere to beat back the reality that was rapidly closing in around me. The image of him was burned into my retina, flashing over and over again like a warning. He was trapped somewhere between human and decidedly not, and I realized that was my new reality.

I was too.

After the death of her parents, Ruby awakens from a lifetime of shadows and finds herself alone, thrust into a world of lies, deceit, betrayal and the supernatural.

As her quest for truth continues to come up short, she realizes that maybe some questions really are best left unanswered.

When her true identity is finally unveiled, she is forced to choose between two of the mysterious men who continually seem to crop up in her life.

She chooses poorly.

Now abandoned, Ruby must learn to call on the darkness within to survive, or spend a hellish eternity imprisoned because of it.

Buy Caged:

Amazon | B&N | Kobo | Book Depository US | Book Depository (UK)
~~~~~~~~~~~~~~~~~~~~~~~~~~~~~~~~~~~~~~~~
~*~*Giveaway*~*~
Amber Lynn is giving away digital copies of Caged to two lucky commenters!
All you have to do is:
Leave a meaningful comment about the post or a question for Amber Lynn
(You can read our full giveaway policy here)
Please be sure to include a valid email address in the comment form (need not be in the actual body of the comment)
This giveaway is open to everyone!
Giveaway ends on Saturday, October 13, 2012 and we will announce the winner on Sunday.
Good Luck!