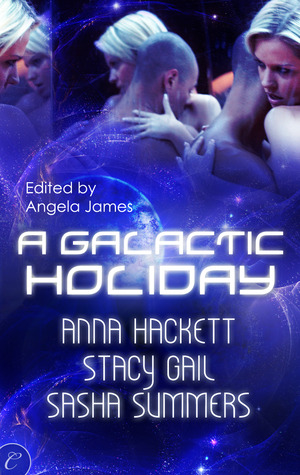 Format Read:ebook provided by the authors
Number of Pages: 247 pages
Release Date: December 3, 2012
Publisher: Carina Press
Genre: Science Fiction Romance, Holiday Romance
Formats Available: ebook, audiobook
Purchasing Info: Amazon | B&N | Kobo | Anna Hackett's Website | Stacy Gail's Website | Sasha Summers' Website | Publisher's Website | Goodreads
Book Blurb:
Do androids dream of electric sugar plums?

A detective who refuses to modify her body teams up with her cyborg rival to track down a burglar who is putting toys into homes. A solitary ice miner finds love and friendship while stranded on the surface of Galileo. And two hardheaded negotiators put their differences aside to evade an assassin and save their planets. Enjoy these visions of Christmases yet to come with three science-fiction novellas from …

3 1/2 Stars,4 Stars,5 Stars,Anna Hackett,featured,Review,Sasha Summers,Stacy Gail,The Rocket Lover

19 Dec 2012

Comments Off

on Review: A Galactic Holiday by Anna Hackett, Stacy Gail and Sasha Summers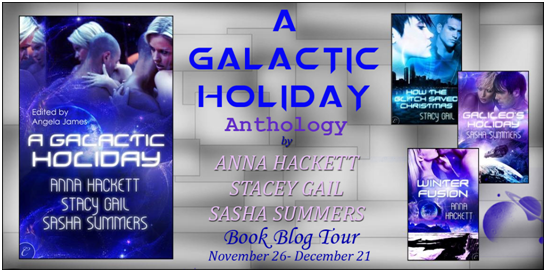 Music is an important part of the holidays! It's also a very useful tool when telling stories. The right piece of music can be the perfect inspiration to make the words flow.
So here are the authors of the sci-fi romance holiday anthology, A GALACTIC HOLIDAY, talking about out-of-this-world music that helped inspire their out-of-this-world novellas.
Sasha: I admit, I didn't listen to any traditional Christmas music while I was writing GALILEO'S HOLIDAY. I love Christmas music, don't get me wrong. But the vibe wasn't quite right. I do write to music, though, so I pulled a few songs that gave me the 'feel' I was looking for. Two favorites are:
SAIL by Awolnation
Memorials/Rebuilding Serenity from the Serenity Soundtrack
Stacy: Since HOW THE GLITCH SAVED CHRISTMAS is in futuristic Chicago, I had the luxury of using Christmas carols in my story, though I made up Edison's favorite, "Gimme, Santa, …