Music is an important part of the holidays! It's also a very useful tool when telling stories. The right piece of music can be the perfect inspiration to make the words flow.
So here are the authors of the sci-fi romance holiday anthology, A GALACTIC HOLIDAY, talking about out-of-this-world music that helped inspire their out-of-this-world novellas.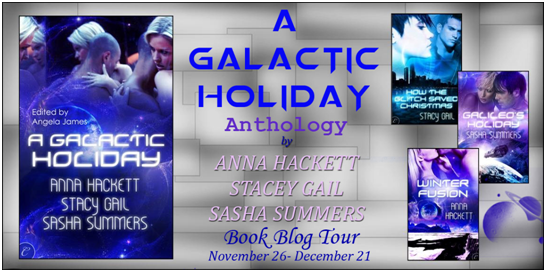 Sasha: I admit, I didn't listen to any traditional Christmas music while I was writing GALILEO'S HOLIDAY. I love Christmas music, don't get me wrong. But the vibe wasn't quite right. I do write to music, though, so I pulled a few songs that gave me the 'feel' I was looking for. Two favorites are: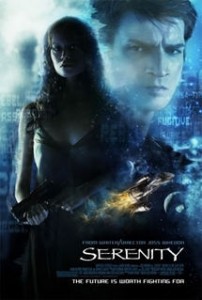 SAIL by Awolnation
Memorials/Rebuilding Serenity from the Serenity Soundtrack
Stacy: Since HOW THE GLITCH SAVED CHRISTMAS is in futuristic Chicago, I had the luxury of using Christmas carols in my story, though I made up Edison's favorite, "Gimme, Santa, Gimme". The gritty, urban/futuristic feel of Reina's and Edison's story is best typified by Trans Siberian Orchestra. The relentless search for their Christmas-loving perp could easily have the background of:
And when they find a miracle waiting for them at the end of their search—which includes the scene that brought my editor to tears not once but twice—could easily be matched up with TSO's version of Canon:
Happy Holidays!
Anna: Like Sasha, I can't say I listened to any Christmas music while writing WINTER FUSION. Although there is a reference to Silent Night and Rudolph the Red-nosed Reindeer in the story! On the heroine, Brinn's, ice world of Perma, they still have some surviving traditions (mulled wine called glogg, burning the Yule log, Yule ham) from their first colonists and that includes Yuletide carols.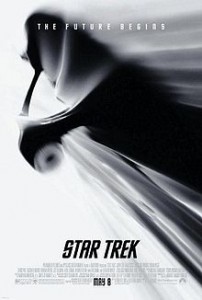 I don't always write to music but when I do, it happens to be some amazing sci-fi soundtracks. Two of my favorites (that happen to suit WINTER FUSION perfectly) are:
The haunting music of the Battlestar Galactica soundtrack composed by Bear McCreary, in particular The Shape of Things to Come.
And the action-packed Enterprising Young Men from the soundtrack of the movie Star Trek (2010). Music by Michael Giacchino.
Take a moment to enter our fabulous giveaway!
Rafflecopter giveaway
Anna Hackett – Website | Facebook | Twitter | Goodreads
Stacy Gail – Website | Facebook | Twitter | Goodreads
Sasha Summers – Website | Facebook | Twitter | Goodreads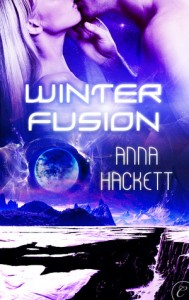 Winter Fusion by Anna Hackett
Ex-space marine Savan Bardan survived the Galactic Wars to become the most ruthless trade negotiator in the galaxy. His planet needs energy to survive, and he'll do anything to close the deal for the Perman fusion crystals that can provide it—even if it means seducing his beautiful, infuriating opponent, a rival icier than her planet.

Perma's top negotiator, Brinn Fjord, lost her father when Savan delayed her planet's Trade Guild membership years ago. She hates the handsome Rendarian and the planet he represents. She's determined to finish the deal and get rid of him as quickly as possible, so she can celebrate the holidays.

But soon the rival negotiators are in a fight for their lives. Besieged by mysterious accidents and unforgiving weather, Brinn and Savan have no one to depend on but each other. As they put the past aside, they uncover a desire hot enough to melt ice, and Brinn discovers a secret that may keep them apart.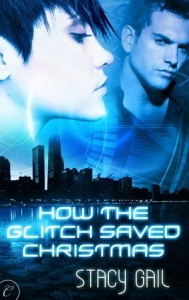 How the Glitch Saved Christmas by Stacy Gail
Reina Vedette chose principle over position when the Chicago police department ordered her to accept performance-enhancing body modifications or lose her rank. Demoted to a level one detective, Reina's stuck chasing a bizarre, Grinch-in-reverse break-in case with fiery bod-mod enthusiast and level five top detective Edison Wicke.

Wicke has had his eye on Reina for ages, and as the two of them hunt down the benevolent burglar, they take turns warming each other with body heat in the subzero Chicago winter. Despite professional friction and their opposing views on bod-modding, Reina soon has to admit that she and Wicke are perfect for each other.

But when they track down their philanthropic quarry on Christmas Day, an unexpected glitch in a homemade android brings out Reina's emotional side, and she and Wicke must decide whether love between a Neo-Luddite and a "walking toaster" is a gift that either of them can give.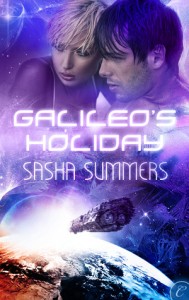 Galileo's Holiday by Sasha Summers
Ice miner Riley works alone in the depths of space, and that's the way she likes it. She's proud of her independence, and when her ship gets destroyed by raiders on the icy surface of Galileo, she's not sure she wants to rely on rakish trader Leo and the kindness of a band of settlers to survive.

Despite her attempts to keep her distance, it's not long before Riley warms to the family atmosphere of the settlers' station. As Galileo's Holiday approaches and she develops feelings for the handsome, charming Leo, she questions whether she really wants to remain alone.

But Leo is hiding cargo the raiders want, and when they come back for it, everyone on the small station is in danger. Riley will risk anything to protect her new friends—because if the raiders succeed, the choice between Leo and a life alone won't be Riley's to make.
Buy A Galactic Holiday at Carina Press | Amazon | B&N | All Romance