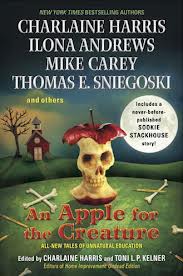 Format Read: ebook.
Number of Pages: 336.
Release Date: September 4, 2012.
Genre: Urban Fantasy, Anthology.
Publisher: Ace.
Formats Available:  ebook, hardcover.
Purchasing Info: Goodreads, Bookdepository, Author.
Book Blurb:
What could be scarier than the first day of school? A crash course in the paranormal from Charlaine Harris and Toni L. P. Kelner, editors of Home Improvement: Undead Edition. Your worst school nightmares will pale in comparison to these thirteen original stories that take academic anxiety to new realms.
My Thoughts:
I HATE hardcover. Why? Because it is expensive, makes my books heavy, and takes up way too much physical space. To make things even worse, the hardcover print editions jack up the prices on ebooks. It's extortion and I won't stand for it! Even when there is a new Ilona-story included.
Which is why I shamelessly promoted the new Sookie story in this anthology to a certain  Viking-vampire groupie who does not share my qualms about underhanded …


Today we have the pleasure to welcome Author Faith Hunter on Book Lovers Inc. Mercy Blade, the 3rd book in her Jane Yellowstone series, was released last week. Jane is a very 'wild' vampire-hunter and she is always very well surrounded…just sayin' *wink* Please give a warm welcome to Faith! Stay until the end for a chance to win 1 of the 5 copies of Mercy Blade and a gorgeous pearl and crystal necklace!
BLI: Faith can you please tell us a bit about yourself?
Faith: I am a fantasy writer, born in Louisiana and raised all over the south. As Faith Hunter, I write urban fantasy (Jane Yellowrock series) and post apocalyptic fantasy (Rogue Mage series). Under the penname Gwen Hunter, I write action adventure, mysteries, thrillers. As Faith and Gwen, I have 22 books in print in 26 countries. I make jewelry …

Faith Hunter,Giveaways,Interview,The HEA Lover

12 Jan 2011

44 comments

Format Read: PaperbackNumber of Pages: 336 pagesRelease Date: January 5th 2010Publisher: RocFormats Available: Paperback, e-bookPurchasing Info: Good Reads, Book Depository, Author's WebsiteBook Blurb:
As a vampire hunter and skinwalker, Jane Yellowrock is public enemy number one in the vampire community – even though she's also the key to their survival. Now she's about to learn that working for the enemy can be just as dangerous as hunting them.
The Vampire Council of New Orleans has hired Jane to hunt and kill one of their own who has broken sacred ancient rules. But she quickly realizes that in a community that is thousands of years old, loyalties run deep.
With the help of her witch best friend and local vigilantes, Jane finds herself caught between bitter rivalries – and closer than ever to the secret origin of the entire vampire race. But in a city of …

Faith Hunter,Review,The HEA Lover

1 Mar 2010

3 comments