We are happy to welcome back Gina Gordon who is once again here to celebrate the release of another culinary romance of hers A Taste of Trouble, which combines her love of cupcakes and happily ever afters, I say the best mix! 😀 So join us to learn more about this new novel of Gina and you could even win a delicious prize! 😉
Stella: Hi Gina, welcome to Book Lovers Inc! Your brand new release A Taste of Trouble just got released by Entangled Publishing in their new Edge line, could you tell us a bit more about the story and whether it is part of your new Madewood Brothers culinary romance series or something completely standalone, but still to do about tasting and desserts?
Gina: A Taste of Trouble is a single title that's completely separate from my Madewood series. However, it does focus on a particular food …

featured,Gina Gordon,Giveaways,Interview,The Latin Lover

25 Feb 2013

2 comments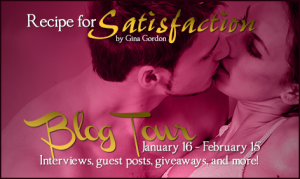 We are delighted to have Gina Gordon join us today for the latest stop on her Recipe for Satisfaction Blog Tour. Recipe for Satisfaction is a contemporary romance available now from Entangled Publishing. Please stay tuned to find out more about Gina and her sexy Madewood Brothers, and don't forget to enter the contest at the end of the post!
Stella: Hi Gina, welcome to Book Lovers Inc! Can you please tell us a bit about yourself?
Gina: Thanks for having me ☺
Well, I'm Canadian! I love cupcakes and the color pink and I love all things happily ever after.
Stella: Are you a planner or pantser? Can you tell us a bit about your writing process? How did your novel come to life?
Gina: I am definitely a plotter. I pantsed one time and got to 15,000 words and then I blanked. Had to get out the pen and …

featured,Gina Gordon,Giveaways,Interview,The Latin Lover

15 Feb 2013

1 comment