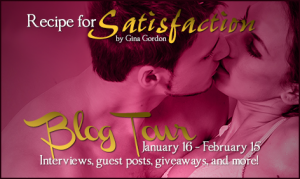 We are delighted to have Gina Gordon join us today for the latest stop on her Recipe for Satisfaction Blog Tour. Recipe for Satisfaction is a contemporary romance available now from Entangled Publishing. Please stay tuned to find out more about Gina and her sexy Madewood Brothers, and don't forget to enter the contest at the end of the post!
Stella: Hi Gina, welcome to Book Lovers Inc! Can you please tell us a bit about yourself?
Gina: Thanks for having me ☺
Well, I'm Canadian! I love cupcakes and the color pink and I love all things happily ever after.
Stella: Are you a planner or pantser? Can you tell us a bit about your writing process? How did your novel come to life?
Gina: I am definitely a plotter. I pantsed one time and got to 15,000 words and then I blanked. Had to get out the pen and paper and write down the scenes.
Stella: What do you think is the difference between a reader and a real Book Lover?
Gina: Hmmm….that's a great question. I think a reader is someone who enjoys books but when they finish, that's it. It goes back on the shelf or in a box for donation. A Book Lover is someone who gets lost in the world and with the characters of the book. Someone who even once the final words are read, they can't stop thinking about it.
Stella: Recipe for Satisfaction, your Entangled Brazen debut novel, and the 1st book in your Madewood Brothers series was released this month, congratulations! Could you tell our readers what they can expect of this series and maybe even introduce the brothers? ☺
Gina: Thank you! You can expect three more books, one for each brother.
Here's an exclusive sneak peak at the rest of the Madewood brothers. Or at least the celebrities that inspired their look ☺
Stella: Now could you tell our readers what they can expect of Recipe for Satisfaction? (if you'd like you could even include a teaser or a titillating few lines)
Gina: You can expect a swoon-worthy hero and a heroine with quiet confidence. And there is a lot of smokin' hot sex!
Stella: Could you introduce the hero and heroine of Recipe for Satisfaction to us? 
Sterling on Jack:

When I first met Jack Vaughn I couldn't help but be interested. Especially with all the rumors. That first time, when I touched his hand, I knew he was the perfect man to bring to life my plan of a one-night stand. But I never expected to be swept off my feet by the sweetest, most romantic man I'd ever met. Jack is so much more than tattoos and his celebrity status. Jack is…all mine.

Jack on Sterling:

As far as first impressions go, Sterling Andrews made the most awkward of them all. From the very first moment I saw Sterling on that boat she awakened something inside me I'd never felt before. I knew I wanted to give her everything she wanted. I just never expected to give her my heart.
Stella: If Recipe for Satisfaction was made into a movie, who would be your dream cast?
Gina: Well Adam Levine would play Jack Vaughn and I picture Sterling played by Ginnifer Goodwin.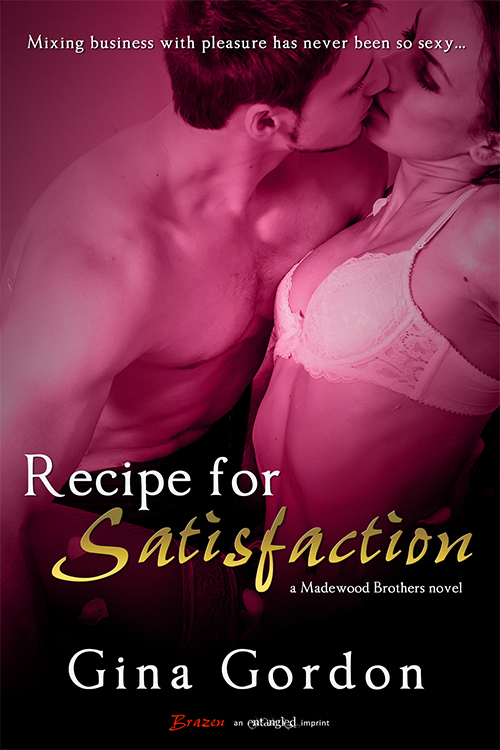 Length: 160 Pages
Series: Madewood Brothers
Genre: Contemporary Romance
Release Date: January 1, 2013
Publisher: Entangled Publishing
Formats Available: eBook, Kindle, Nook
Purchasing Info: Publisher, Author's Website, Kindle, Nook, Books-On-Board, Kobo, Goodreads.
Book Blurb:
Mixing business with pleasure has never been so sexy…

Being the financial caretaker for her deadbeat parents isn't the life professional organizer Sterling Andrews dreamed of. Tired of being the dependable—and boring—daughter, Sterling decides to have a little fun. And what could be more fun than seducing rich bad boy chef, Jack Vaughn? Except, after one scintillating night together, Sterling's not only lusting for Jack, she's working for him. And remaining professional becomes harder every day.

Already a major success thanks to his exclusive restaurants, Jack Vaughn is looking for something more. Ultra responsible Sterling is unlike anyone Jack has met…but she's his employee. Unwilling to give her up, Jack makes Sterling an offer she can't refuse—for four sexy weekends, he'll indulge her most wicked fantasies with no professional strings attached. But will mixing business with pleasure spell disaster? Or will they find the recipe for satisfaction?
Stella: Recipe for Satisfaction is a culinary romance featuring a bad boy chef. I LOVE culinary romances, but I wondered: what is their appeal, why did you decide to write one and will all the books in the series have something to do with tastes and enjoying meals and treats? ☺
Gina: Since all four brothers are chefs, each book will have cooking or the enjoyment of food in various ways—and not necessarily on the plate ☺ Writing this series sort of came out of nowhere when my friend told me a story about a catering company that was comprised of four tattooed chefs. The idea sort of blossomed from there. I can see the appeal of foodie romance. Food can be a very sensual thing and has the ability to elicit the same sensations as sex.
Stella: I completely agree! Now can you tell us 3 reasons why people should read Recipe for Satisfaction?
1. Bad
2. Boy
3. Chef
Gina: Need I say more ☺
Stella: No, I think that is amply enough to tempt us 😉 Lol Could you please summarize Recipe for Satisfaction for us Twitter-style (in 140 characters or less)?
Bad boy chef meets straight-laced professional organizer and charms his way into her pants…and her heart.
Stella: Can you tell us any behind the scenes secret about the novel (either related to the writing process or how a character/scene turned out way different than it was originally intended to, if any character was based on real life acquaintances, etc.)? Did you do any research for Recipe for Satisfaction? Any good restaurant visits, discovered any new favourite meals? 🙂
Gina: One of the scenes that got cut from this book was a Cole and Penn scene. There was rain. There was a kiss. And you're just going to have to wait until book four to find out more ☺
Stella: Can you share with us one of your most memorable food memories? (I ate the most perfect crème brulée at Azay-le-Rideau when we were visiting the châteaux of the valley of the Loire, whenever I see a crème brulée, flan or crème caramel on a menu I can't help but recall that taste orgasm! :-D)
Gina: I thought about this question long and hard. I love food, adore food, and my list of favorite foods is quite extensive. But for as many amazing meals as I've had, my most memorable and significant food moment, is really boring, but 100% sentimental. When I was little my grandpa used to make me soldiers. Basically, it's a piece of toast cut up into four long strips. It was a bland piece of toast, nothing fancy. It's a memory I've carried with me for almost thirty years and something I will probably do for my children one day.
Stella: Oh I know, I also got soldiers when I was little, and just loved the tiny bite-sized pieces my parents and grandparents did 😀 What is next on your schedule? Any future plans you'd like to share with us?
Gina: There will be three more Madewood books, one for each brother. I also have a contemporary single title releasing on February 18th from Entangled Publishing, A Taste of Trouble. It combines two of my most favourite things in the world, romance and cupcakes.
Stella: Could you share with us something, a trivia that not many people know about you?
Gina: I played strip poker once. In high school. It was not sexy. LOL I should probably write about it and heal the trauma.
Where to find Gina:
~~~~~~~~~~~~~~~~~~~~~~~~~~~~~~~~~~~~~~~~
~*~*Giveaway*~*~