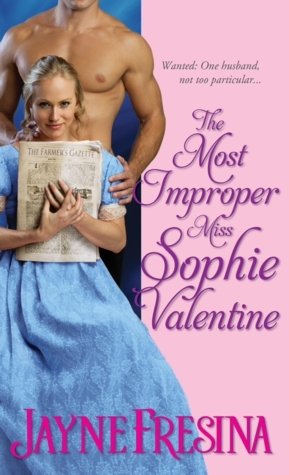 Format Read: ebook from NetGalley
Number of Pages: 384 p.
Release Date: June 5, 2012
Publisher: Sourcebooks Casablanca
Genre: Regency Romance
Formats Available: Mass market paperback, ebook
Purchasing Info: Goodreads, Amazon, Barnes & Noble, Author's Website, Publisher's Website, Book Depository
Book Blurb:
"Wanted: one husband, not too particular. Small dowry, several books, sundry furnishings, and elderly aunt included. Idlers, time-wasters, and gentlemen with other attachments need not apply."

Scarred in a childhood accident, Sophia Valentine doesn't expect any takers on her ad for a husband in the Farmer's Gazette, until the mysterious Lazarus Kane shows up at her door. To Sophia, he is an exciting, enigmatic stranger. But Lazarus has known Sophia for years and has come a long way to find her. Things are about to get complicated for the mischievous Miss Valentine.
My Thoughts:

Once upon a time, Miss Sophie Valentine did something very, very improper. She and her fiancé, the …

2 Stars,featured,Jayne Fresina,Review,The Rocket Lover

13 Jun 2012

3 comments