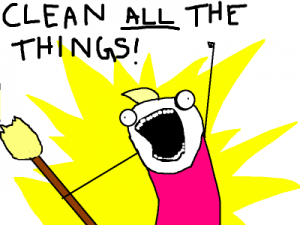 Wow, crazy month. Full of firsts.
First wedding I didn't want to object too. First time off work. First completely spontaneous vacation. First time in New Mexico. First time separated from my laptop. (I know, I've been neglecting my fellow book lovers. But not my glorious books. 🙂 )
During my trip, I found an old school book exchange. Predictably filled with romances. Not one single non-romance title. And there I was, stranded, for two hours. What to do?
…
Is it possible that I am unfairly biased against an entire genre based on a few notoriously ridiculous tropes? This is my chance to give romance a fair shake. I WILL READ A ROMANCE! One without rape, iffy issues of consent, minors, or hideously awful misogyny.
There go the historicals and bondage. Which leaves me with two choices. One of which involves a cowboy. The other a chef. Cheffing it is! I am hungry, so we're …